High five!
The recipe has been added to your shopping list.
Chili con carne with dark chocolate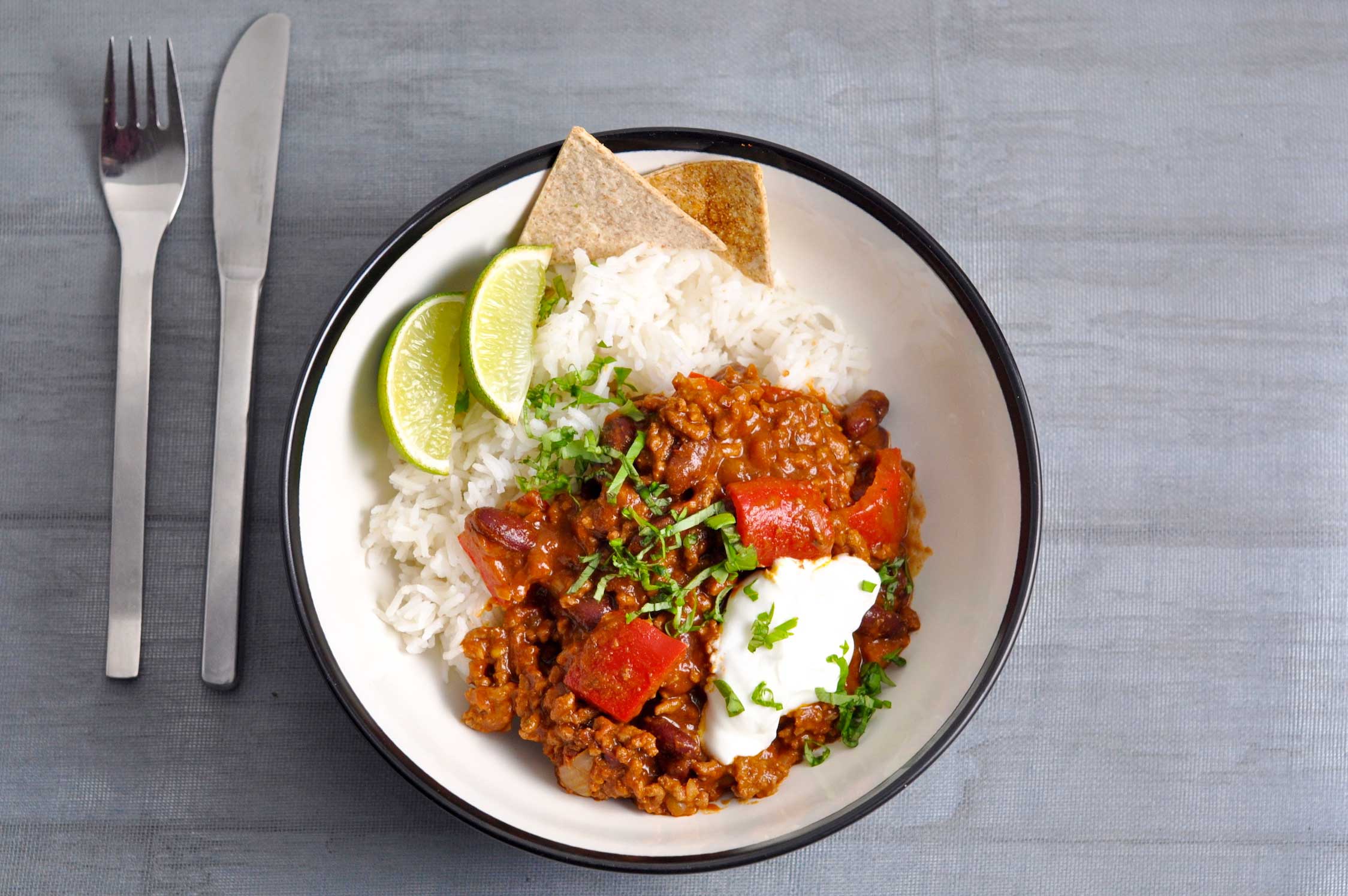 Ingredients
Freezer friendly
( 2 adults and 2 kids )
wholegrain rice

1

red chilli

2

onion

2 clove

garlic

1

red bell pepper

700 grams

beef mince

0.5 tbsp

cumin

0.5 tbsp

dried oregano

70 grams

tomato purée

1 can

kidney beans

1 can

chopped tomatoes

300 ml

water

30 grams

dark chocolate

1 cube

beef stock

100 ml

creme fraiche or skyr

*

olive oil

salt

pepper
ADD TO SHOPPING LIST
ADD TO MEAL PLAN
*
= Good to know - click the ingredient

= See the recipe - click the ingredient
This chilli con carne is adjusted for the not so chilli-used kid palates and intended for two days. And it's always a hit when you tell the kids there's chocolate in the food! Serve the leftovers with rice on day two - or use as filling in a delicious and easy lasagne. Enjoy!
Directions
1. Cook the rice according to the packet.
2. De-seed the chilli and finely chop it. Finely chop onion and garlic. Rinse the bell pepper and dice. Start by sautéeing just half of the chilli along with onion and garlic in a bit of olive oil in a deep pan or pot until slightly browned - this way you'll avoid setting the whole family alight. And you can always add more chilli later! Add the beef and sear until browned.
3. Add cumin and oregano and cook for another few minutes, until the meat is seared well. Add tomato purée, kidney beans with brine, chopped tomatoes, water, chocolate broken into pieces and stock cube and lower the heat. Let the con carne simmer for about 15 minutes - ideally more, if you have time.
4. Season to taste with salt, pepper, and optionally some more cumin and add bell pepper and tomatoes just before serving. Serve with rice and finish with a dollop of skyr or creme fraiche and optionally basil or other herbs to garnish, if you have some to hand.
5. Enjoy!
Tip
Adjust the heat with chilli as you see fit. And if you want to really get lavish with your chilli con carne, try serving it with our tasty guacamole with fresh tomatoes and tortilla chips. Save the rest of the con carne and serve it as is the following day, use it as filling in tasty wraps, or in place of bolognese in a lasagne.
Share your tips and comments