High five!
The recipe has been added to your shopping list.
Tenderloin pot with pumpkin and rice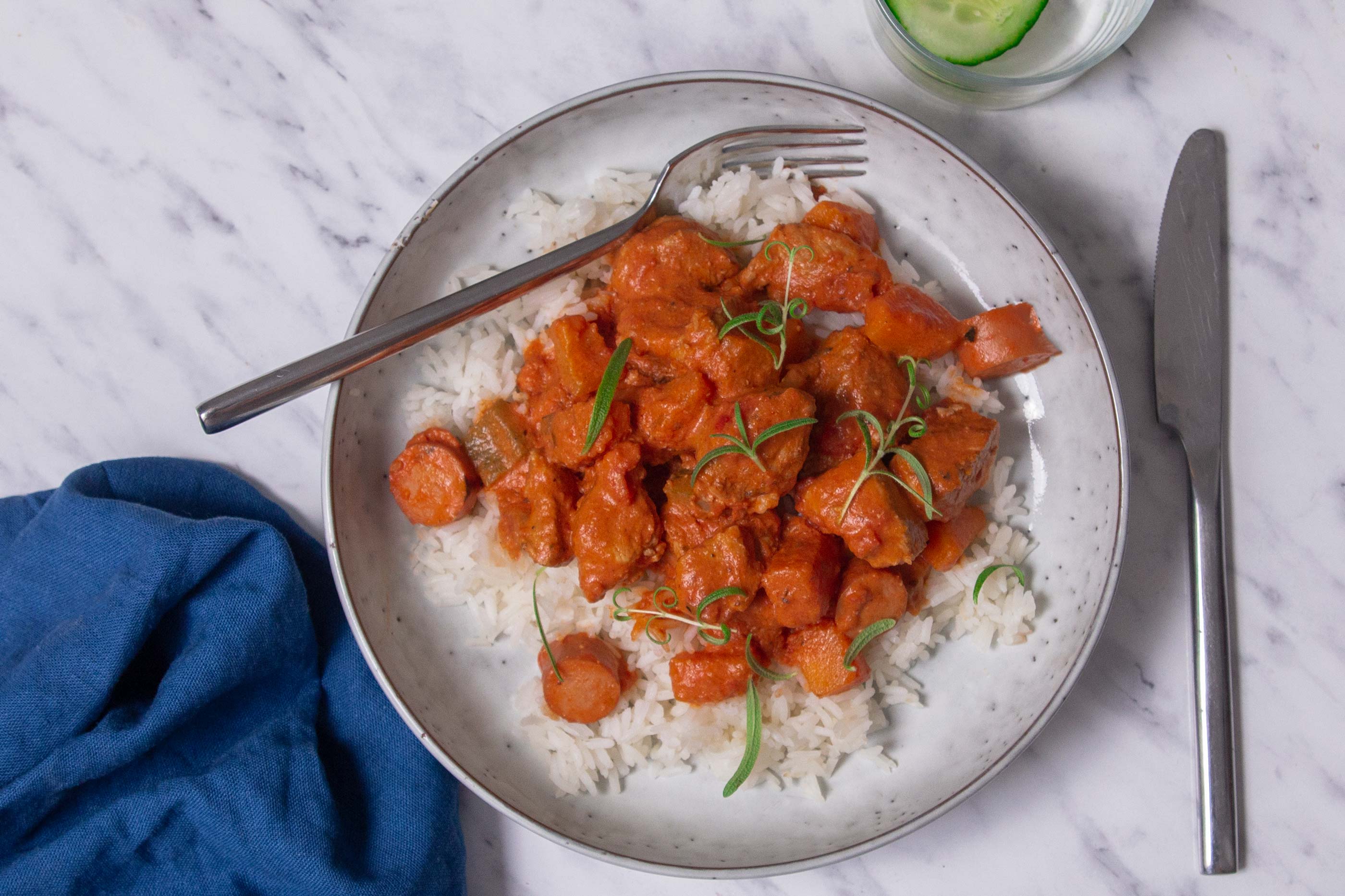 Ingredients
( 2 adults and 2 kids )
wholegrain rice

2

onion

1 clove

garlic

1

red bell pepper

1

hokkaido pumpkin

1

pork tenderloin

300 grams

grill sausages

2 tbsp

paprika

2 can

chopped tomatoes

2 tbsp

red pesto

200 ml

single cream 8%

salt

pepper
ADD TO SHOPPING LIST
ADD TO MEAL PLAN
*
= Good to know - click the ingredient

= See the recipe - click the ingredient
This yummy tenderloin pot is perfect for those cold, dark days. It's loaded with goodies like sausages, tenderloin and pumpkin, and served over rice. The dish is for two days, so remember to save half for tomorrow. Enjoy!
Directions
1. Cook the rice according to the packet.
2. Finely chop onion and garlic. Wash the bell pepper and peel the pumpkin, free both of their seeds, and dice. Slice the sausages and cut the tenderloin into bite-sized chunks - remembering to wash your hands, knife and cutting board when you're done, of course..!
3. Sear the sausages in a large pot - use a bit of olive oil if needed. Add onion, garlic, bell pepper, paprika and tenderloin and stir well. If using a strong paprika, you might not need the full amount in the recipe - so start off with a bit, taste as you go, and add more as needed.
4. Add chopped tomatoes and red pesto and bring the pot to the boil. Let the dish simmer for 15 minutes, until the meat is cooked through - or longer, if you have time. It's a bit like when you send the kids to tidy their rooms (we can dream, can't we?): The longer it takes, the better the outcome..!
5. Now lower the heat and add single cream. Season with salt and pepper to taste, and serve this banging classic over piping hot rice.
6. Enjoy!
Tip
Tasks for kids in the kitchen: Let your kids help slice the sausages. They can also dice the bell pepper and pumpkin, though we'd suggest cutting the pumpkin into sticks for them beforehand, as it can be a bit tough and unwieldy.
Share your tips and comments