High five!
The recipe has been added to your shopping list.
Tasty lasagne with chicken - for two days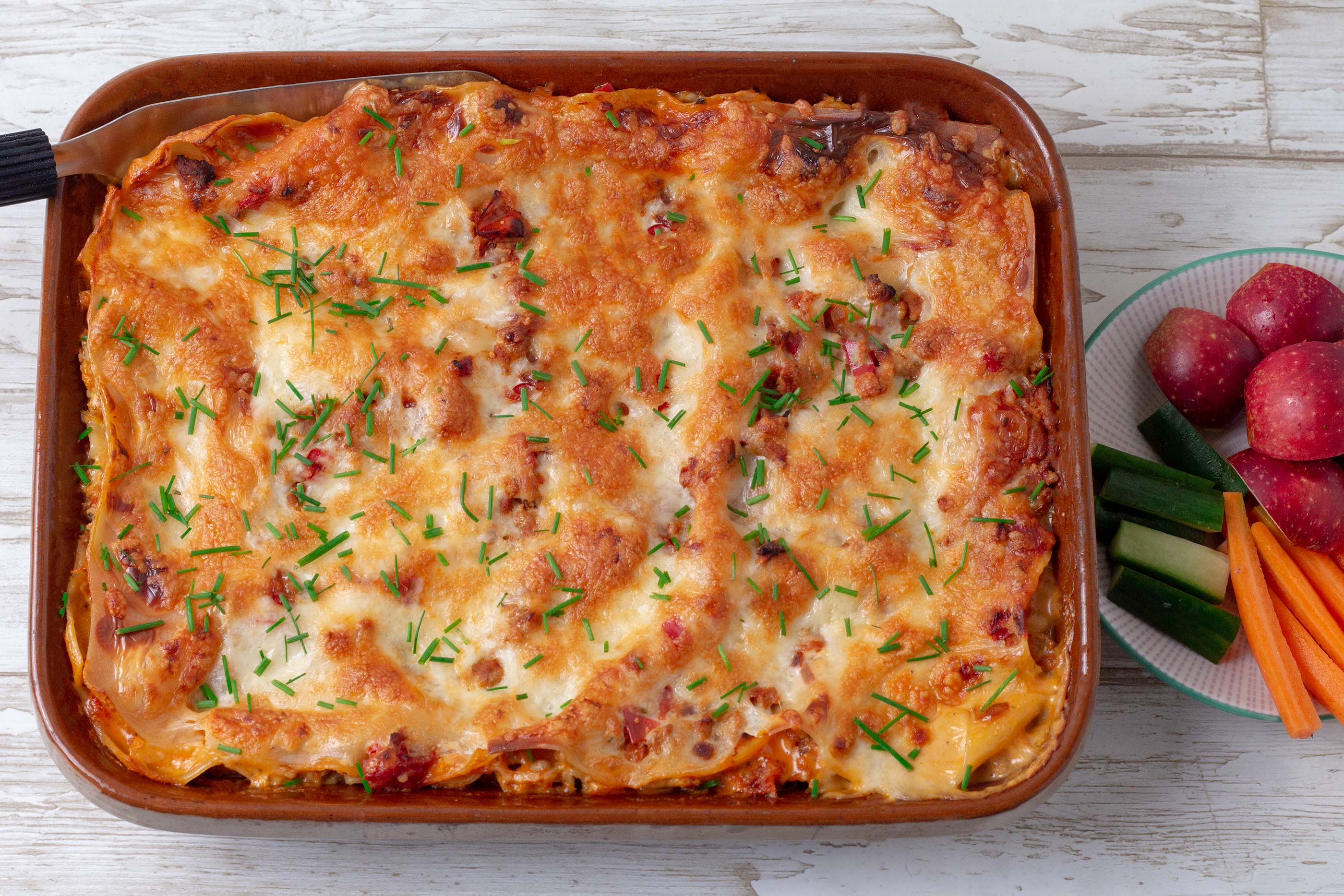 Ingredients
Freezer friendly
( 2 adults and 2 kids )
2

onion

1 clove

garlic

600 grams

carrots

*

1

red bell pepper

800 grams

chicken mince

1 tbsp

paprika

0.5 tbsp

curry

1 tbsp

dried oregano

- or thyme

2 can

chopped tomatoes

70 grams

tomato purée

500 ml

mornay sauce

50 grams

grated cheese

0.5

cucumber

2

apples

wholewheat lasagne sheets

olive oil

salt

pepper
ADD TO SHOPPING LIST
ADD TO MEAL PLAN
*
= Good to know - click the ingredient

= See the recipe - click the ingredient
Mmm, lasagne for two days is just so tasty! We've made this lasagne with chicken mince, bell pepper and carrots and gratinated it with mornay sauce. Remember to save the leftovers for tomorrow. Enjoy!
Directions
1. Preheat your oven to 200 degrees convection.
2. Finely chop onion and garlic. Set aside half of the carrots for snack veggies. Peel and grate the other half of the carrots on the fine side of a grater and rinse the bell pepper, remove the seeds and dice it.
3. Cook onion and garlic in olive oil in a deep pan or large pot. Add mince, paprika, curry and oregano or thyme and let cook while stirring, until the mince is nicely seared on all sides.
4. Add carrots and bell pepper and let it continue to cook until everything has cooked together a bit.
5. Add chopped tomatoes and tomato purée and let the sauce simmer for 5-10 minutes. Season to taste with salt and pepper.
6. Spread bolognese and mornay sauce in at least three layers with lasagne sheets in between. Begin and end with a layer of sauce. Sprinkle grated cheese on top. Bake the lasagne in the oven for approx. 30 minutes, or until it's golden on top.
7. Meanwhile, rinse the cucumber and apples, peel the rest of the carrots and cut the lot into sticks for snack veggies.
8. Enjoy!
Tip
The recipe is designed for two days, so remember to save the leftovers for tomorrow. If you can't find mornay sauce then just use white sauce or bechamel. Tasks for kids in the kitchen: Let the kids rinse the bell pepper, remove the seeds and finely dice it.
Share your tips and comments