High five!
The recipe has been added to your shopping list.
Steaks with pointed cabbage slaw and chips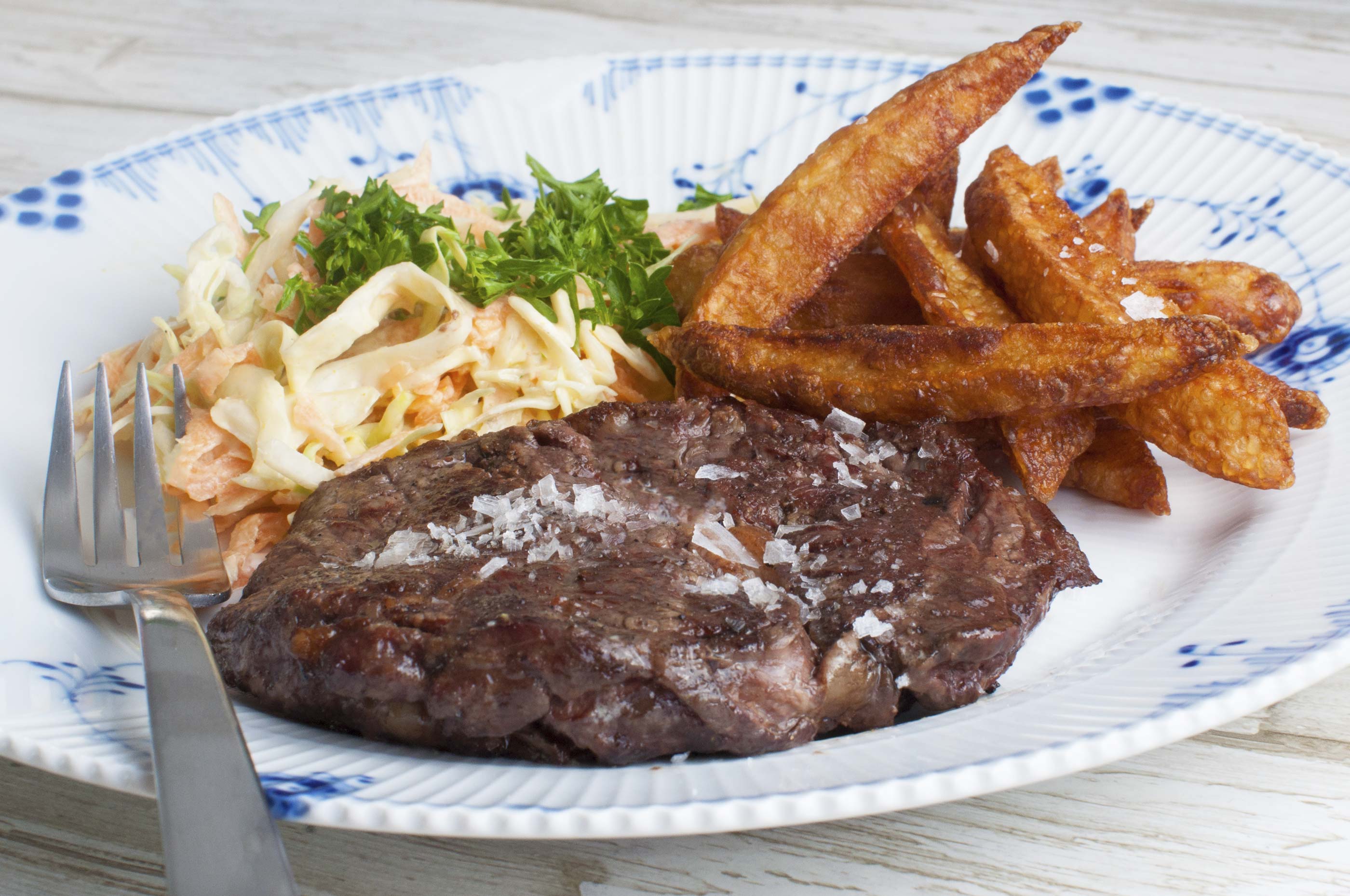 Ingredients
( 2 adults and 2 kids )
french fries

0.5

pointed white cabbage

300 grams

carrots

*

200 ml

skyr

*

3 tbsp

mayonnaise

1 tbsp

acacia honey

*

1 tbsp

sweet mustard

4

steaks

salt

pepper

butter

olive oil
ADD TO SHOPPING LIST
ADD TO MEAL PLAN
*
= Good to know - click the ingredient

= See the recipe - click the ingredient
Juicy weekend steaks served with the yummiest coleslaw made with pointed white cabbage and carrots. And of course with crunchy chips on the side. Grill the steaks under open air or pan fry them, depending on the weather. Enjoy!
Directions
1. Fire up the grill or dig out your best frying pan, depending on the weather.
2. Preheat your oven to 225 degrees convection and prepare the chips following the directions on the bag. Or try our recipe for the homemade kind, if you have some time to spare. Click the little chefs' hat in the ingredients, that'll take you to the recipe.
3. Remove the stem and outer leaves of the cabbage. Rinse the cabbage and slice it into thin strips, either with a knife or a mandolin. Mind your fingers - you need those for tickling!
4. Peel and roughly grate the carrots. Mix skyr, mayonnaise, acacia honey and sweet mustard to make a dressing and add salt and pepper to taste. Mix in cabbage and carrot strips.
5. Season the steaks with salt and pepper and fry them in some butter and olive oil on the grill or a pan, until they're cooked to your liking.
6. Serve the juicy steaks with coleslaw and chips on the side.
7. Enjoy!
Tip
There's a big difference in the size of pointed white cabbage depending on which country they're from and which part of the season you find them in. If it's a very large head, you don't have to use all of it. Save the rest and use it, for instance as a substitute for lettuce in our crispy taco shells. You can use whatever kind of steaks you like the best - whether they be from the butchers or the supermarket. Most discount supermarkets have their own great steaks these days, matured for weeks and absolutely delicious without costing the entire farm.
Share your tips and comments