High five!
The recipe has been added to your shopping list.
Steaks with mango salsa and baked potato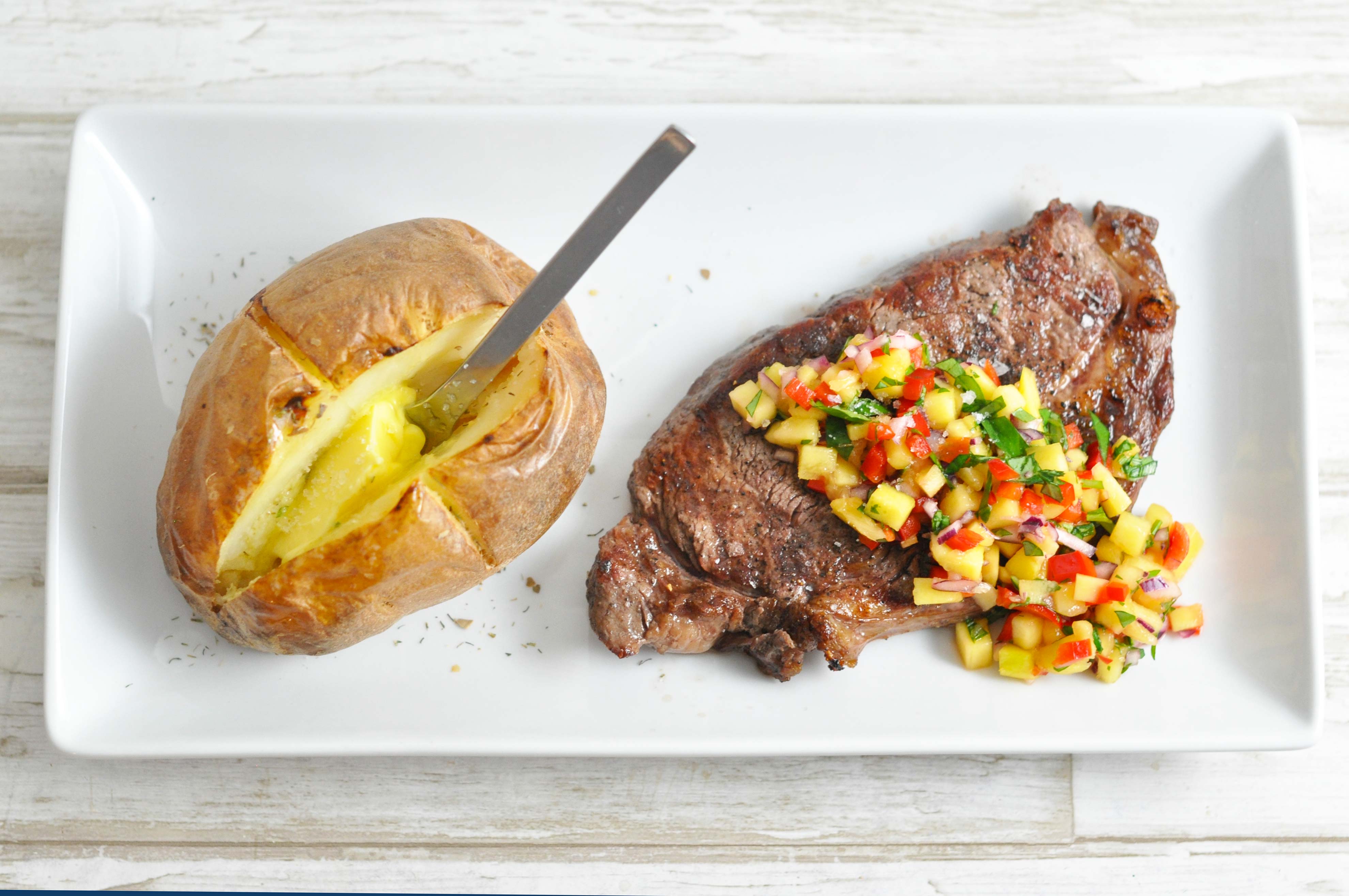 Ingredients
( 2 adults and 2 kids )
4

baking potatoes

1

mango

1

red bell pepper

0.5

red onion or regular onion

basil

0.5 tbsp

acacia honey

*

1

lime

4

steaks

butter

salt

pepper

olive oil
ADD TO SHOPPING LIST
ADD TO MEAL PLAN
*
= Good to know - click the ingredient

= See the recipe - click the ingredient
Juicy steaks grilled or cooked in the pan, topped with a delicious mango salsa and served with baked potatoes. Super easy and gorgeous dinner! Enjoy!
Directions
1. Wash and thoroughly scrub the spuds, and poke each one five times with a fork. Pop them on a plate and microwave for 10-15 minutes on full whack. Flip them over and give them 10-15 minutes on the other side, again on full power. Remember that both microwaves and spuds come in all shapes and sizes, so keep a waking eye on your potatoes, and poke them with a fork to check that they're soft and cooked through all the way. If not, just give them a bit more. Remember that cooking times get longer the more potatoes you cook at a time.
2. Peel the mango. Cut off both ends, so you can stand your mango upright on a cutting board. Cut off the meat on both sides of the stone and finely dice.
3. Wash the bell pepper, remove the seeds and finely dice along with the red onion. If the kids aren't big fans of onion, serve them in a separate bowl so those who are can help themselves. Mix mango, bell pepper and red onion with basil or other herbs, if you have any to hand. Add honey and a bit of lemon juice to taste.
4. Season the steaks with salt and pepper and cook in a bit of olive oil on a pan, or toss them on the grill if the weather permits.
5. Top the steaks with the mango salsa and serve with the baked potatoes with a knob of cold butter in the centre.
6. Enjoy!
Tip
You can also ovenbake your spuds - just preheat the oven to 200 degrees convection, cut a cross into the centre of each potato and bake for 60-90 minutes, until crisp on the outside and soft on the inside. Steer clear of wrapping in foil if you want a crispy peel. You can also try out super tasty and dead easy bearnaise butter in the baked potatoes.
Share your tips and comments