High five!
The recipe has been added to your shopping list.
Steak with bearnaise butter and bacon asparagus - for two days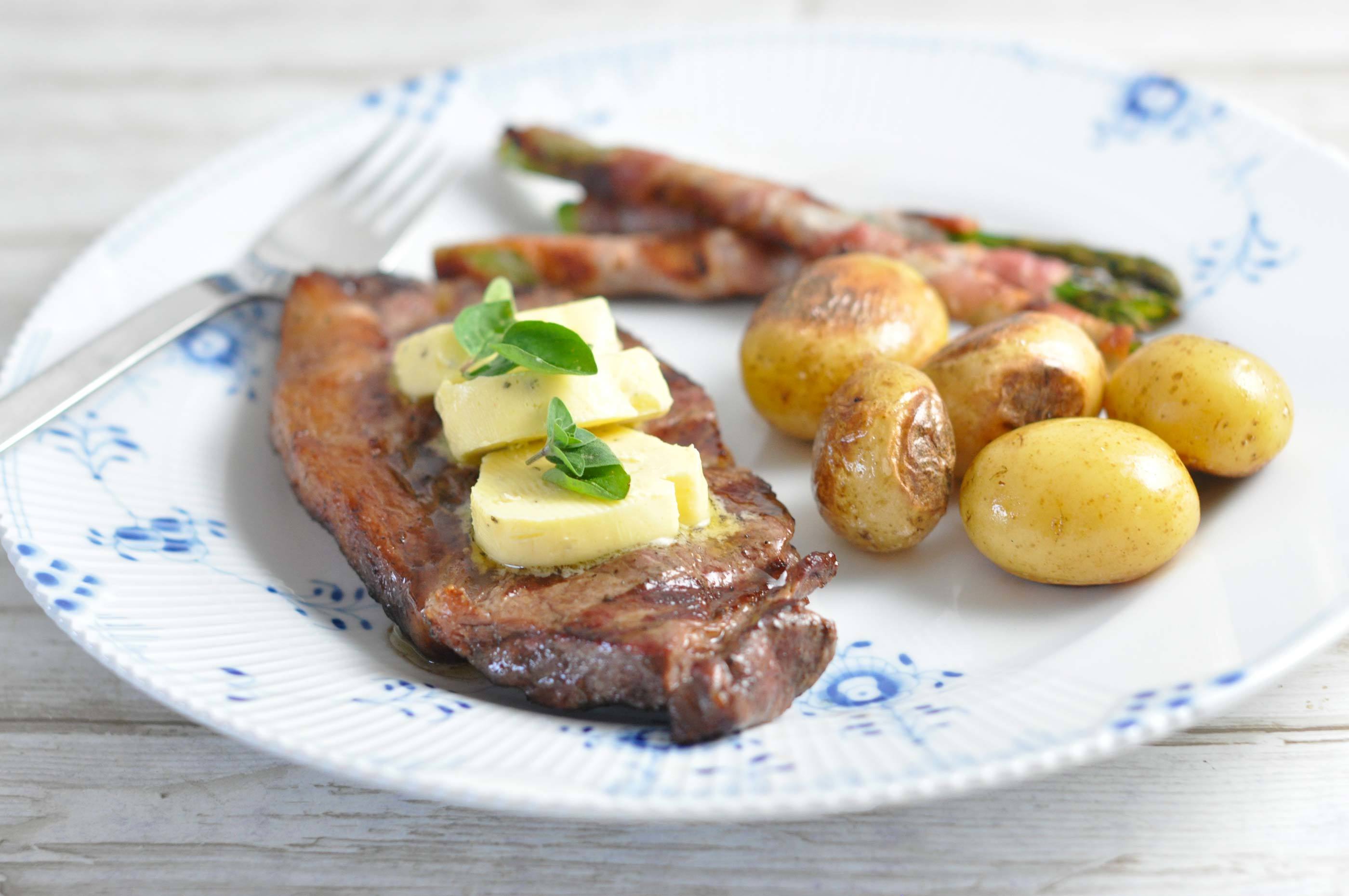 Ingredients
( 2 adults and 2 kids )
125 grams

butter

1 packet

bearnaise powder

- f.ex. Knorr

200 grams

green asparagus

75 grams

bacon slices

800 grams

baby potatoes

6

steaks

salt

pepper

olive oil

baking parchment
ADD TO SHOPPING LIST
ADD TO MEAL PLAN
*
= Good to know - click the ingredient

= See the recipe - click the ingredient
A quick steak on the grill with addictive bearnaise butter, potatoes and bacon-wrapped asparagus. Yum! This recipe is intended for two days. We've figured one steak per person for today - the rest of the meat and potatoes is for our yummy steak salad. Enjoy!
Directions
1. Get the grill going - or get your best pan ready on the stove!
2. Dice the butter into cubes and pop it in a microwaveable bowl. Give it about 10 seconds on full blast. You don't want it to melt, just be nice and soft enough to stir with a spoon. Now add half the bearnaise powder and stir well. Taste and add more bearnaise powder if needed. Place the softened butter lengthways on a piece of baking parchment, and roll it up - just like a donner wrap! Pop the butter in the freezer for about 20 minutes, while you prepare the rest.
3. Rinse the asparagus and snap off the bottom third. The handy thing about asparagus is that they naturally snap exactly where you need them to! Wrap half a slice of bacon around each asparagus and put aside on a plate. Don't forget to wash your hands and utensils when you're done.
4. Boil the potatoes until tender in lightly salted water while you cook the steaks on the grill or in a bit of olive oil on a pan, if the weather doesn't agree with grilling. Don't forget to season with salt and pepper. Finally, grill the bacon-wrapped asparagus.
5. Serve the hot steaks with cold bearnaise butter on top and potatoes and asparagus as sides.
6. Enjoy!
Tip
Don't forget to save the leftover meat and potatoes for dinner tomorrow, where you can use it in a quick steak salad, for instance.
Share your tips and comments