High five!
The recipe has been added to your shopping list.
Spaghetti roulade with ham and cheese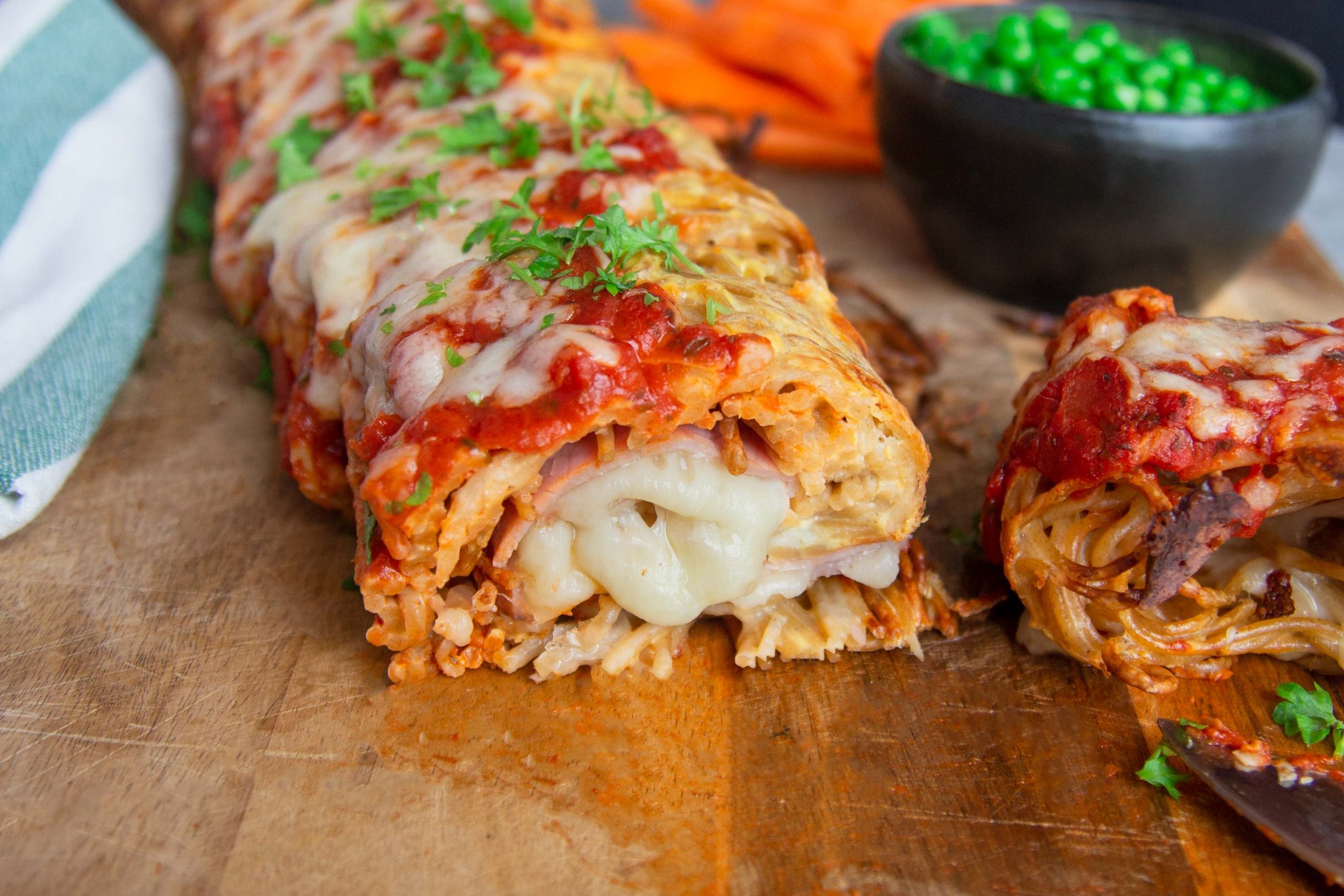 Ingredients
( 2 adults and 2 kids )
Roulade base

4

egg

50 grams

grated cheese

0.5 tsp

salt

pepper

350 grams

cooked spaghetti

baking parchment

Filling

140 grams

cooked ham

100 grams

grated cheese

Topping

280 gram

pizza sauce

50 grams

grated cheese

Snack veggies

300 grams

carrots

*

200 grams

frozen peas
ADD TO SHOPPING LIST
ADD TO MEAL PLAN
*
= Good to know - click the ingredient

= See the recipe - click the ingredient
It was truly a pleasure, serving this spaghetti roulade for our own kids - it was gone in record time, and everybody loved it! We've used cooked spaghetti from yesterday, stuffed the roulade with ham and cheese, and topped it with pizza sauce. If you don't have cooked spaghetti left over, just boil about 250 grams of dried spaghetti (for four people) and blanch it with cold water when it's done. Enjoy!
Directions
1. Preheat your oven to 200 degrees convection.
2. Beat the egg with grated cheese, salt and some pepper. Add the cooked spaghetti and mix well with the egg. Spread into a square on an oven sheet lined with baking parchment. Bake for about 10-15 minutes, until the egg has set.
3. Leave the spaghetti base on the sheet pan. Now scatter the ham onto it and sprinkle with grated cheese. Roll it up into a roulade - carefully, it's hot!
4. Top with pizza sauce and grated cheese – you mightn't need all of the pizza sauce. You can serve the rest in a bowl on the table. Bake the roulade for 10-15 minutes, until the cheese is golden.
5. While the roulade is in the oven, peel the carrots and cut into sticks for snack veggies. Cook the peas according to the bag.
6. Serve the spaghetti roulade with a side of veggies.
7. Enjoy!
Tip
Tasks for kids in the kitchen: Let your kids help crack the eggs and mix with the grated cheese and pasta. They can also help spread it onto the baking sheet, top with ham and grated cheese, and roll the whole thing up. They're of course handy for peeling the carrots for snack veggies, too.
Share your tips and comments