High five!
The recipe has been added to your shopping list.
Creamy spaghetti carbonara with carrots and bacon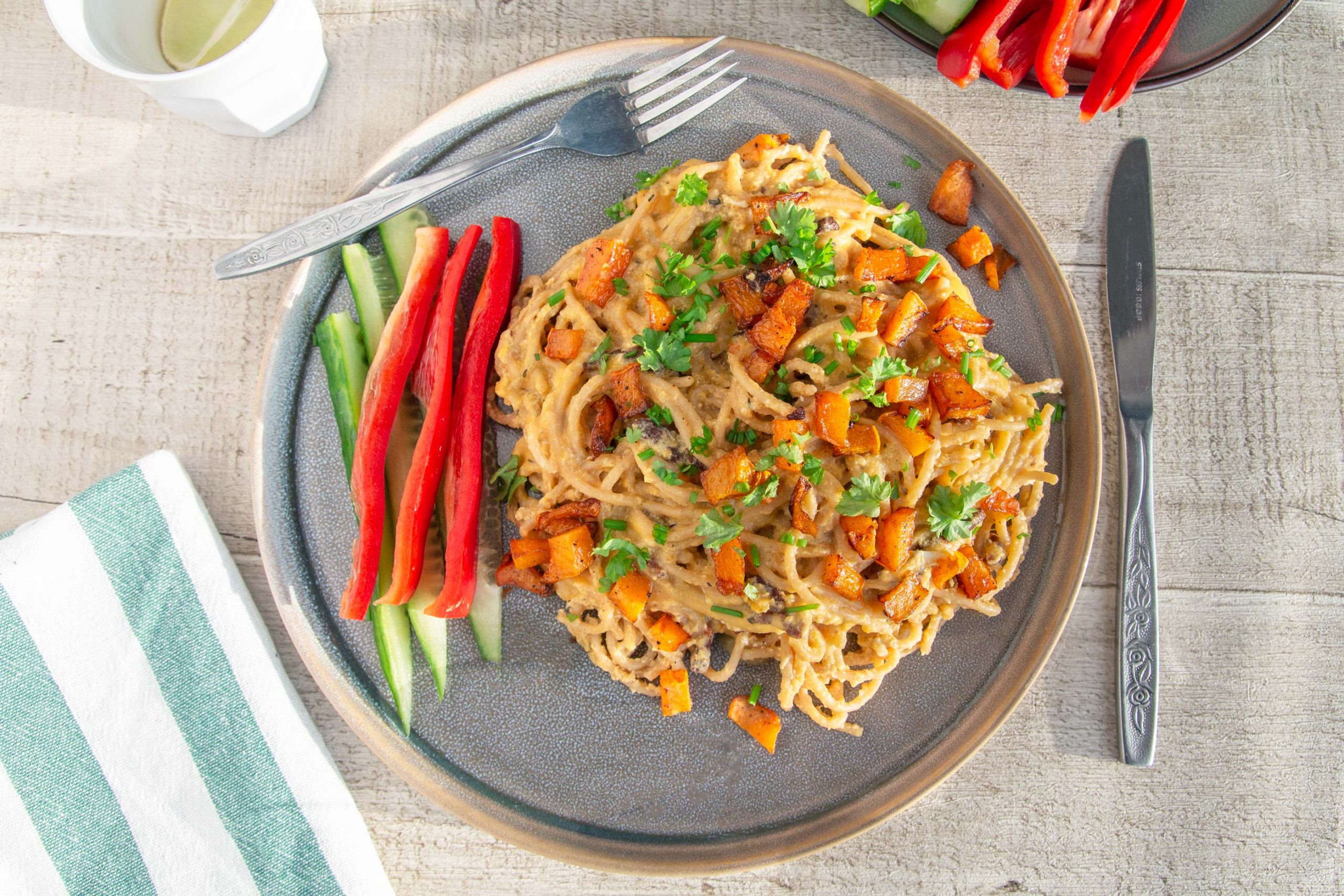 Ingredients
( 2 adults and 2 kids )
Spaghetti carbonara

500 grams

wholewheat spaghetti

600 grams

carrots

*

500 ml

water

1 cube

vegetable stock

200 grams

diced bacon

- lardons

1

onion

1 clove

garlic

75 grams

parmesan

200 ml

single cream 8%

4

pasteurised egg yolk

1

lime

salt

pepper

Gnavergrønt

1

red bell pepper

0.5

cucumber
ADD TO SHOPPING LIST
ADD TO MEAL PLAN
*
= Good to know - click the ingredient

= See the recipe - click the ingredient
We've whipped up a delicious and creamy spaghetti carbonara with carrots, bacon and cheese, served with snack veggies. We're cooking extra spaghetti, to be used in the yummiest spaghetti roulade the following day. If you can find hokkaido pumpkin at the supermarket, it makes for a tasty alternative to carrots. Enjoy!
Directions
1. Cook the spaghetti according to the packet. Take out a third of the cooked pasta, blanch it with cold water and set aside for tomorrow's recipe.
2. Peel the carrots. Roughly chop half, and boil until tender in water with a stock cube. Takes about 15 minutes. Finely chop the other half and set aside for later.
3. Pop the bacon onto a cold pan. Switch on the hob, and add chopped onion and garlic once the bacon fat has started to render. Sautée until the bacon is crispy.
4. Sweat the fine carrot pieces on a separate pan in some olive oil, until lightly browned. Season with salt, pepper and the juice of a lime. Pour into a bowl and use for garnish.
5. Drain the boiled carrots and save the water. Blend the carrots into a thin purée with a hand blender. Add a bit of cooking water as you go, until you have a similar consistency to ketchup.
6. Grate the parmesan and whisk with cream, egg, salt and pepper. Drain the spaghetti and pop it back into the pot. Add bacon, the whisked egg and cream, and the carrot purée and mix well. Season with salt, pepper and lime juice.
7. Rinse the bell pepper and cucumber, and cut into sticks for snack veggies. Serve the pasta garnished with the sautéed carrot and snack veggies on the side. Enjoy!
Tip
Tasks for kids in the kitchen: Let your kids help cut the carrots into pieces. They can also grate the parmesan, and cut cucumber and bell pepper sticks for snack veg.
Share your tips and comments