High five!
The recipe has been added to your shopping list.
Savoury crepes with beef and pointed cabbage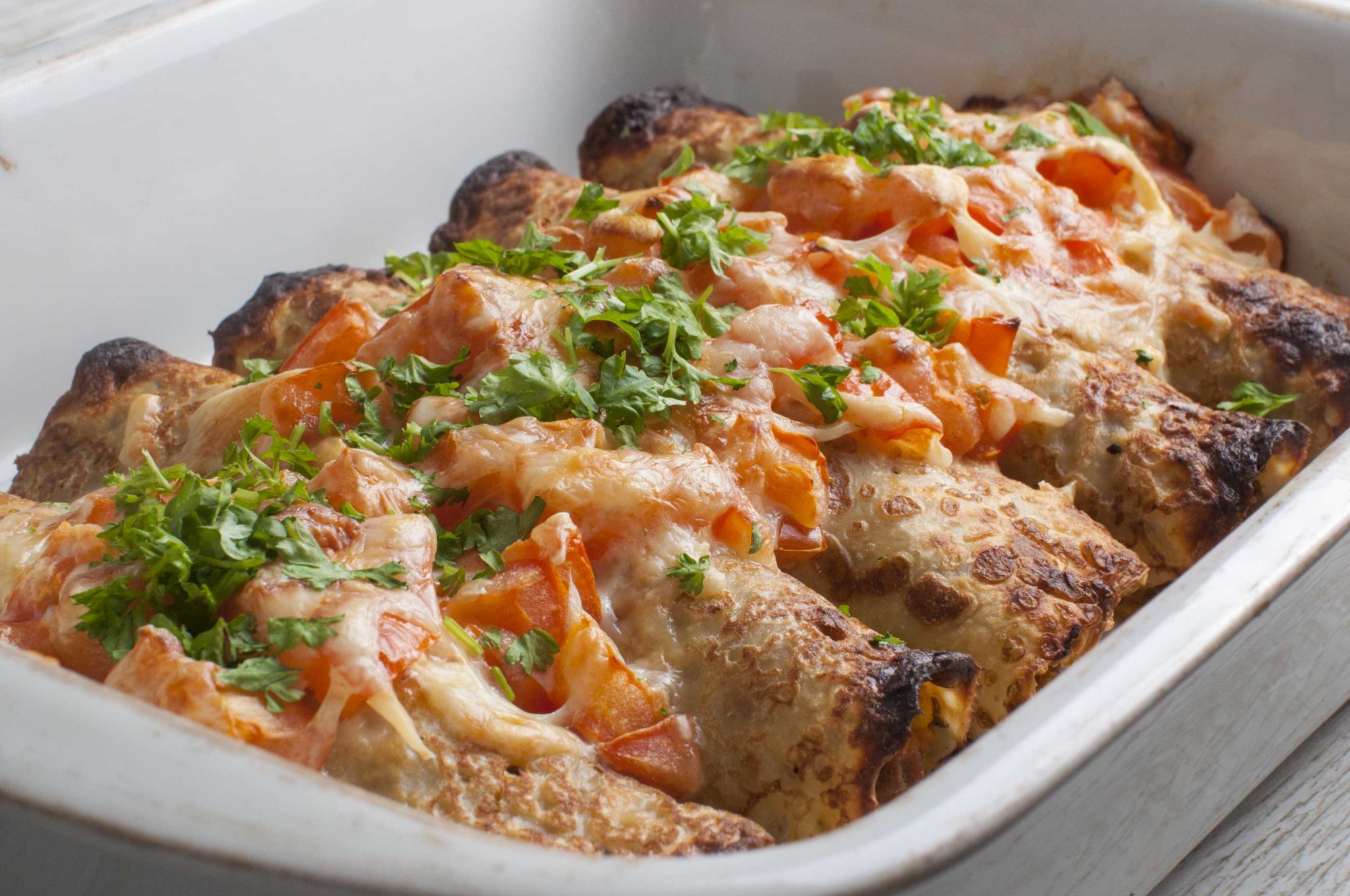 Ingredients
( 2 adults and 2 kids )
2

onion

1 clove

garlic

6 stick

celery

*

4

tomato

600 grams

carrots

*

275 grams

loose sweetcorn

50 grams

grated cheese

800 grams

beef mince

0.5 tbsp

dried oregano

200 ml

water

100 ml

ketchup

70 grams

tomato purée

8

savoury crepes

salt

pepper

olive oil
ADD TO SHOPPING LIST
ADD TO MEAL PLAN
*
= Good to know - click the ingredient

= See the recipe - click the ingredient
Crepes - for dinner = amazing! Here we've filled the crepes with yummy beef filling, topped with cheese and tomatoes and gratinated in the oven. The recipe is for two days, and the rest of the filling we're saving for warm pitas the following day. Enjoy!
Directions
1. Preheat your oven to 200 degrees convection.
2. Finely chop onion and garlic. Rinse the celery and thinly slice half of the sticks. If the kids develop tics and palpitations at the sight of celery, you can give onion, garlic and celery a whirl in a mini chopper or food processor. They'll never know! Cut the rest into sticks for snack veggies.
3. Rinse and roughly chop the tomatoes. Peel carrots, roughly grate half and cut the rest into sticks for snack veggies. Drain the sweetcorn and rinse in a bit of cold water. Roughly grate the cheese if it's not already.
4. Now cook onion, garlic and celery in a bit of olive oil in a pot, until it's cooked down. Add mince and oregano and sear well. Now add carrots, sweetcorn, water, ketchup and tomato purée and stir well. Let the lot simmer for 10-15 minutes, until some of the water is cooked off. Season to taste with salt and pepper.
5. Remove half of the filling and store it in a tightly sealed container in the fridge for tomorrow, where you can use it as filling in warm pitas.
6. Pop the rest of the filling into the crepes, carefully roll them (so they don't break) and place them tightly in an ovensafe tray with the "seal" facing down. Top with chopped tomatoes and grated cheese and gratinate in the oven for about 20 minutes, until the cheese is golden.
7. Serve the crepes with carrots and celery as snack veggies. Yum - and enjoy!