High five!
The recipe has been added to your shopping list.
Roast chicken on bed of potatoes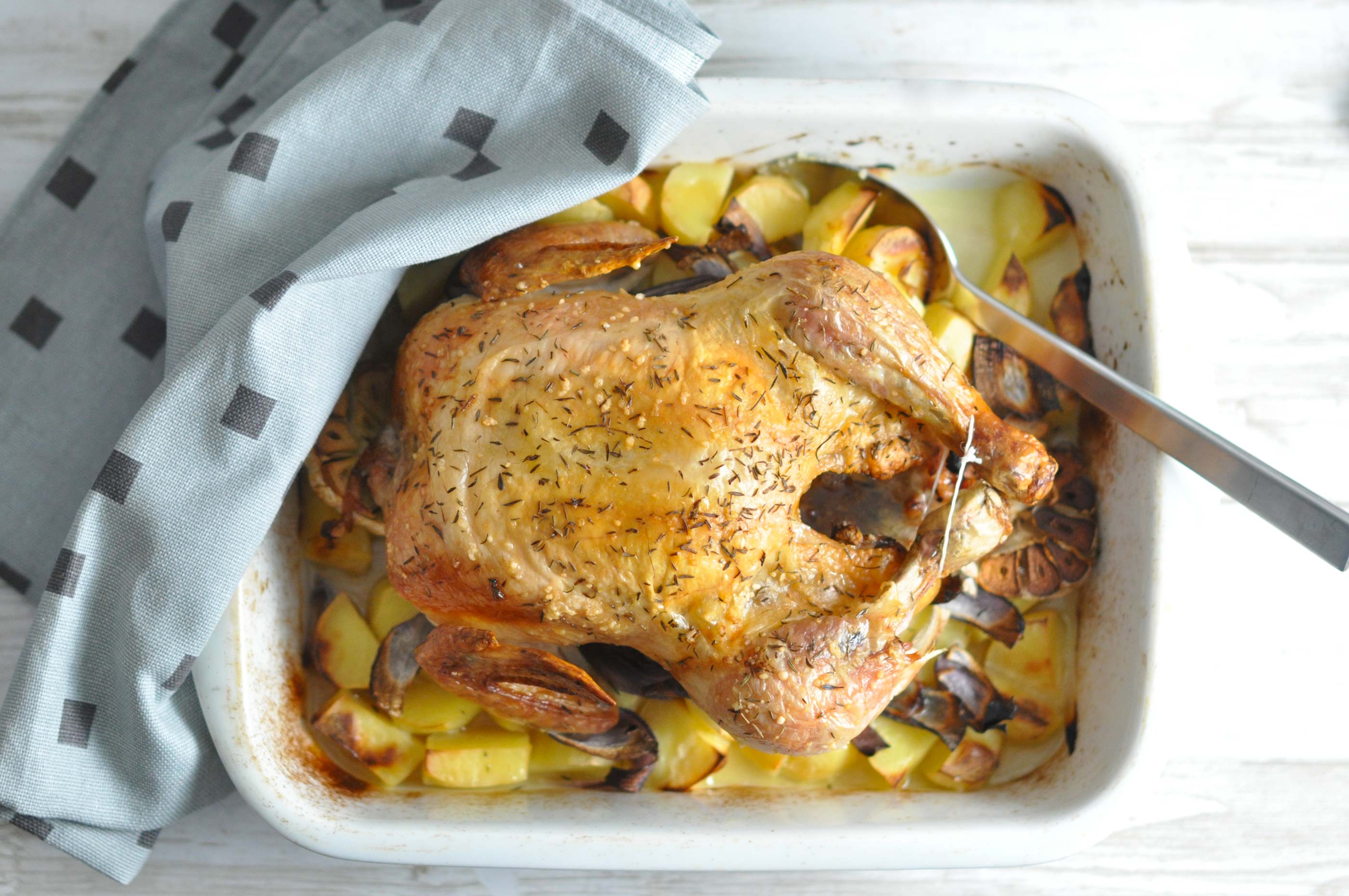 Ingredients
( 2 adults and 2 kids )
Chicken

600 grams

potatoes

2

red onion

200 ml

mixed elderflower cordial

1 whole

garlic

1

whole chicken

0.5 tbsp

dried thyme

olive oil

sea salt

Broccoli salad

25 grams

pine nuts

50 grams

bacon slices

0.5

broccoli

75 grams

feta cubes

1

apple

100 ml

skyr

*

1 tbsp

acacia honey

*

0.5

lemon
ADD TO SHOPPING LIST
ADD TO MEAL PLAN
*
= Good to know - click the ingredient

= See the recipe - click the ingredient
Don't worry! The neighbours won't be moving away after you've eaten this dish, even if you will be using a whole garlic. The garlic just adds extra flavour to the super easy and hugely tasty chicken, cooked on a bed of potatoes and elderflower. Buy a large chicken, so you have meat for two days. Enjoy!
Directions
1. Preheat your oven to 200 degrees convection. Scrub and wash the potatoes - or peel them if the dirt is being stubborn. Roughly dice them. Cut the onion into wedges and split into layers. Oil a baking tray or casserole tin with olive oil and mix potatoes and onion in the bottom of the pan. Drizzle with the elderflower cordial and season with salt and pepper.
2. Rinse the whole garlic and split it in half - leave the peel on. Pop it in the tray along with the spuds. Clean the chicken and pat it dry with some kitchen roll. Rub some olive oil over the outside as well as the inside. Mix sea salt with a dash of pepper and rub the mix on the outside and inside of the chicken. Sprinkle with dried thyme on top and place the chicken onto the potatoes.
3. Pop the tray in the oven and cook for 60-70 minutes. You want the juices to run clear and the meat to be white rather than pink, and your birdy is done! If you want some extra colour on the skin, crank the heat up to 225 for the last 10-15 minutes, or give the bird a whirl under the broiler - remember to keep a good eye on it!
4. Roast the pine nuts on a dry pan and cook the bacon until crisp. Split the broccoli into florets and blanch for 30 seconds in boiling water. Rinse with cold water and let the florets drain well. Drain the feta, wash the apple and dice it up. Mix everything in a bowl.
5. Mix skyr, honey and some lemon juice. Season with salt and pepper to taste, and dress the salad with your dressing. Garnish with pine nuts and bacon.
6. Remove the tray from the oven, pivot the chicken and let the remaining juices drizzle onto the spuds. Part the chicken and serve with the yummy potatoes, roasting juices, and broccoli salad. Enjoy!