High five!
The recipe has been added to your shopping list.
Fresh spring rolls with chicken and Thai sauce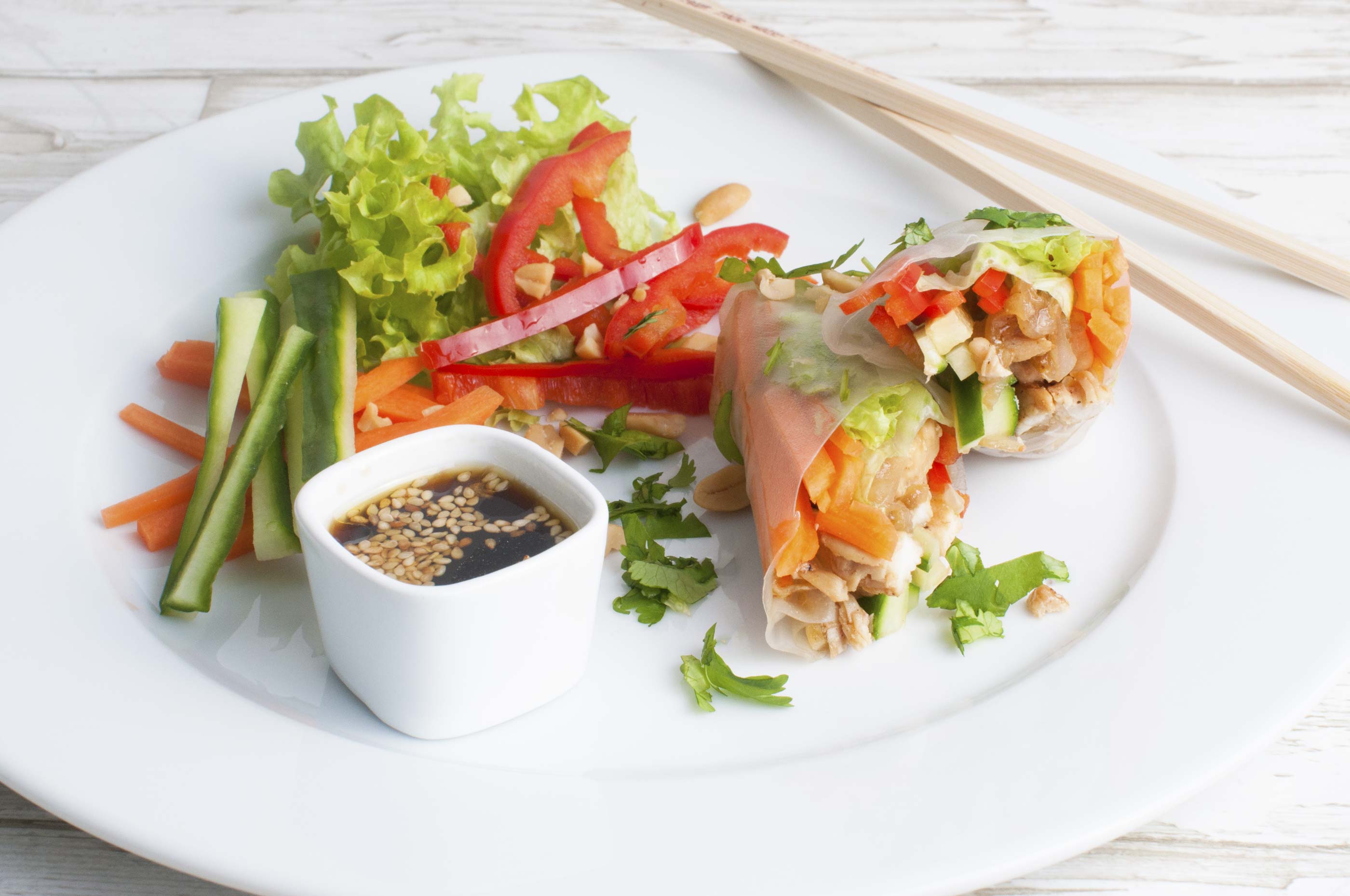 Ingredients
( 2 adults and 2 kids )
25 grams

sesame seeds

50 ml

water

3 tbsp

soy

3 tbsp

fish sauce

25 grams

sugar

2

lime

0.5

cucumber

1

red bell pepper

300 grams

carrots

*

50 grams

peanuts

lettuce of your choice

leftover cordon bleu

rice paper

sweet chilli sauce
ADD TO SHOPPING LIST
ADD TO MEAL PLAN
*
= Good to know - click the ingredient

= See the recipe - click the ingredient
Rice paper is available in most supermarkets these days - and is delicious for a fresher take on spring rolls. We've used the leftover chicken from our cordon bleu as filling, but if you don't have any leftovers, you can fry up a chicken fillet or two - or go without meat entirely. Just remember to adjust your shopping list. Enjoy!
Directions
1. Lightly roast the sesame seeds on a dry pan and set aside.
2. Mix water, soy, fish sauce and sugar in a bowl until the sugar is dissolved. Add lime juice and taste. Soy and fish sauce have very different flavours depending on brand and strength, so you may need to adjust the flavour with a bit extra of this or that, until the flavour is just how you want it. Mix some sesame seeds into the sauce.
3. If you prefer, you can cook the ingredients in a small pot and thicken with a bit of cornflour. The classic version is served cold - but hey! Traditions exist to be broken, so do whatever you fancy.
4. Wash the cucumber and bell pepper, peel the carrots and cut everything into thin strips no thicker than a matchstick. Rinse the lettuce and cut the lettuce as well as the cooked chicken into strips. If you're using leftover chicken and prefer a warm filling, you can give the chicken a go on a pan, but the rolls are just as lovely cold.
5. Put everything on the table along with a tub filled with a mix of boiling and cold water, just cold enough to comfortably stick a finger in. Put a piece of rice paper in the water and let it soak for a few seconds. Once soft, take out the ricepaper, place the filling you want in the middle of it and roll it up. Serve with Thai dip and sweet chilli sauce for dipping - and optionally some of the veggies thrown together for a quick salad topped with peanuts.
6. Enjoy!
Share your tips and comments