High five!
The recipe has been added to your shopping list.
Rice porridge in the microwave with apple and plum compote and almonds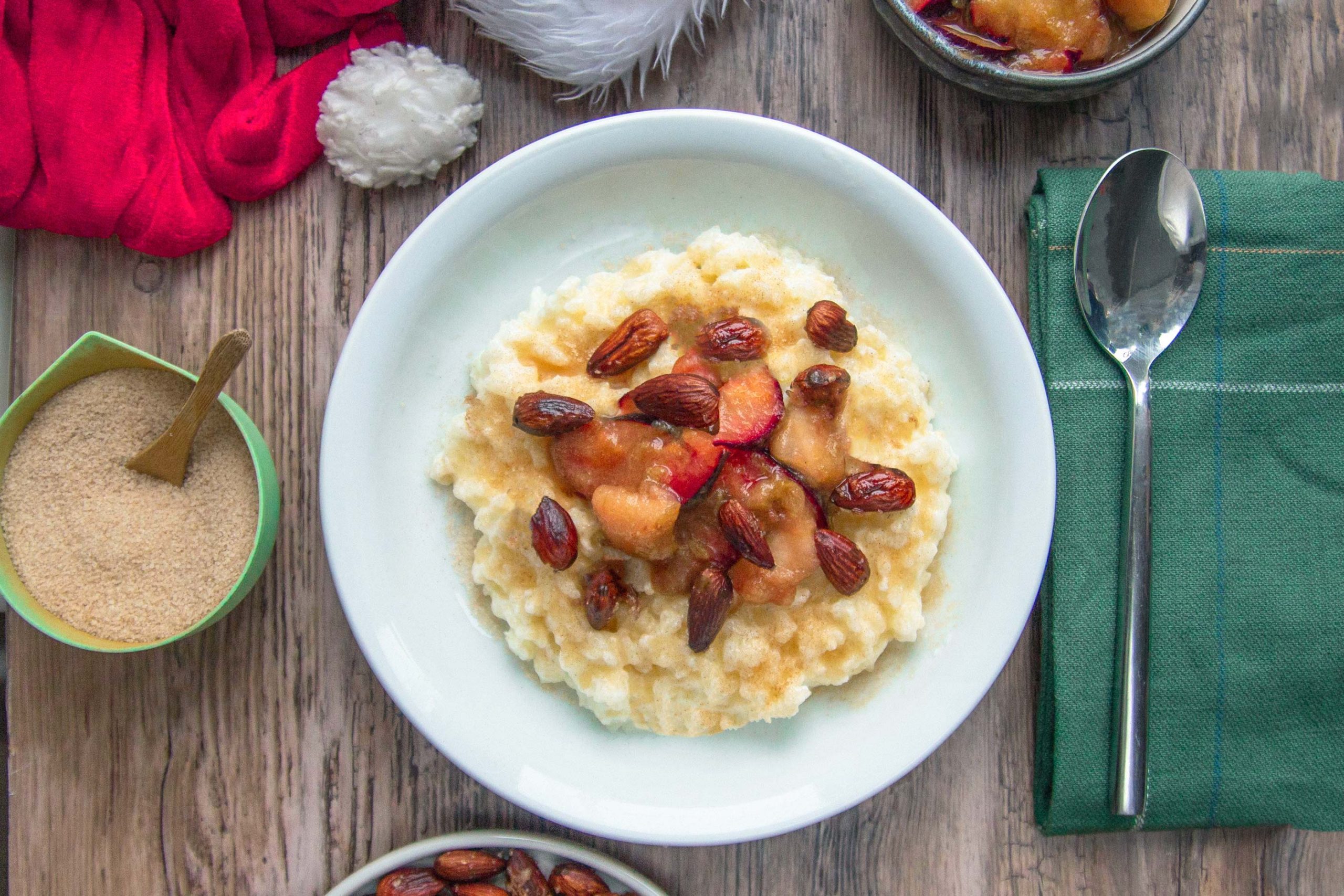 Ingredients
Freezer friendly
( 2 adults and 2 kids )
Rice porridge

300 ml

water

0.5 tbsp

butter

250 grams

porridge rice

salt

1500 ml

milk

Apple/plum compote

3

plum

2

apples

1 tbsp

water

1 tsp

ground cinnamon

2 tsp

vanilla sugar

1 tbsp

sugar

Topping

50 grams

almonds

*

4 tbsp

sugar

1 tsp

ground cinnamon
ADD TO SHOPPING LIST
ADD TO MEAL PLAN
*
= Good to know - click the ingredient

= See the recipe - click the ingredient
Aaat laaast... December's here! Rice porridge for dinner is a Scandinavian winter stable – that we LOVE! Here's an extra speedy version, cooked in the microwave, which just needs a couple of stirrings. If you don't have a microwave, we suggest making our equally delicious traditional rice porridge in a pot. Be aware that the cook time can vary depending on the type of porridge rice. Enjoy!
Directions
Rice porridge
1. Add water, butter, rice and some salt to a glass bowl that's safe to go in the microwave. Cover with a glass lid or a plate and run the microwave for 5 minutes on the highest power.
2. Remove the bowl (carefully – it may be hot), add milk and stir well. Give it another 7 minutes on full blast, by which time the milk should be starting to boil – if not, give it a bit extra. Remove the porridge and stir well. Lower the power to half and let the porridge continue to cook for about 22 minutes, until runny and delicious.
Apple-plum compote
3. Meanwhile, wash the plums and apples and remove the pits and seeds. Cut into wedges and add to a pot of water, cinnamon, vanilla sugar and sugar. Bring to the boil and pop a lid on. Let the compote simmer for about 10-15 minutes. It's okay for it to have a bit of bite. 'Season' to taste with a pinch of sugar.
Topping
4. Finally, toast almonds on a dry pan and mix sugar and cinnamon in a small bowl.
5. Serve the porridge with plum compote, toasted almonds and topped with vanilla sugar. Enjoy!
Tip
Tasks for kids in the kitchen: Let your kids help cut apples and plums into wedges. They can also mix the cinnamon sugar and set the table.
Share your tips and comments