High five!
The recipe has been added to your shopping list.
Rice porridge with fruit compote and cinnamon croutons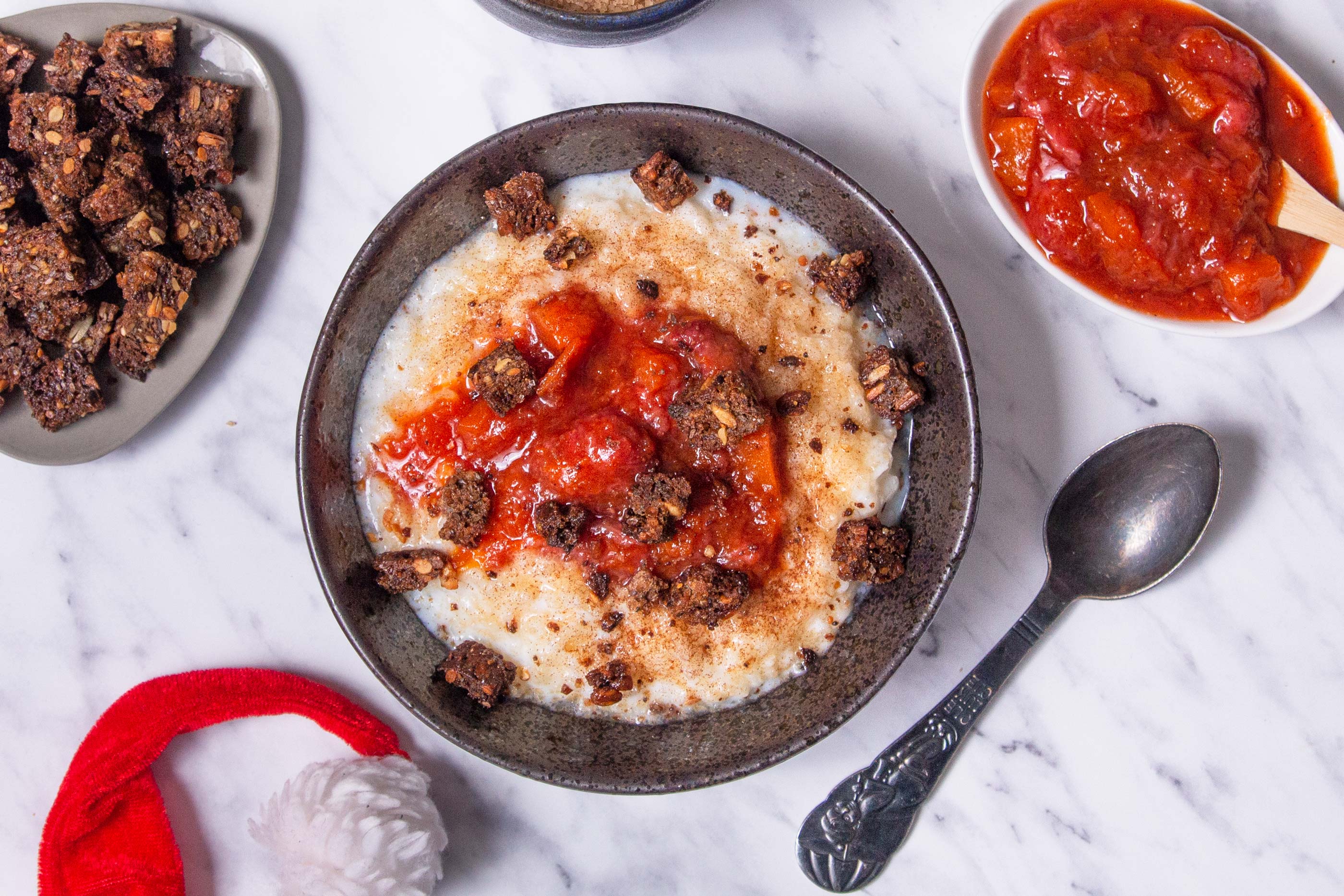 Ingredients
Freezer friendly
( 2 adults and 2 kids )
Rice porridge

002 ml

water

200 grams

porridge rice

1200 ml

milk

salt

Pumpkin compote

0.5

hokkaido pumpkin

250 grams

frozen strawberries

150 ml

water

2 tsp

vanilla sugar

1 tsp

ground cinnamon

50 grams

sugar

4 slice

rye bread

olive oil

lemon

baking parchment
ADD TO SHOPPING LIST
ADD TO MEAL PLAN
*
= Good to know - click the ingredient

= See the recipe - click the ingredient
Right, first things first: Rice porridge is a Danish Christmas staple - and it is divine! A sweet, creamy rice porridge, served warm and topped with cinnamon, it's practically a Christmas miracle. This one we've jazzed up a bit with a super nice fruit compote of strawberries and pumpkin - and topped with crunchy croutons coated in cinnamon sugar. We've used rye bread for the croutons, but you can just as well use baguette, brown bread or the like. Pop on a Santa hat and enjoy!
Directions
Rice porridge
1. Bring the water to boil over medium heat. Add porridge rice and stir well for a few minutes. Add the milk and stir regularly until it reaches the boil. Lower the heat and pop the lid on. Leave it to simmer for about 35-40 minutes, until it has the desired consistency. Season with salt to the taste.
Pumpkin compote
2. While the porridge simmers, preheat your oven to 200 degrees convection and get cracking on the compote. Peel the pumpkin and remove the seeds, and dice the flesh.
3. Bring strawberries and pumpkin to the boil in a pot of water, vanilla sugar, cinnamon and sugar and let it simmer until the rice porridge is ready. Remember to stir frequently, and make sure the pot doesn't cook dry. In that case, add a bit more water.
4. Finely dice the rye bread. Mix with a bit of oil and sprinkle with cinnamon sugar on a sheet pan with baking parchment. Bake the croutons for about ten minutes, or until they're crispy and delicious. Remember to flip them about halfway through.
5. Once the compote is cooked out, season to taste with some salt, lemon juice, and more sugar if needed. Serve the porridge with compote and cinnamon croutons on top - and don't forget your Santa hat. Enjoy!
Tip
Tasks for kids in the kitchen: Let your kids help dice the rye bread. They can also stir the compote and help taste. Save some rice porridge and toppings for the kids' packed lunches - it's a treat!
Share your tips and comments