High five!
The recipe has been added to your shopping list.
Quick meatball curry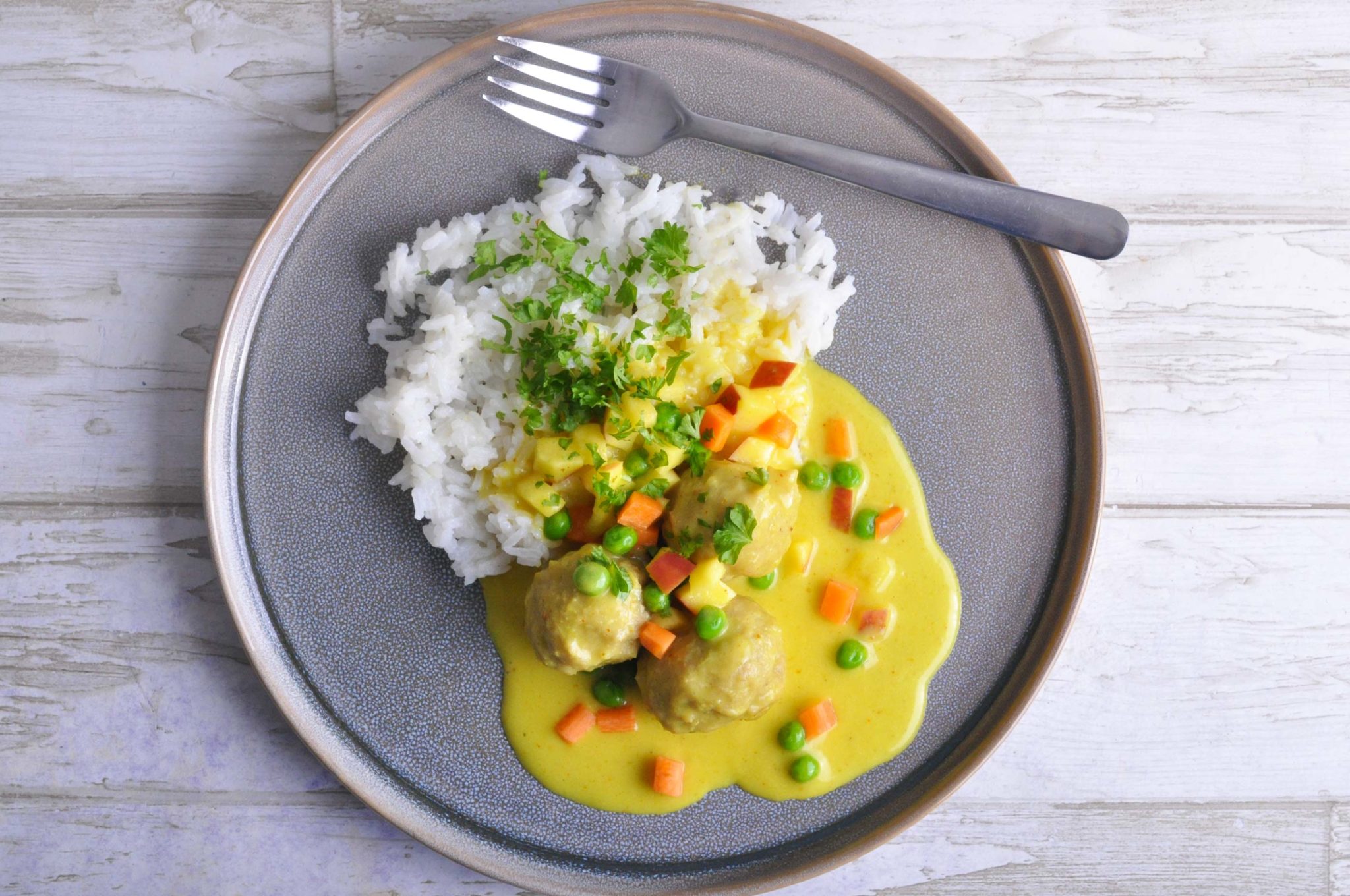 Ingredients
Freezer friendly
( 2 adults and 2 kids )
wholegrain rice

1 liter

water

1 cube

chicken stock

800 grams

dinner sausage

200 grams

carrots

*

1

apple

50 grams

butter

6 tbsp

plain flour

100 grams

frozen peas

cooking water

curry

salt

pepper
ADD TO SHOPPING LIST
ADD TO MEAL PLAN
*
= Good to know - click the ingredient

= See the recipe - click the ingredient
Here at Mambeno we LOVE a meatball curry. And although we have tonnes of recipes for homemade versions, some days things just need to come together extra speedily. And for those occasions, it's super handy to use dinner sausage for the meatballs! The dish is intended for two days. The recipe is dead easy for kids to make, but be aware that wholegrain rice take longer to cook - so perhaps consider opting for plain white rice if the kids are cooking. Enjoy!
Directions
1. Cook the rice according to the packet. Add water to a pot along with stock cube and bring to the boil. Now cut a hole in one end of the dinner sausage, and squeeze out little meatballs that you quickly shape a bit with your hands before popping them in the water. Let simmer for about 10 minutes, until cooked through.
2. Meanwhile, peel carrots and dice along with the apple. Remove the meatballs from the water and pop on a plate. Pour the cooking water into a bowl or pitcher.
3. Now melt the butter in the pot you used for the meatballs, then add flour and whisk the very best you know. Add a bit of cooking water and whisk again.
4. Carry on until you're either out of cooking water, or happy with the consistency of the sauce. Remember to whisk away all lumps before adding more liquid. Stir some curry into a cup of water and add it little by little - tasting as you go, so the curry is as spicy - or mild - as you want it.
5. Season the sauce with salt and pepper - and a bit more stock if needed. Add the meatballs back into the pot along with carrot, diced apple and peas, and warm back up. Serve with piping hot rice and an optional herb garnish, should you have some to hand. Enjoy!
Share your tips and comments