High five!
The recipe has been added to your shopping list.
Quesadillas with chicken and sweetcorn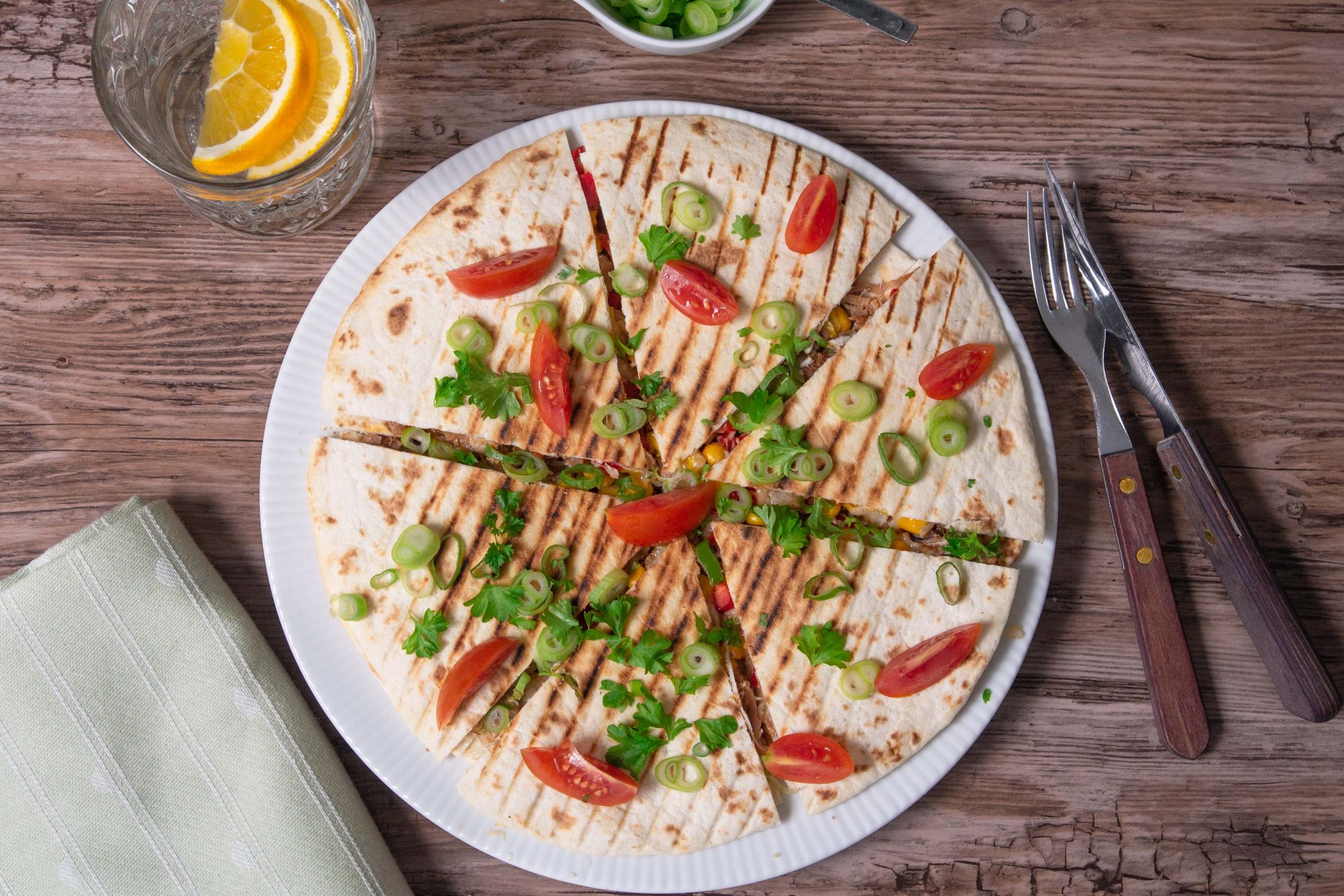 Ingredients
( 2 adults and 2 kids )
1

onion

1

red bell pepper

leftover orange roast chicken

285 grams

loose sweetcorn

0.5 tbsp

dried oregano

8

wholewheat tortillas

50 grams

grated cheese

10

cherry tomatoes

olive oil

salt

pepper
ADD TO SHOPPING LIST
ADD TO MEAL PLAN
*
= Good to know - click the ingredient

= See the recipe - click the ingredient
Quesadillas are a delicious and easy way to use up leftovers. Today we're using the leftovers from yesterday's roast chicken and supplementing with sweetcorn, bell pepper and tomato. Enjoy!
Directions
1. Preheat your oven to 225 degrees convection. Dice onion and bell pepper, and rip up the chicken. Sautée onion and bell pepper in some olive oil on a pan. Add the chicken, sweetcorn and oregano, season with some salt and pepper and let cook until the chicken is warm throughout.
2. Give the tortillas a brush of olive oil on one side. Place a tortilla oil side down on a cutting board, and spread some chicken on top. Sprinkle with grated cheese. Place another tortilla on top, this time with the oil side facing up.
3. Carefully move the quesadillas to an oven rack and bake for about 15 minutes. If you're brave, you can carefully flip them halfway through, to crisp both sides - but you can absolutely skip that, if you're not exactly bursting with confidence at the prospect! Use a pizza peel or large spatula to flip.
4. Serve the quesadillas with quartered cherry tomatoes on top. Enjoy!
Tip
Tasks for kids in the kitchen: Let your kids help rip up the chicken. They can also dice the bell pepper and quarter the tomatoes. We're figured one quesadilla per person, but if you think your lot is hungrier than that, pick up some extra chicken or bulk it out with some more veg.
Share your tips and comments