High five!
The recipe has been added to your shopping list.
Orange roast chicken - for two days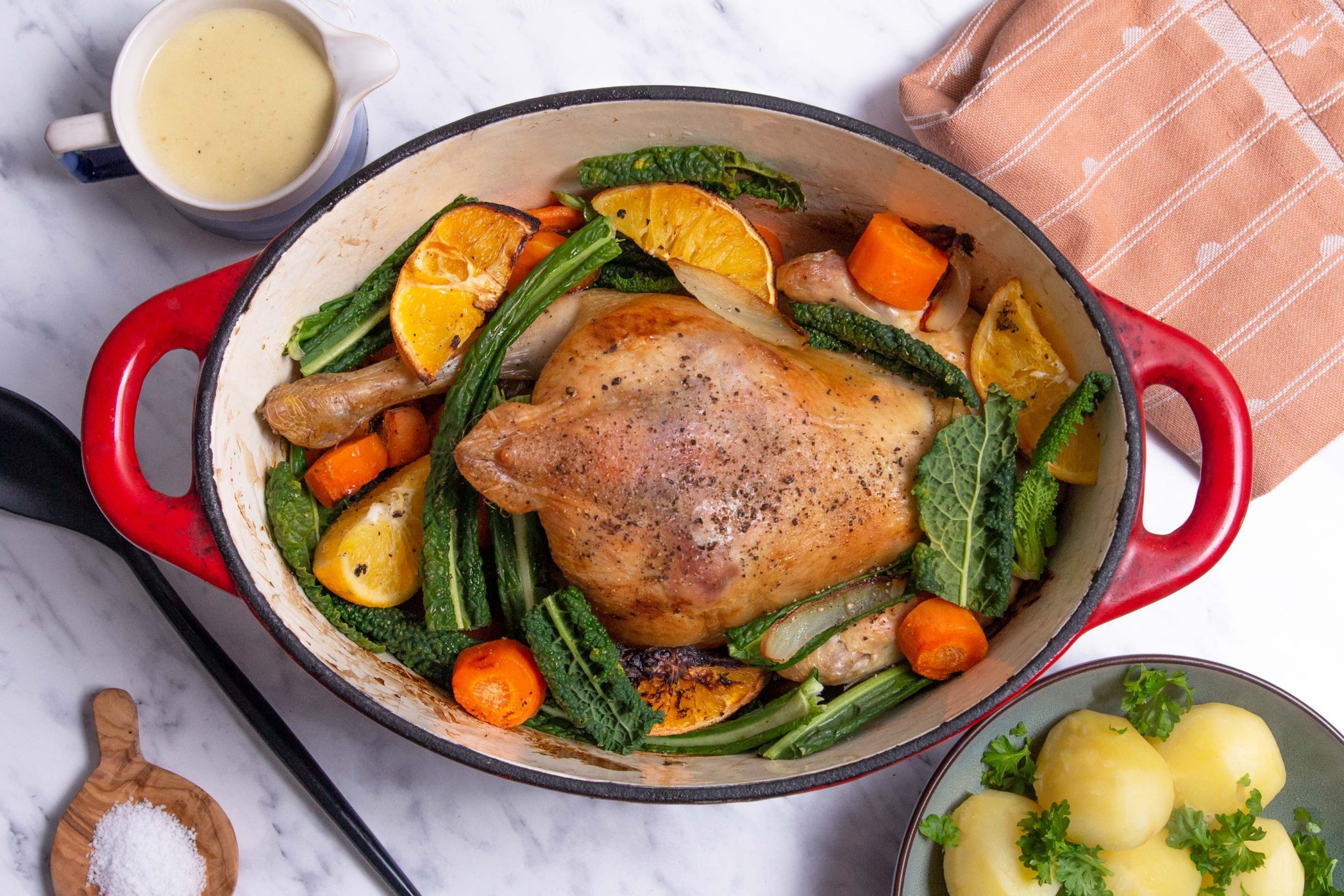 Ingredients
( 2 adults and 2 kids )
400 grams

carrots

*

2

organic orange

500 grams

potatoes

1

onion

2 clove

garlic

50 grams

butter

1

whole chicken

100 ml

water

100 ml

milk

35 grams

fresh spinach pasta

olive oil

sea salt

pepper

corn flour
ADD TO SHOPPING LIST
ADD TO MEAL PLAN
*
= Good to know - click the ingredient

= See the recipe - click the ingredient
We hardly need to tell you that roast chicken is delicious! This is a super easy version with orange, carrots and spinach. We're serving it with potatoes and a gorgeous gravy. Remember to save half of the chicken for tomorrow, where it's going in crispy quesadillas. Enjoy!
Directions
1. Preheat your oven to 225 degrees convection. Peel the carrots. Cut oranges into wedges. Finely chop onion and garlic and mix with carrots and half of the oranges in a baking tray.
2. Clean the chicken and pat dry with some kitchen roll. Mix sea salt and pepper in a cup and give the chicken a proper rub. Stuff the remaining orange wedges into the chicken and pop the bird on top of the veggies.
3. Add the water to the bottom of the tray and pop in the oven. Roast the chicken for 10 minutes on 225, then lower the heat to 200 and let cook for another 50-60 minutes. You want the juices to run clear, and the meat to be white - not pink! - and your bird is cooked! If you want a bit of extra colour in the skin, crank the heat back up to 225 for the last 10-15 minutes, or give the bird a go under the grill setting. Keep an eye on it, though!
4. Scrub and wash the potatoes - or peel, if they're a struggle to get clean. Cook in salted water.
5. Remove the tray from the oven, tip the chicken and pour the roasting juices into a pot and bring to the boil. Add milk and thicken the gravy with corn flour stirred into a cup of water. Season with salt and pepper.
6. Serve with spuds, spinach, veggies and gravy. Enjoy!
Tip
Tasks for kids in the kitchen: Let your kids help cut the oranges into wedges. They're also handy for scrubbing or peeling potatoes, stirring the gravy and helping to season it.
Share your tips and comments