High five!
The recipe has been added to your shopping list.
Quesadillas with chicken and salad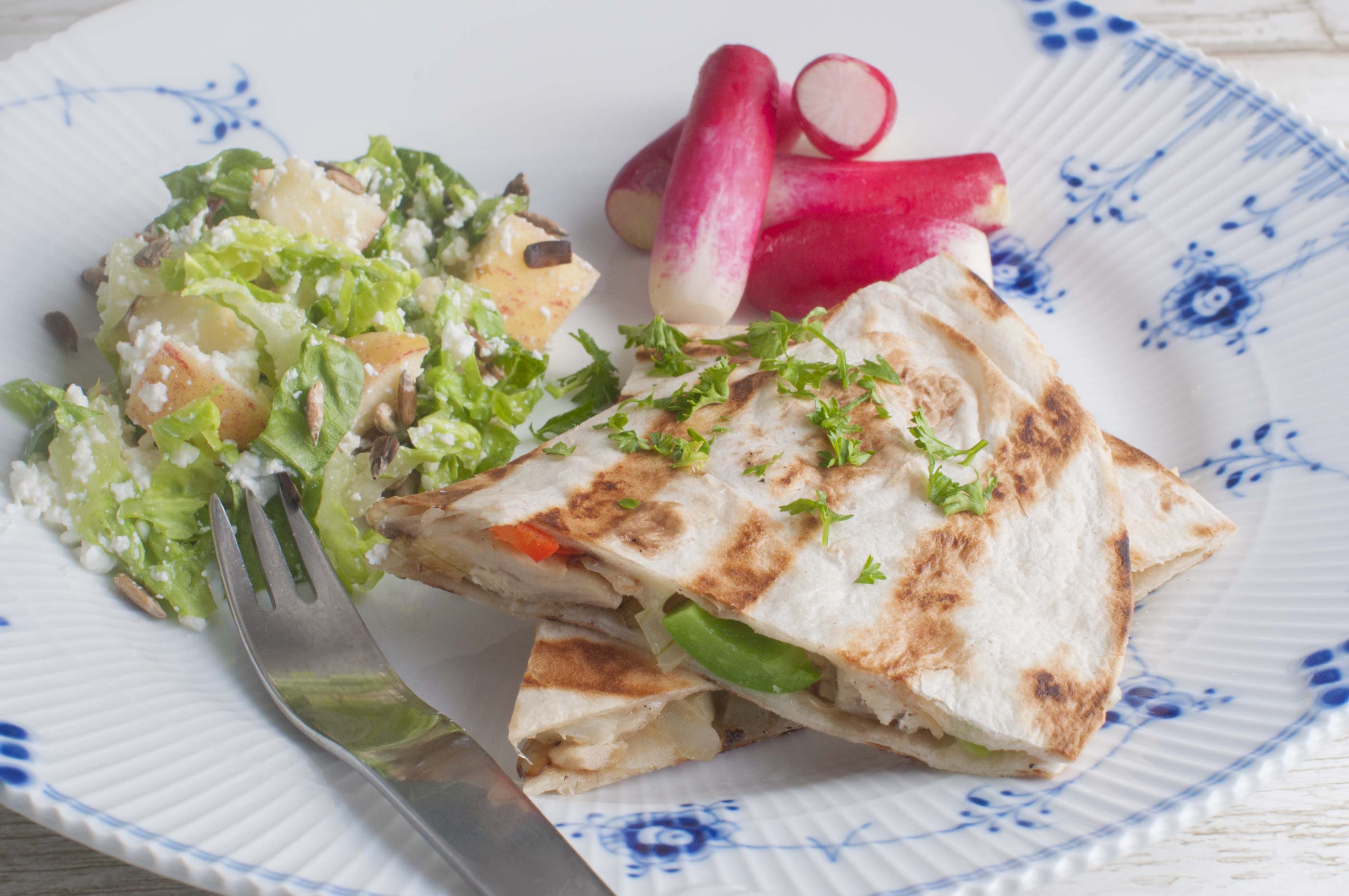 Ingredients
( 2 adults and 2 kids )
100 grams

sunflower seeds

*

1

onion

3

red bell pepper

cooked chicken drumsticks

8

wholewheat tortillas

50 grams

grated cheese

lettuce of your choice

2

apples

200 grams

cottage cheese

8

radish

olive oil

salt

pepper
ADD TO SHOPPING LIST
ADD TO MEAL PLAN
*
= Good to know - click the ingredient

= See the recipe - click the ingredient
Quesadillas are a super yummy way to use leftovers - and tortilla wraps. Here we've stuffed the crunchy quesadillas with leftover chicken, bell pepper and grated cheese, and served them with an easy salad with cottage cheese, apples and sunflower seeds. Enjoy!
Directions
1. Roast the sunflower seeds on a dry pan. Dice the onion and cleaned, rinsed bell pepper and rip up the chicken into strips. Cook the onion in a bit of olive oil on a pan. Add the chicken, season with a bit of salt and pepper and let it cook until the chicken is warm throughout.
2. Brush the tortillas with a bit of olive oil on one side. Place a tortilla with the oiled side down on a cutting board and spread some chicken mix and bell pepper in an even layer over top. Season with salt and pepper and sprinkle with grated cheese on top. Place another tortilla on top, with the oiled side facing up.
3. Carefully move the quesadillas to an oven grate or the grill. If you're making them on the barbecue, you'll need to really keep an eye on them - it happens fast, so watch out for them burning! Once they've gotten some beautiful stripes on one side, carefully flip them, so they get lovely stripes on the other side as well. Use a pizza peel or a large spatula to flip them.
4. If you're making your quesadillas in the oven, place on an oven grate and bake for approx. 15 minutes at 225 degrees convection, with an upside down plate on top. This will give them the right shape. Flip them halfway through - and mind the plate, it'll be hot as all get out!
5. Make a quick salad from rinsed lettuce leaves, diced apples, cottage cheese and roasted sunflower seeds and serve with the crispy tortillas and some rinsed radishes to munch on.
6. Enjoy!
Tip
We've figured one quesadilla per person. If your clan is hungrier, buy a bit extra or add more veggies. You can also cut some snack veggies or serve a wholewheat baguette on the side, if the kids aren't big salad fans.
Share your tips and comments