High five!
The recipe has been added to your shopping list.
Drumsticks with crushed potatoes and salad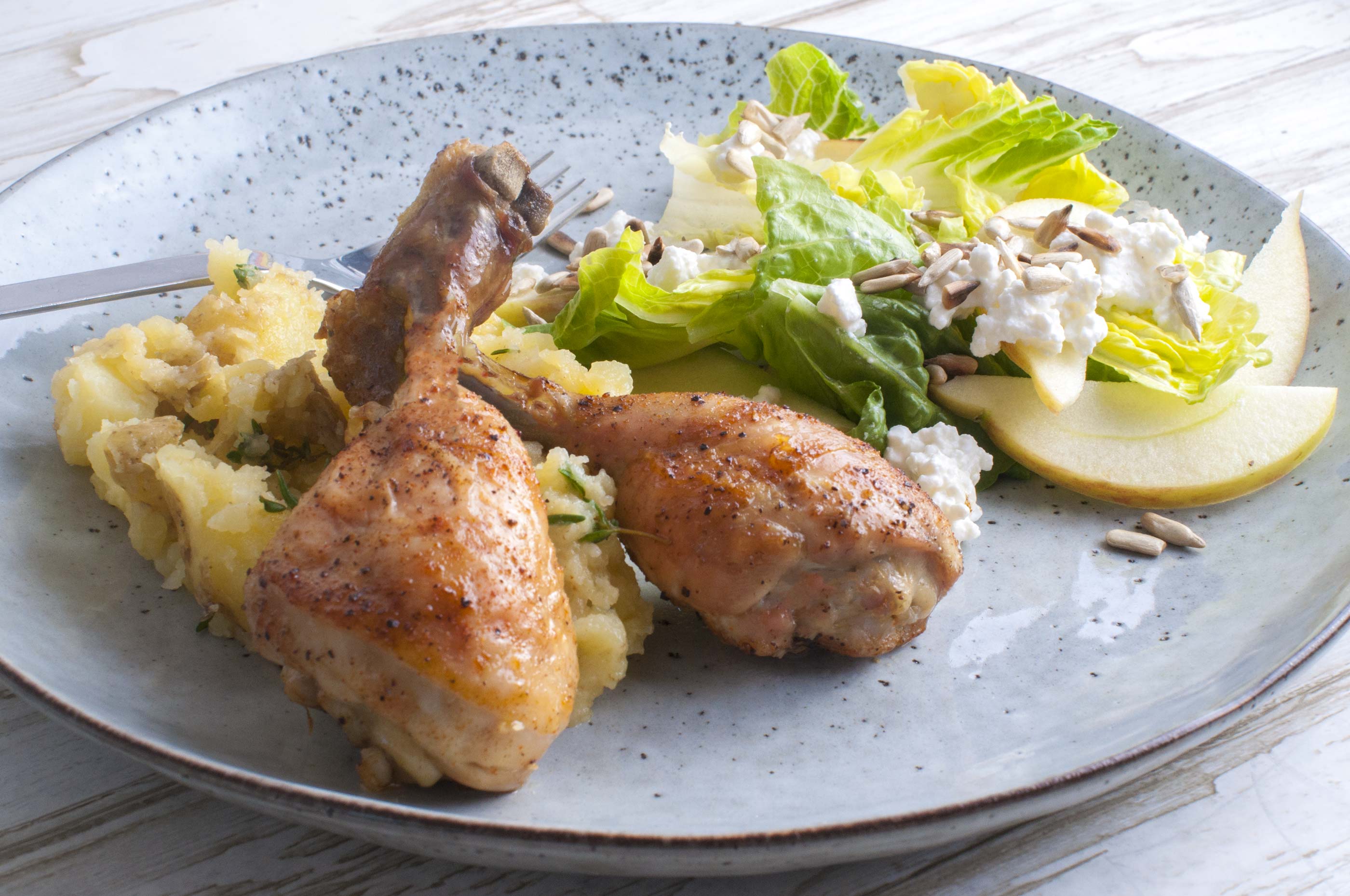 Ingredients
( 2 adults and 2 kids )
100 grams

sunflower seeds

*

10

chicken drumsticks

500 grams

baby potatoes

lettuce of your choice

2

apples

200 grams

cottage cheese

25 grams

butter

paprika

fresh or dried thyme

salt

pepper

olive oil
ADD TO SHOPPING LIST
ADD TO MEAL PLAN
*
= Good to know - click the ingredient

= See the recipe - click the ingredient
An easy dish with chicken drumsticks, tasty crushed potatoes with caramelised butter and thyme - and a quick salad tossed with cottage cheese, apples and sunflower seeds. Note that this dish is intended for two days. For this reason, the recipe includes extra drumsticks to cook today and use as filling in crispy quesadillas tomorrow. Enjoy!
Directions
1. Preheat your oven to 225 degrees convection. Roast the sunflower seeds on a dry pan and put them aside.
2. Pop the drumsticks in a casserole tin oiled with a bit of olive oil or covered with baking parchment. Drizzle them with a bit of olive oil and season with salt, pepper, a pinch of paprika and optionally any of your favourite spices, like oregano, thyme, or whatever the family prefers. Put a dash of water in the bottom of the tin to keep the drumsticks from burning.
3. Cook the drumsticks in the oven for approx. 30 minutes, until cooked through. Or throw them on the grill if the weather permits.
4. Boil the potatoes until tender in a pot of salted water. Drain the potatoes and leave them in the pot.
5. While the potatoes are cooking, whip up a quick salad of rinsed lettuce, diced apples and cottage cheese.
6. Melt the butter in a pan and leave it until it turns a nutty brown. Pour the butter over the potatoes along with chopped fresh or dried thyme, depending on your preference.
7. Crush the potatoes with a whisk and fold them well with thyme and butter. Add salt and pepper to taste and serve with drumsticks and salad and a dash of sunflower seeds on top.
8. Enjoy!
Tip
Save the rest of the cooked drumsticks and use them as filling in delicious quesadillas. You can also save them for the kids' packed lunched. If you have salad left over, save it in the fridge and use it as a side for the quesadillas tomorrow. Don't mix the sunflower seeds in with the salad though, as they will go soggy.
Share your tips and comments