High five!
The recipe has been added to your shopping list.
Pizza with meatballs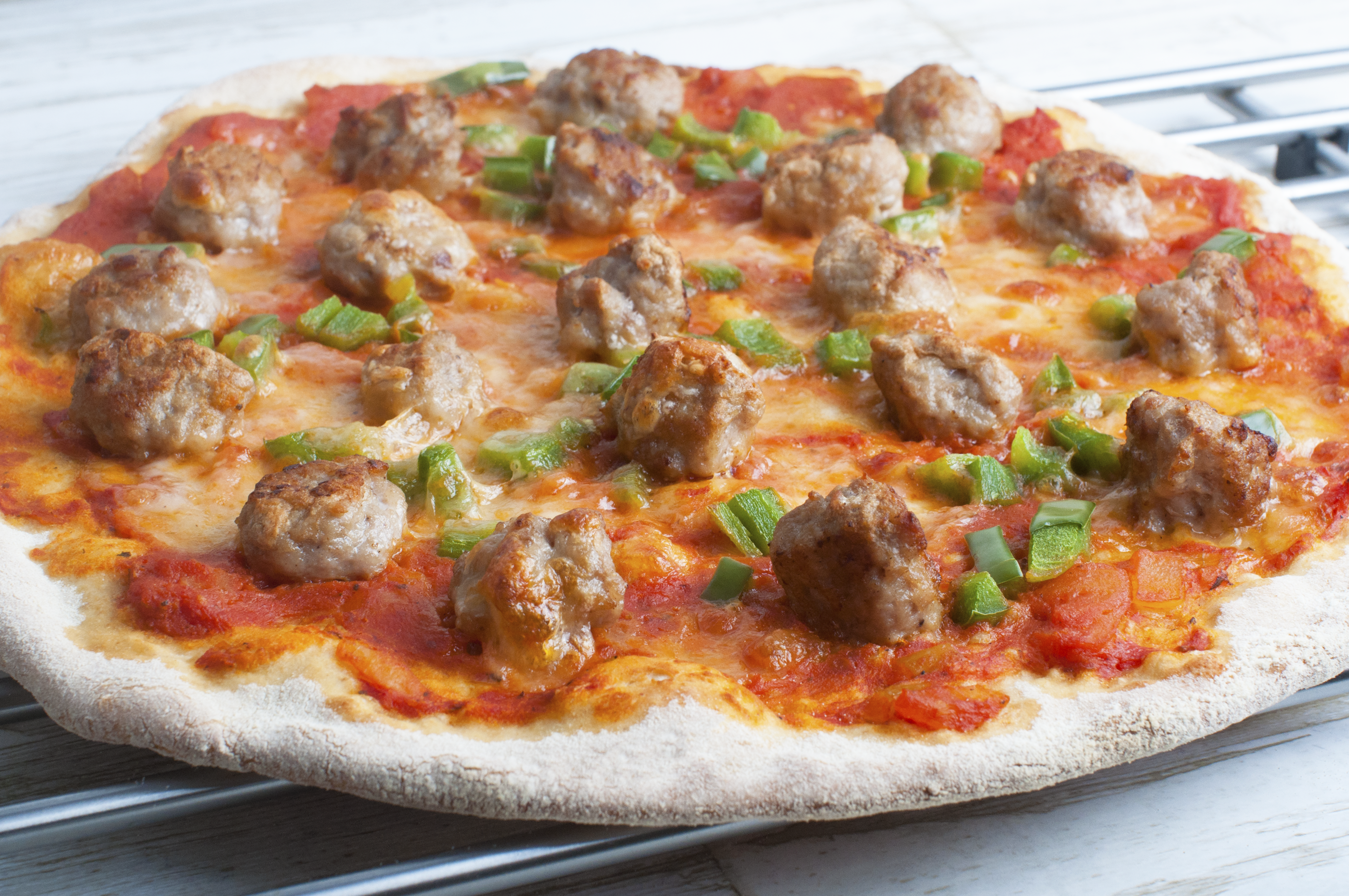 Ingredients
Freezer friendly
( 2 adults and 2 kids )
semolina or plain flour

500 grams

pizza dough

8 tbsp

tomato sauce

leftovers from pasta and meatballs

1 ball

mozzarella

olive oil

0.5

cucumber

300 grams

carrots

*

baking parchment
ADD TO SHOPPING LIST
ADD TO MEAL PLAN
*
= Good to know - click the ingredient

= See the recipe - click the ingredient
Here at Mambeno, we LOVE two-day dishes! Especially on day two, where the meal plan is especially easy. Here's our recipe for a quick and tasty pizza with leftovers from our pasta and meatballs and topped with mozzarella and bell pepper. As always, it's completely up to you whether you want to buy the pizza dough ready made, or make your own from scratch. Just click the little chefs' hat in the ingredients to see our dead easy recipe.
Directions
1. Preheat your oven to 250 degrees with a baking tray on the bottom shelf. If you have a pizza stone, put it on the baking tray now, while the oven is cold.
2. Sprinkle a bit of flour on a clean tabletop and roll out the pizza dough to about 30 cm in diameter. Be careful not to make them too thick!
3. Important: If you don't have a pizza peel to move the pizzas to the oven with, move the pizza dough onto a piece of baking parchment now, before you add the tomato sauce.
4. Spread the tomato sauce across the dough - you can easily use the leftover sauce from yesterdays pasta. Leave the sauce off the outer quarter of an inch of the pizzas. Spread the meatballs on top - halve them if they're a bit too big. Tear the mozzarella into small chunks and spread across the top.
5. Move the pizzas to the oven with a pizza peel, or slide a cutting board under the baking parchment and move the pizzas to the oven that way. Bake the pizzas for 10-15 minutes, until the cheese is golden and the crust crisp. Finish with a drizzle of olive oil and garnish with basil or other fresh herbs, if you have some to hand.
6. Wash the cucumber, peel the carrots and cut both into sticks for snack veggies to serve alongside the pizzas. Enjoy!
Tip
For two adults and two kids, this recipe will make two pizzas. If your numbers are different, use the key that you'll need 200-225 grams of pizza dough per pizza. If your kids are really little, you can boil the carrots to soften them, or swap them for softer veggies like cherry tomatoes or corn.
Share your tips and comments