High five!
The recipe has been added to your shopping list.
Meatball curry with rice tafel - for two days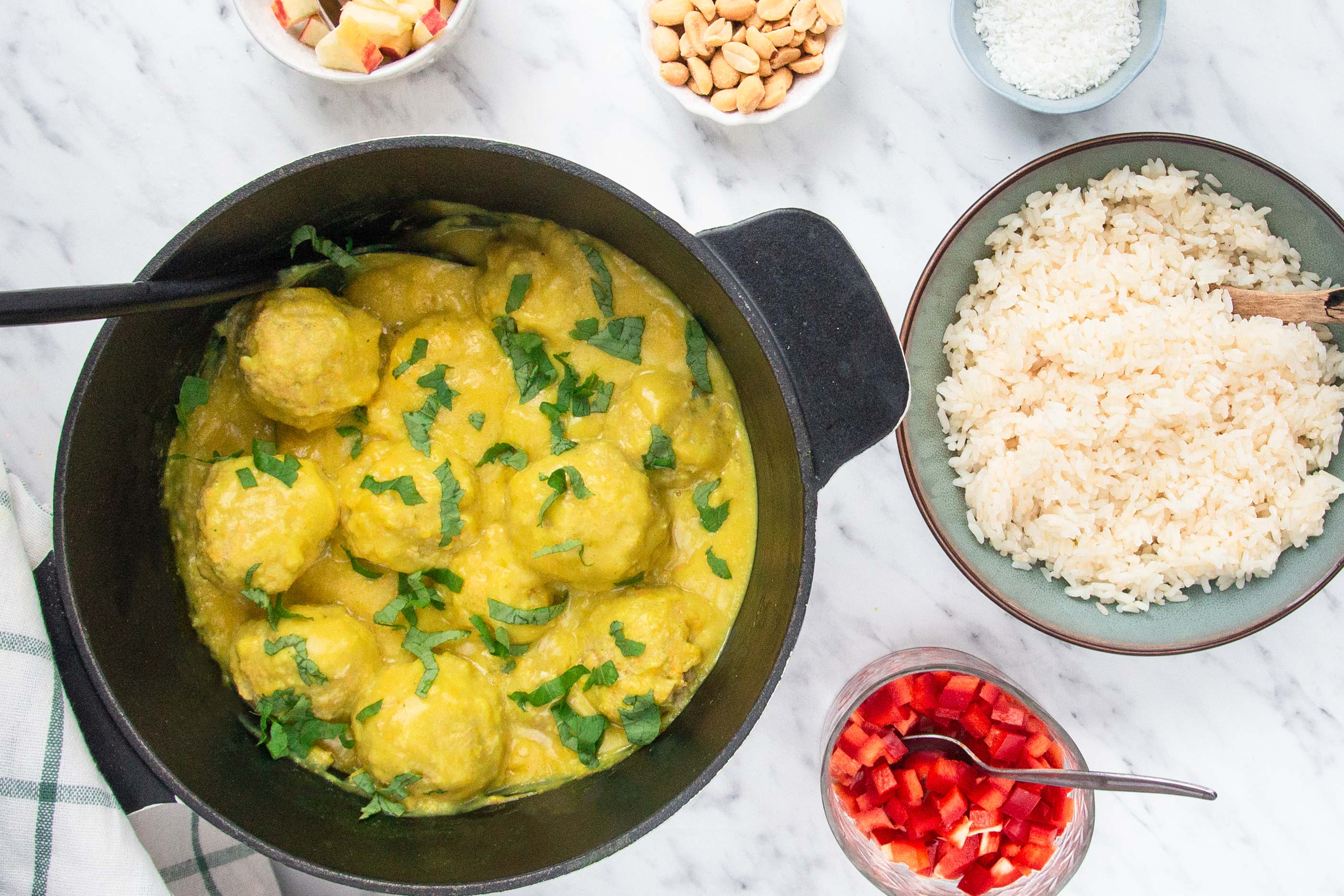 Ingredients
Freezer friendly
( 2 adults and 2 kids )
wholegrain rice

2 litre

water

2 cube

chicken stock

400 grams

carrots

*

2

onion

2 tsp

salt

2

egg

800 grams

pork mince

80 grams

breadcrumbs

1

apple

0.5

red bell pepper

50 grams

peanuts

20 grams

coconut flour

250 ml

single cream 8%

1.5 tbsp

curry

pepper

corn flour
ADD TO SHOPPING LIST
ADD TO MEAL PLAN
*
= Good to know - click the ingredient

= See the recipe - click the ingredient
If you've been with us any length of time, you're probably familiar with this Danish family classic. If not, we'll say just this to convince you: It's meatballs in a chippy-like curry. In other words, it's heaven! We're serving it with a bit of a low-key rice tafel - which is Dutch-ish for "rice with toppings" - in this case apple, peanut, bell pepper and coconut flour. It may be sounding a touch laborious, but it is totally worth it - and we're of course making enough for tomorrow. Enjoy!
Directions
1. Cook the rice according to the packet. Bring a separate pot of water and stock cubes to the boil. Peel carrots and onions and chop both. Give carrots, onions, egg and salt a spin in a mini chopper.
2. Mix with mince, breadcrumbs and pepper in a bowl. Shape little meatballs from the farce and let them simmer in the water until they float to the top (that's when they're cooked through). Skim off any impurities if needed. We suggest cooking a little test ball to taste if the seasoning is how you like it.
3. Meanwhile, finely dice rinsed apple and bell pepper, and place into small separate bowls along with peanuts and coconut flour.
4. Fish the meatballs out of the water and into a bowl. Add single cream to the cooking water. Stir the corn flour into some cold water to thicken. Keep in mind that sauce will thicken further once it begins to boil, so take it slow. You can also shake together some plain flour and water to use instead.
5. Slowly add the curry, stirred into a bit of water, and taste as you go. Season with salt and pepper, place the meatballs in the sauce and warm it up. Serve with rice, and let the family top with apple, bell pepper, peanuts and coconut flour as they like. Enjoy!
Tip
Tasks for kids in the kitchen: Let your kids help dice apple and bell pepper. They can also help shape the meatballs, and of course taste the sauce - kids are champion tasters!
Share your tips and comments