High five!
The recipe has been added to your shopping list.
Meatball curry with courgette and pineapple - for two days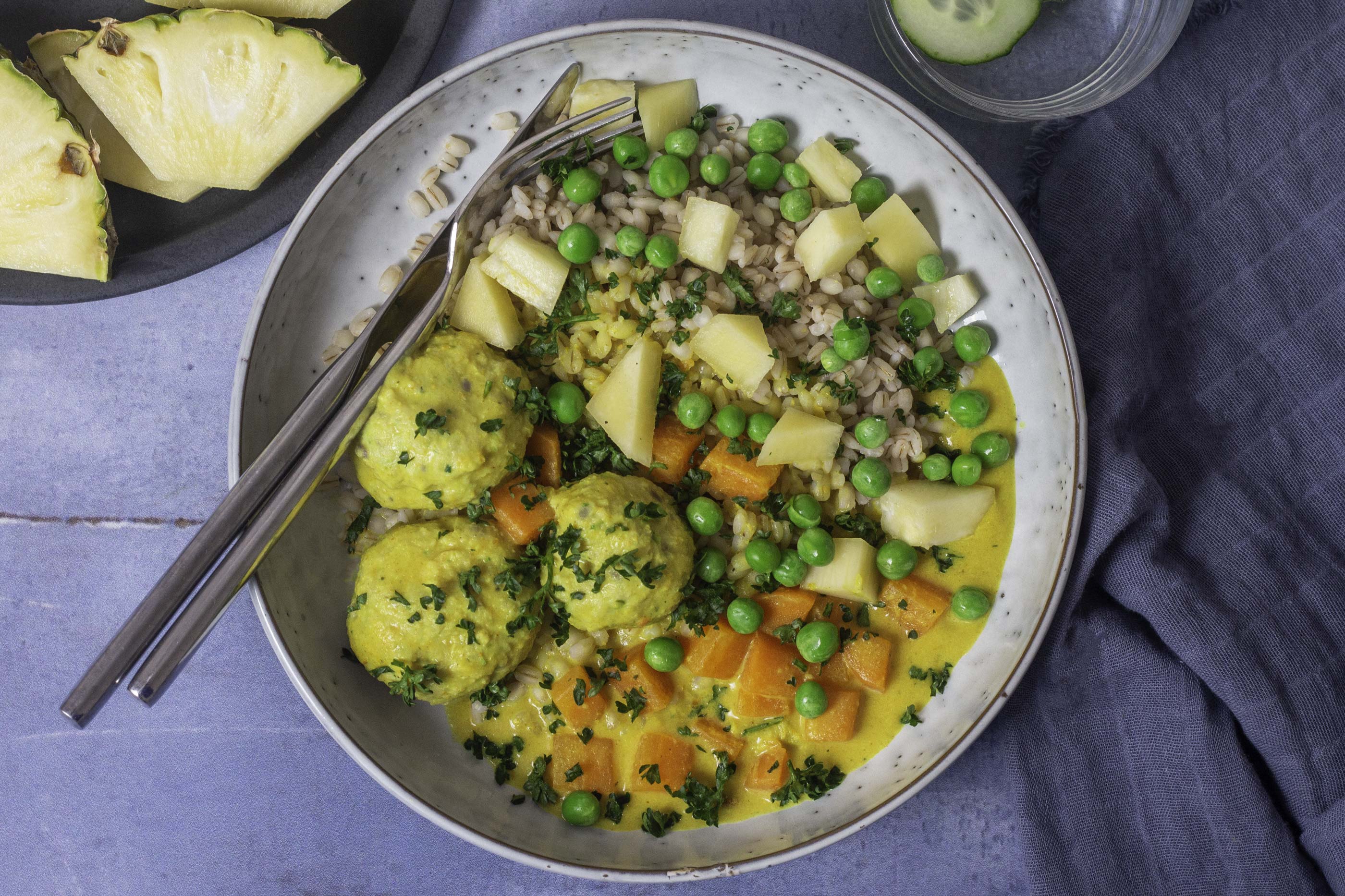 Ingredients
Freezer friendly
( 2 adults and 2 kids )
wholegrain rice

2 litre

water

2 cube

chicken stock

2

onion

1

courgette

800 grams

pork mince

2 tsp

salt

2

egg

50 grams

breadcrumbs

100 ml

milk

300 grams

carrots

*

150 ml

coconut milk

300 grams

frozen peas

4 tbsp

corn flour

2 tbsp

curry

0.5

pineapple

pepper
ADD TO SHOPPING LIST
ADD TO MEAL PLAN
*
= Good to know - click the ingredient

= See the recipe - click the ingredient
Meatball curry is a Danish family staple (us Danes and our pork...!) and a certain hit in the Mambeno household. We've made quite a few different versions at this stage - this one is with courgette, carrots, peas, and fresh pineapple on top. If you like, you can swap out the rice for pearled spelt, which is a bit heartier. Remember, this dish is designed for two days. Enjoy!
Directions
1. Cook the rice according to the packet. Bring another pot of water to the boil with the stock cubes. Finely chop the onion. Rinse the courgette and finely grate it on a grater or use a food processor. Squeeze as much moisture from the grated courgette as you can.
2. Mix mince, salt, egg, breadcrumbs, milk, onion, courgette and some freshly cracked pepper in a bowl. Once the water is boiling, shape little meatballs using a spoon and your palm. Carefully place them into the water and let simmer, until the meatballs float to the top and are cooked through. If you're unsure, you can cook a little test-ball first, to make sure the flavour is how you like it. Meanwhile, peel carrots and finely dice them.
3. Remove the meatballs and place in a bowl. Add coconut milk, carrots and frozen peas. Stir the corn flour out into some cold water and thicken the meatball water. This will make a lot of sauce, and if you're finding it too thin, just stir some more corn flour out in water and add it to the sauce bit by bit. You can also shake together a mix of flour and water to use instead.
4. Slowly add the curry stirred out in some water, and keep tasting as you go. Season to taste with salt and pepper, pop the meatballs back into the sauce and warm up. Serve with rice and chopped fresh pineapple on top. Enjoy!
Tip
Tasks for kids in the kitchen: Let your kids help dice courgette and pineapple. They can also help shape the meatballs, and of course taste test the sauce.
Share your tips and comments