High five!
The recipe has been added to your shopping list.
Leftover chicken risotto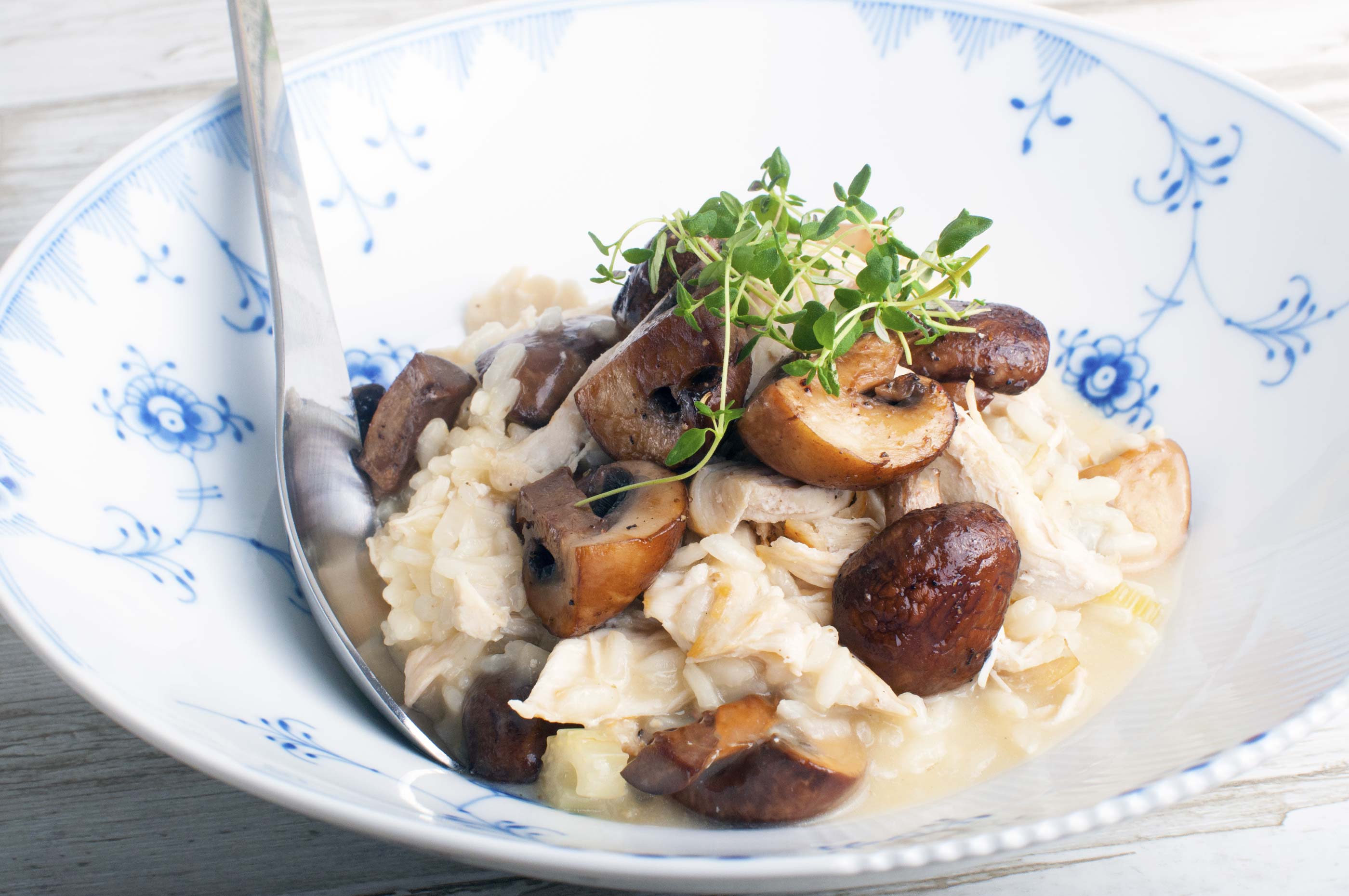 Ingredients
( 2 adults and 2 kids )
1.5 litre

water

2 cube

chicken stock

250 grams

mushrooms

leftover roast chicken

75 grams

parmesan

70 grams

parma or serrano ham

1

onion

1 clove

garlic

300 grams

risotto rice

0.5 tbsp

dried oregano

- or thyme

200 ml

white wine

0.5

lemon

salt

pepper

olive oil
ADD TO SHOPPING LIST
ADD TO MEAL PLAN
*
= Good to know - click the ingredient

= See the recipe - click the ingredient
This is our recipe for a delicious risotto made with leftover roast chicken as topping. You can easily swap the chicken for other meat if you prefer. And don't worry - risotto is no hassle at all to make, just follow our easy recipe and have fun!
Directions
1. Bring the water to the boil with the stock cubes. Clean and quarter the mushrooms. Rip the chicken into shreds, roughly grate the parmesan and pop it all off to the side.
2. Place the ham on a cold and dry pan. Turn on the heat, cook the ham until crispy and let it drip off on a bit of kitchen towel. Cook the mushrooms on the same pan, at high heat, with a bit of olive oil - remember to season with salt and pepper. Put ham and mushrooms to the side, and finally cook the chicken meat, remembering to season with salt and pepper.
3. Finely chop onion and garlic and cook on medium heat with a bit of olive oil in a large pot, stirring continuously for about 5 minutes, until the onions are clear. You don't want them to brown. Add risotto rice and oregano and stir for another few minutes to keep it from burning. Add wine while stirring continuously and stir until the rice and absorbed almost all of the wine.
4. Add the stock with a soup ladle over a few rounds, still stirring continuously. Let the rice soak up the stock before you add more. Continue until the risotto is the texture of runny rice pudding. You might not need all of your stock. Be careful the risotto doesn't get too thick and firm - you want it thinner than you think, and you want to keep a bit of bite in the rice. As while the risotto cools on a plate, it has a tendency to go too firm.
5. Take the risotto off the heat and add grated parmesan and mushrooms. Optionally you can save a bit to use as garnish. Gently stir and add salt, pepper and lemon juice to taste. Serve in soup bowls or deep plates with extra roast mushrooms, crispy parma bits and a sprinkle of herbs if you have some to hand. Enjoy!
Tip
You don't need to shell out for real parmesan - Grana Padano, a cheaper and almost identical cheese will do just fine. Feel free to whip up a bit of snack veg to serve with the risotto, like carrots, cucumber, radishes, cherry tomatoes, celery or similar.
Share your tips and comments