High five!
The recipe has been added to your shopping list.
Kofta kebab with Greek salad and bell pepper dip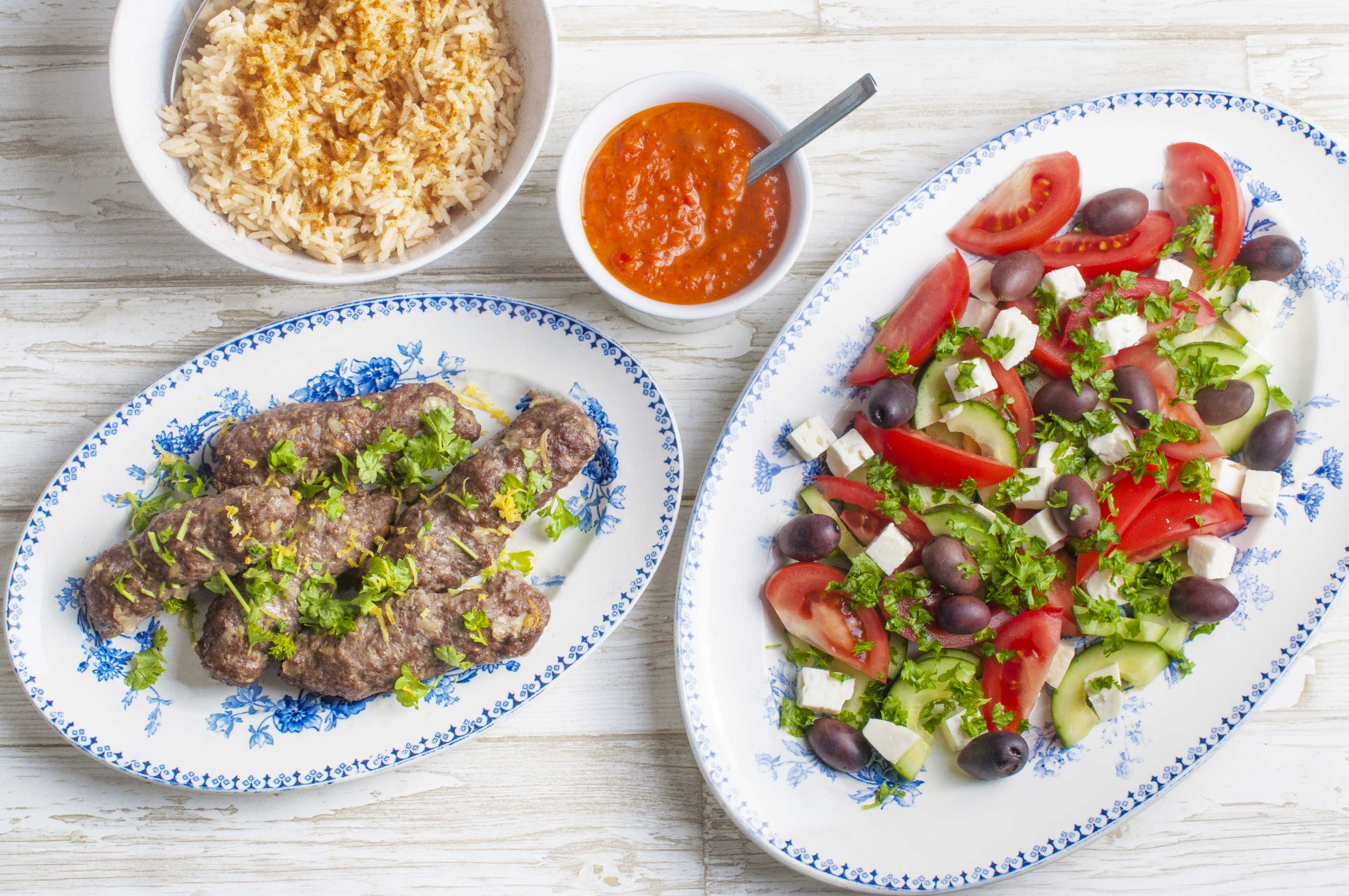 Ingredients
( 2 adults and 2 kids )
Koftaer

wholegrain rice

2

onion

1 clove

garlic

800 grams

beef mince

1

egg

4 tsp

cumin

1 tsp

ground cinnamon

2 tsp

paprika

1 tsp

ground nutmeg

2 tsp

salt

0.5

organic lemon

Dip and salad

2

red bell pepper

1 clove

garlic

25 ml

olive oil

0.5

cucumber

2

tomato

100 grams

feta cubes

100 grams

black olives

cling film

baking parchment

pepper
ADD TO SHOPPING LIST
ADD TO MEAL PLAN
*
= Good to know - click the ingredient

= See the recipe - click the ingredient
Kofta is a classic of Middle Eastern cuisine - and taste absolutely brill in Yorkshire as well! Here we've served them with rice, Greek salad, and the tastiest bell pepper dip. And although it takes a while to make, it's time well spent! The dish is designed for two days, and the leftover koftas are used as filling in tasty flatbreads.
Directions
1. Switch on the oven on full grill-power and cook the rice according to the packet. Then start with the dip - halve the bell peppers and rinse them. Place on a baking grate with the skin up, and place on the top shelf of the oven, as close to the grill as possible - without touching.
2. Grill the peppers for approx. 20 minutes, until properly blackened. Remove from the oven and turn the heat down to 185 degrees convection. Place the piping hot peppers in a glass bowl and cover with cling film, so it's sealed. Leave the bell peppers while you sort everything else - this way you can easily remove the skin later.
3. Finely chop onion and garlic and mix in a bowl with meat, egg, cumin, cinnamon, paprika, nutmeg, salt and lemon zest. It's easiest to mix with your hands. Optionally, you can cook a little trial-ball to check if the seasoning is how you like it.
4. Shape oblong koftas from the farce, to about 10-12 cm length. Place on a baking tray covered with baking parchment and bake for approx. 15 minutes, until cooked through. Be careful not to overcook them, as they'll go dry.
5. Remove the cling film and peel off the skin of the peppers. Give them a good whirl in a mini chopper along with garlic and olive oil. Start with a small bit of olive oil - you can always add more. Blend until the consistency is nice and creamy, and season with salt, pepper and a dash of lemon juice to taste.
6. Whip up a quick Greek salad of rinsed cucumber and tomatoes in bite-sized chunks, feta and olives. Optionally sprinkle with parsley or other herbs, if you have some handy. Server the koftas with rice, Greek salad and bell pepper dip. Enjoy!
Tip
Remember to save the leftover koftas for tomorrow's tasty flatbreads.
Share your tips and comments