High five!
The recipe has been added to your shopping list.
Krebinettes with easy cream sauce and couscous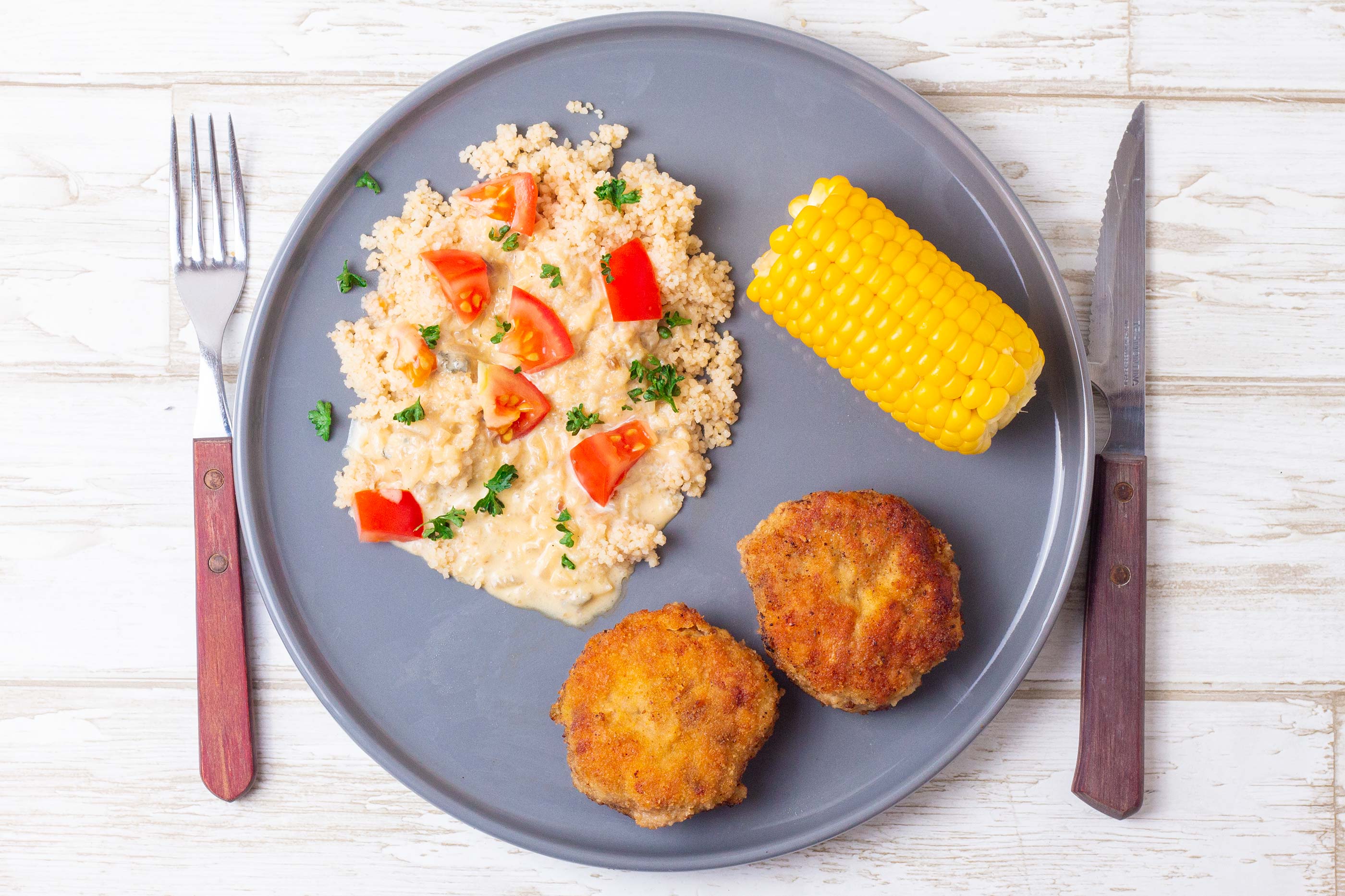 Ingredients
( 2 adults and 2 kids )
couscous

200 grams

carrots

*

800 grams

pork mince

2

egg

150 grams

breadcrumbs

2

corn cob

1

onion

1 clove

garlic

250 ml

single cream

1 tsp

dried oregano

1 cube

vegetable stock

2

tomato

salt

pepper

butter

olive oil
ADD TO SHOPPING LIST
*
= Good to know - click the ingredient

= See the recipe - click the ingredient
Krebinettes are a Danish classic, and are a sort of breaded mince meat patty. For this Mambeno-version, we've snuck some grated carrots in, to make them extra juicy. Here we've served the krebinettes with couscous, corn cobs and cream sauce. You can also choose to serve them with rice, pasta or bulgur. The dish is for two days - use the rest of the patties in tasty burgers. Enjoy!
Directions
1. Preheat your oven to 200 degrees convection.
2. Cook the couscous according to the packet. You can just as well use rice, pasta or bulgur if you prefer.
3. Peel the carrots and grate on a grater. It's up to you whether to grate them roughly or finely. Mix the mince with the grated carrot and a bit of salt and pepper. We recommend using your hands, it's easier!
4. Beat the egg in a deep plate and pour the breadcrumbs onto a flat plate. Mix the breadcrumbs with a bit of salt and cracked pepper. Shape some lovely patties from the farce, and begin by coating them in the egg, followed by the breadcrumbs, so the patty is completely coated on all sides. Make four patties, making them big and flat so they'll fit in a burger tomorrow.
5. Sear the krebinettes briefly on relatively high heat in a mixture of butter and oil, on a pan that's safe to chuck in the oven. You just want the krebinettes browned and with a bit of sear on all sides, but not cooked through. This takes a few minutes - don't worry about cleaning the pan, as you'll need it for the sauce. Finish the krebinettes in the oven for about 15 minutes, or until cooked through.
6. Cut the ends off the corn cobs and remove leaves and "hairs". Split each cob into two and cook in salted water for about 10 minutes.
7. Chop onion and garlic and cook both in olive oil, on the pan you used for the krebinettes. Add single cream, oregano and crumbled stock cube. Let the sauce simmer over low heat and season to taste with salt and pepper.
8. Serve the krebinettes with couscous, cream sauce, corn cobs and top with rinsed, diced tomatoes.
9. Enjoy!
Tip
Remember to save a handful of krebinettes for juicy burgers tomorrow. And if you happen to have a bit of gorgonzola in the fridge, pop a little into the sauce - it tastes amazing!
Share your tips and comments