High five!
The recipe has been added to your shopping list.
Hodge podge pot - for two days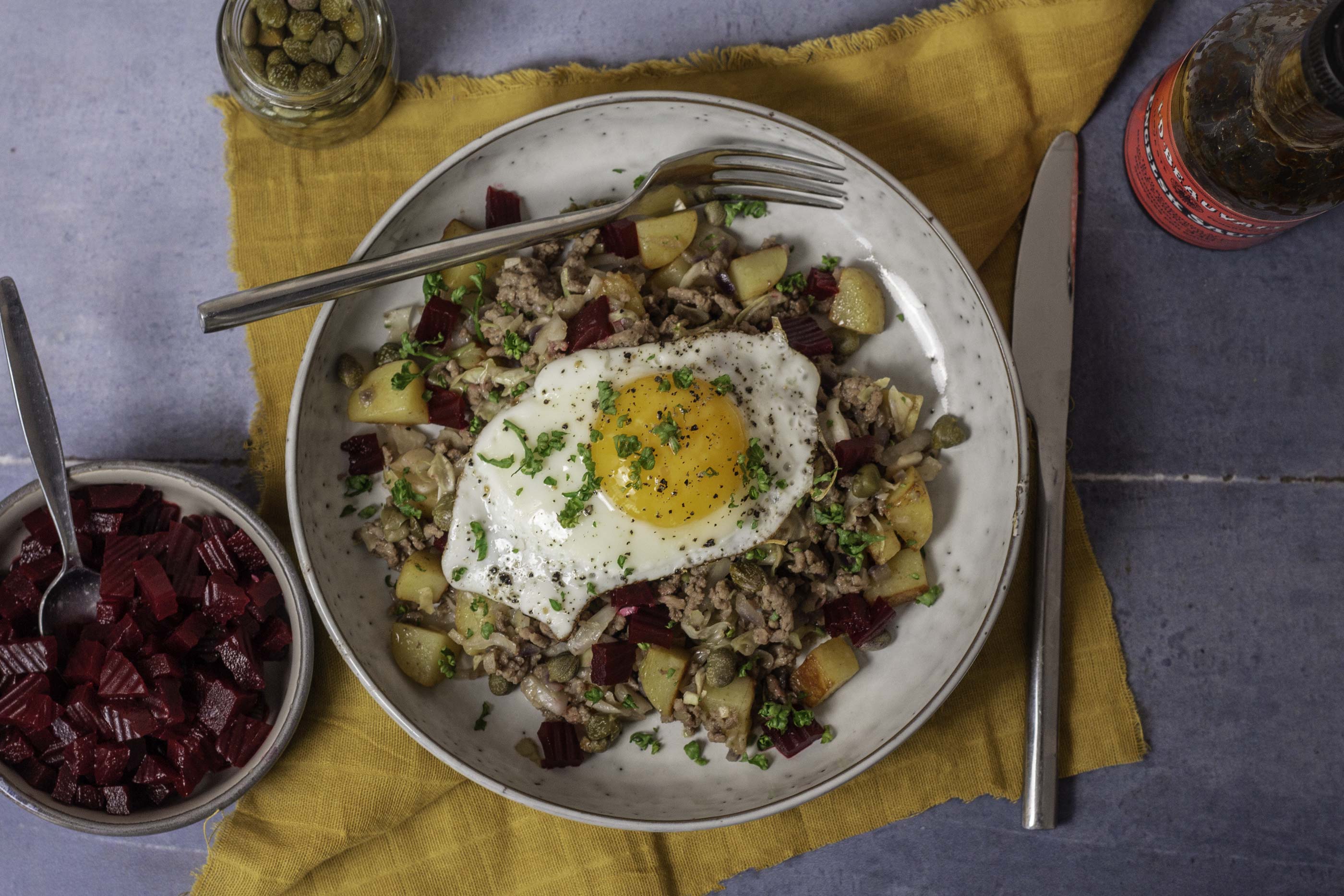 Ingredients
( 2 adults and 2 kids )
1000 grams

potatoes

2

onion

0.5

pointed cabbage

800 grams

beef mince

4

egg

200 grams

pickled beets

4 tbsp

worcestershire sauce

ketchup

olive oil

butter

salt

pepper

capers
ADD TO SHOPPING LIST
ADD TO MEAL PLAN
*
= Good to know - click the ingredient

= See the recipe - click the ingredient
Hodge podge pot is the kitchen version of the baker's rum ball: A dish using leftovers from the fridge. This take is made with beef mince, potatoes, cabbage, beets, capers and fried eggs, but you can use other veggies instead. The dish is for two days, so remember to save half for tomorrow. Enjoy!
Directions
1. Peel the potatoes and dice them somewhat finely. Dice the onion and sautée both in a pan with a bit of butter and olive oil.
2. Rinse the pointed cabbage and cut into strips. Cook the beef mince in a pot along with the pointed cabbage. Stir well, until the meat is seared nicely.
3. Heat up olive oil on a separate pan. Crack the eggs onto the pan once hot, and season with salt and pepper. Cook the fried eggs the way you like them best - cooked all the way, or sunny side up.You can also flip the eggs at the very end and give them a minute or so on the yolk side, to make absolutely sure they're cooked through.
4. Once the potatoes are cooked, mince and spuds need mixing. Cut up the beets and add to the dish along with Worcestershire sauce. Season to taste with salt and pepper.
5. Serve the piping hot hodge podge pot (say that five times fast!) with fried eggs, capers, worcestershire sauce, ketchup, and an optional herb garnish. Do avoid herb sprinkles for kids younger than 3.
6. Enjoy!
Tip
Tasks for kids in the kitchen: Let your kids dice the potatoes and cut the pointed cabbage into strips.
If you want to jazz up the flavour a bit, add a couple of extra spices. Like curry, oregano or thyme.
Share your tips and comments