High five!
The recipe has been added to your shopping list.
Fried wraps with filling and snack veggies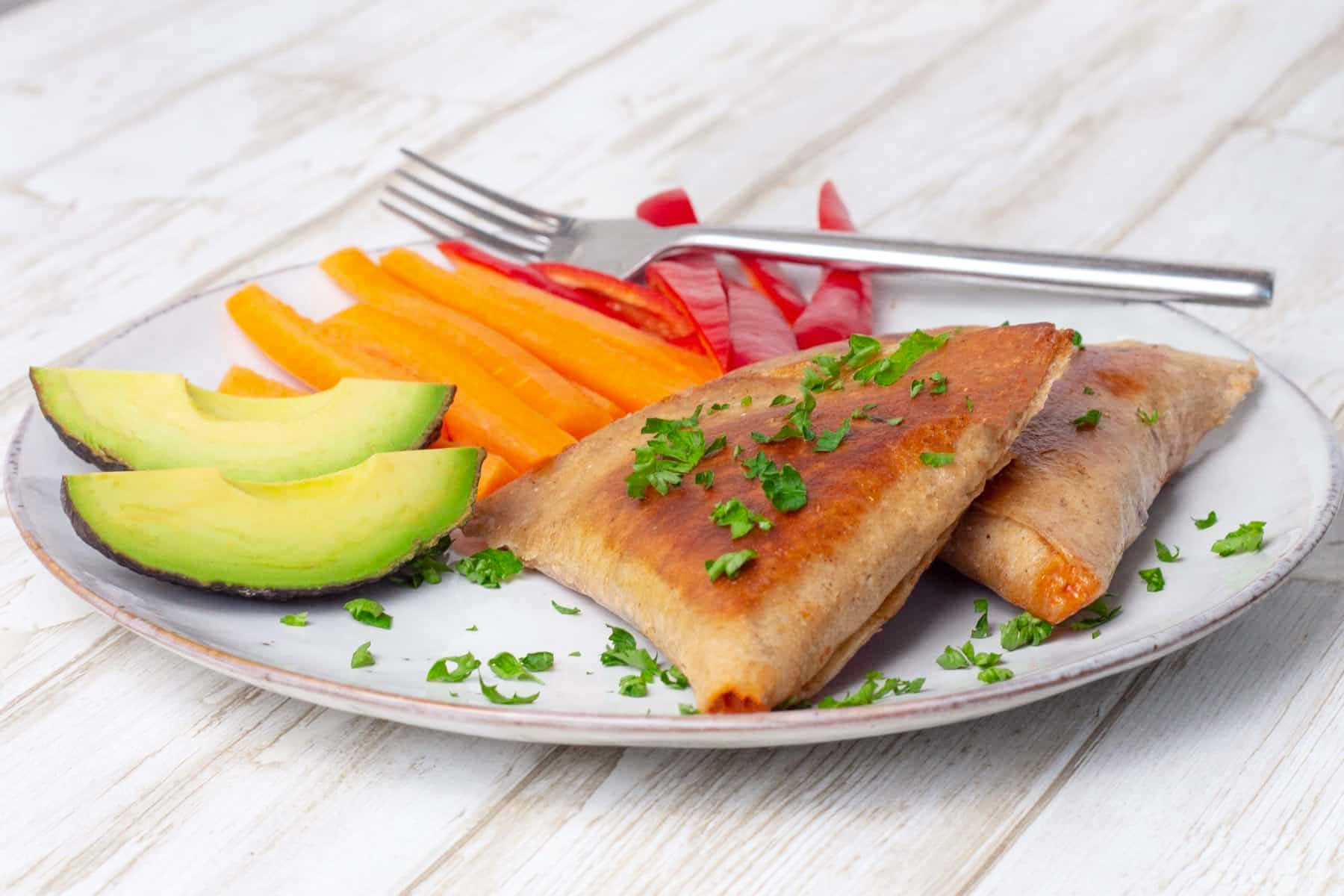 Ingredients
( 2 adults and 2 kids )
4

wholewheat tortillas

4 slice

sliced cheese

leftover chicken pot

150 grams

loose sweetcorn

2 tbsp

cold water

2 tbsp

plain flour

300 grams

carrots

*

1

red bell pepper

2

avocado

rapeseed oil
ADD TO SHOPPING LIST
ADD TO MEAL PLAN
*
= Good to know - click the ingredient

= See the recipe - click the ingredient
We (and our kids) are BUZZING over these fried wraps. They're so yummy, and they're a genius way of using leftovers. This recipe uses the leftovers from our chicken pot served with snack veggies on the side. You can see how to fold the wraps right here. Enjoy!
Directions
1. Halve the tortillas. Cut the cheese slices into triangles and mix the leftover chicken pot with sweetcorn. Make a sort of flour paste by mixing water and flour into an even mass.
2. Folding the wraps is super easy - but a bit tricky to explain. So we've made a little video. You'll find the link at the bottom, in our Tips section. But here goes...!
3. Place cheese in the middle of the tortilla, with the point towards the straight, cut side. Put flour paste on half of the straight side, and a third of the round side. Fold the bit without paste over the cheese and then fold the bit with paste over the rest, to form a triangle. Close the sides by pressing with your fingers, but keep the top open.
4. Pop filling into the "pocket", but be careful not to overfill it. Brush flour paste onto one side of the open bit and close the wrap completely. Phew...! We hope you got that - but hey! Watch the video, it's not hard at all.
5. Fry the folded wraps in a good dash of oil on a pan. You can also brush them with oil and ovenbake for approx. 15 minutes at 180 degrees.
6. Peel the carrots and rinse and clean the bell pepper. Cut both into sticks, remove the stones from the avocados and cut into wedges. You can drizzle them with a bit of lemon juice, to keep them from browning.
7. Serve the yummy fried wraps with snack veggies on the side. Enjoy!
Tip
You can see how to fold the wraps right here.

Tasks for kids in the kitchen: Let the kids help put the filling in the wraps and sort out snack veggies.
Share your tips and comments