High five!
The recipe has been added to your shopping list.
Chicken cordon bleu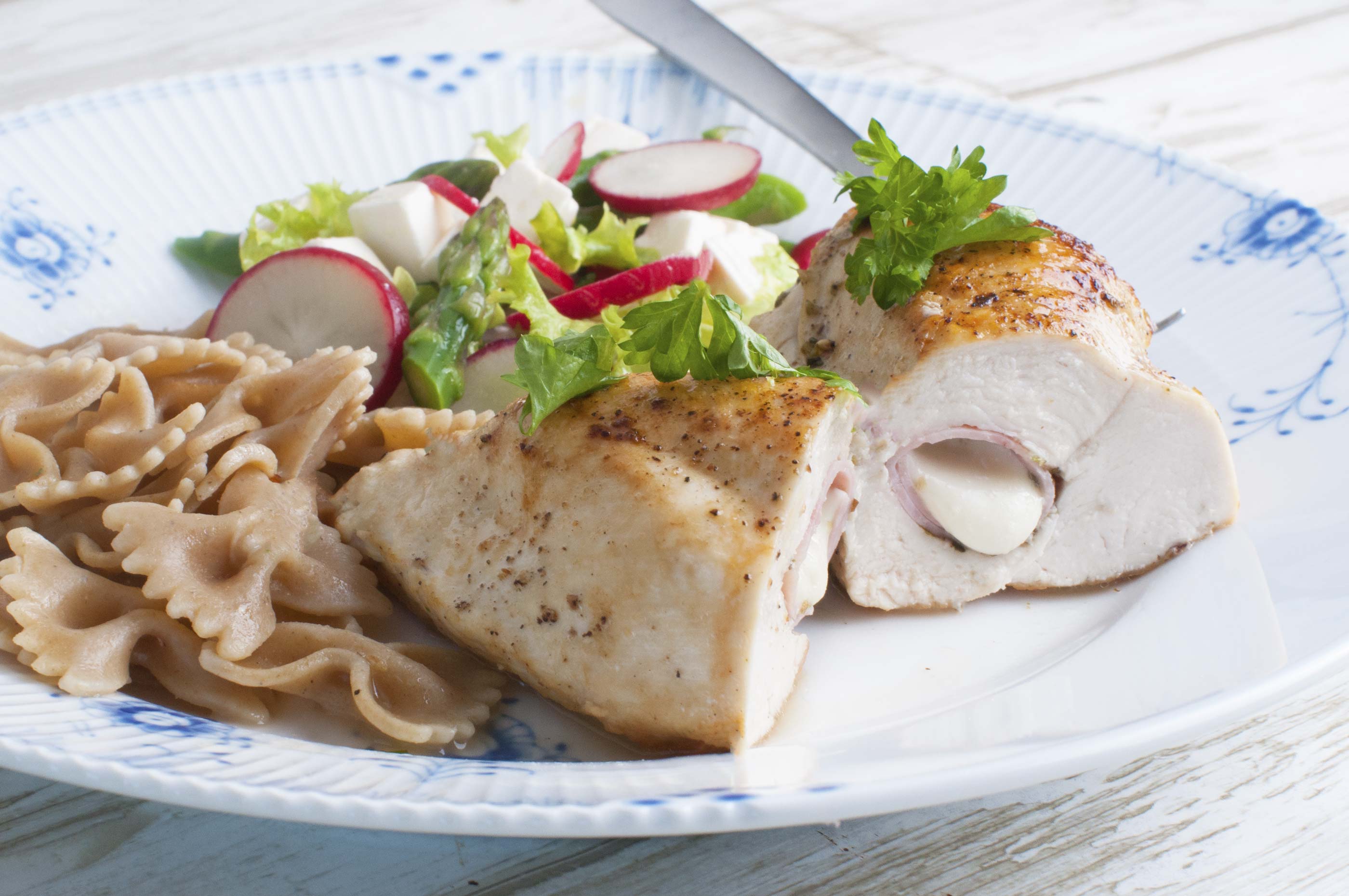 Ingredients
( 2 adults and 2 kids )
Cordon bleu

wholewheat pasta

1 ball

mozzarella

4 slice

cooked ham

800 grams

chicken fillet

dried oregano

salt

pepper

meat pins or toothpicks

Asparagus salad

0.5 bunch

green asparagus

100 grams

feta cubes

6

radishes

lettuce of your choice

0.5

lemon

olive oil
ADD TO SHOPPING LIST
ADD TO MEAL PLAN
*
= Good to know - click the ingredient

= See the recipe - click the ingredient
Cordon bleu is a super tasty dish usually made with breaded veal. In this recipe we've swapped the veal for chicken and axed the breading for a slightly leaner take. But of course we haven't messed with the filing: Ham and cheese. This dish is designed for two days - use the leftover chicken in tasty ricepaper rolls tomorrow.
Directions
1. Preheat your oven to 185 degrees convection and boil the pasta following directions on the packet.
2. Cut the mozzarella into sticks and tightly wrap a slice of ham around each stick. Cut a pocket into each chicken fillet. Season the fillets on the inside with salt and pepper and sprinkle with a pinch of oregano.
3. Pop a ham and mozzarella roll in each pocket and seal with meat pins, toothpicks or a bit of meat string. Season the outside of the fillets with salt and pepper, and remember to wash your hands and utensils after. Sear the chicken fillets on both sides with a bit of olive oil in a pan - just to give them some slight colour.
4. Pop the fillets into the oven - either still in the pan, if it's okay to go in the oven, or on a baking tray. Cook the fillets for 10-15 minutes, until cooked through. If the weather permits, you can also chuck them on the grill.
5. Meanwhile whip up a quick salad. Snap off the bottoms of the asparagus - they'll break exactly where you want them to, all on their own, which is dead handy. We're fans of asparagus! Blanch them in rolling boiling water for about 30 seconds - be careful not to overcook them, as they'll go mushy. Immediately pour on cold water and cut them into bite-sized diagonal chunks.
6. Rinse the lettuce and rip into smaller pieces. Wash and slice the radishes. Toss lettuce, radishes, asparagus and feta with a bit of olive oil and lemon juice - to your own taste.
7. Split the lovely cordon bleus so there's a nice piece for everyone. Serve with wholewheat pasta and asparagus salad. Enjoy!