High five!
The recipe has been added to your shopping list.
Christmas dinner with turkey and Yorkshires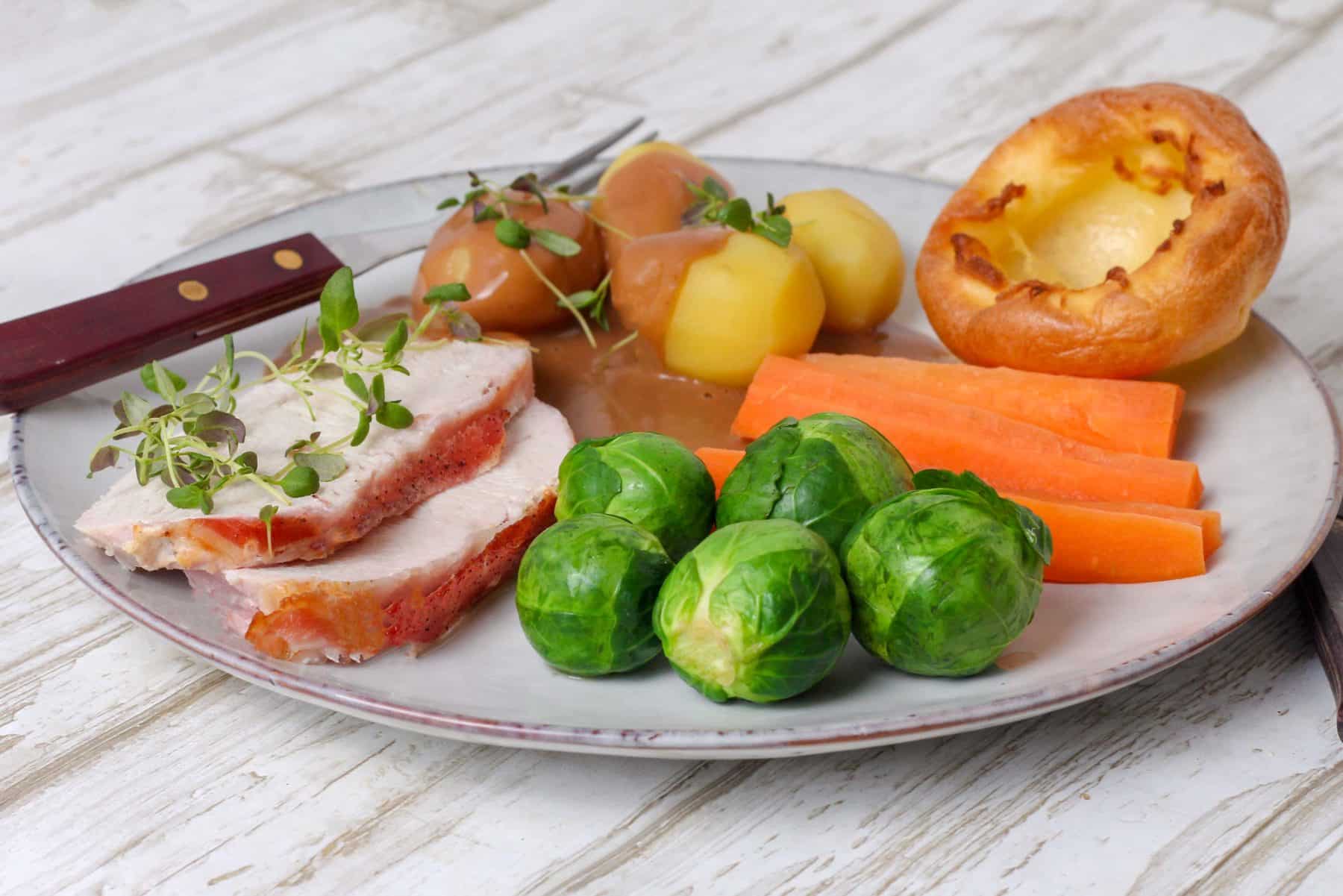 Ingredients
( 2 adults and 2 kids )
500 grams

turkey breast

125 grams

bacon slices

2

onion

2 clove

garlic

300 ml

cold water

1 tbsp

fresh thyme

- or dried

600 grams

potatoes

400 grams

carrots

*

500 grams

brussels sprouts

1 cube

chicken stock

200 ml

single cream

salt

pepper

corn flour

yorkshire pudding
ADD TO SHOPPING LIST
ADD TO MEAL PLAN
*
= Good to know - click the ingredient

= See the recipe - click the ingredient
Here we've made a delicious, traditional English Christmas dinner with turkey, potatoes, gravy, veg - and of course the unbeatable Yorkshire puddings. Yorkshires aren't included in this recipe, but if you want to make them, just click the little chefs' hat in the ingredient list and add the recipe to your shopping list - or dig out your nan's old recipe, or simply pick up a pack of frozen ones from the supermarket. Enjoy!
Directions
1. Preheat your oven to 230 degrees convection.
2. Wrap the turkey breast in bacon slices, so they cover all of the meat. If needed, you can halve the slices or tuck the bacon underneath the turkey breasts.
3. Place the turkey breasts in a baking tray along with peeled onion and roughly diced garlic. Pour water in the bottom as well as thyme. Pop the turkey in the oven for 35-45 minutes, depending on thickness. Prep everything else while the turkey cooks.
4. Cook the potatoes in salted water until tender.
5. Peel the carrots and cut into sticks. Thoroughly wash the Brussels sprouts and cook both until tender, but by no means mushy - about 10-15 minutes.
6. When the turkey is done, pour the juices from the tray into a pot. Bring to the boil and add crumbled chicken stock cube. Add single cream and season to taste with salt and pepper. If the gravy is too thin, thicken it with a bit of corn flour stirred out in water in a cup.
7. Serve the juicy turkey with potatoes, gravy, veg and warm Yorkshires.
8. Yum, happy Christmas - and enjoy!
Tip
Tasks for kids in the kitchen: Let your kids help bacon wrap the turkey. They can also wash the Brussels sprouts, peel the carrots and stir the gravy.

You can find our Yorkshire recipe right here.
Share your tips and comments