High five!
The recipe has been added to your shopping list.
Chili sin carne with rice - veggie style!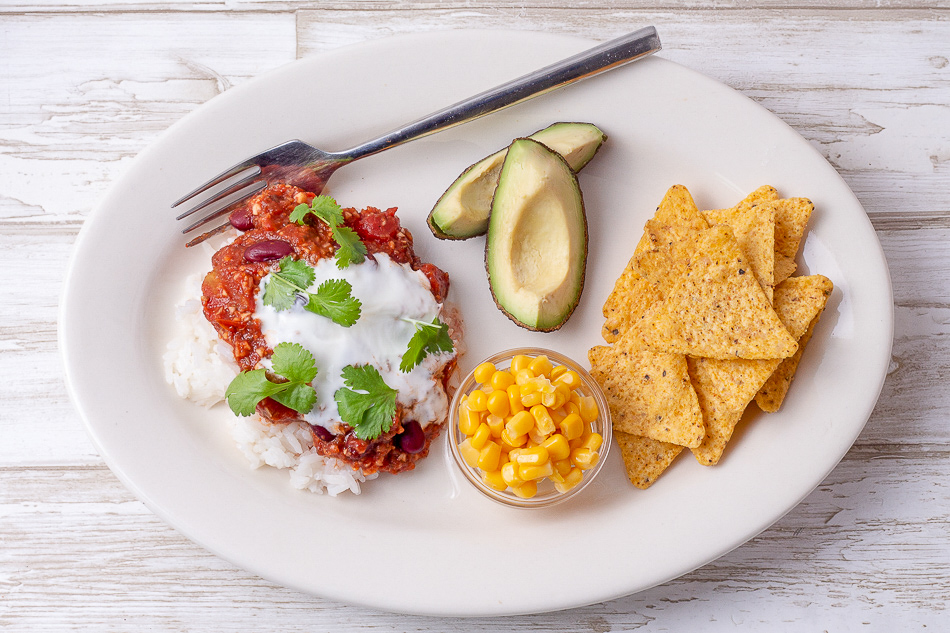 Ingredients
( 2 adults and 2 kids )
wholegrain rice

250 grams

mushrooms

2

onion

1 tbsp

paprika

2 can

chopped tomatoes

140 grams

tomato purée

2 can

kidney beans

3 tsp

cumin

2 tsp

ground cinnamon

2 tsp

dried coriander

6

bay leaves

olive oil

300 grams

loose sweetcorn

2

avocado

wholegrain tortilla chips

200 ml

creme fraiche 18%

salt

pepper

dried chilli
ADD TO SHOPPING LIST
ADD TO MEAL PLAN
*
= Good to know - click the ingredient

= See the recipe - click the ingredient
Fear not! Although we've dialled meat and chilli all the way back, we've dialled flavour and veggies all the way up. This version of the classic con carne is 100% vegetarian and tastes amazing. The meat is replaced by delicious veg and the chilli is sprinkled on according to preference. The recipe is intended for two days, so save the leftovers as filling for wraps tomorrow. Enjoy!
Directions
1. Cook the rice according to the packet.
2. Clean and rinse the mushrooms, peel the celeriac and onion. Roughly chop all of the veg and give them a proper whirl in a blender or mini chopper.
3. Cook off the paprika with a dash of olive oil in a big pot. Add the veg and cook for another five minutes. Add the chopped tomatoes, tomato purée, kidney beans, the rest of the spices and bay leaves.
4. Let the lot simmer for 15 minutes, and season with salt and pepper. If you have plenty of time, let it simmer for longer - it adds more flavour.
5. Serve the sin carne with rice, sweetcorn, avocado, tortilla chips and creme fraiche, and top with chilli.
6. Enjoy!