High five!
The recipe has been added to your shopping list.
Chicken gratin bake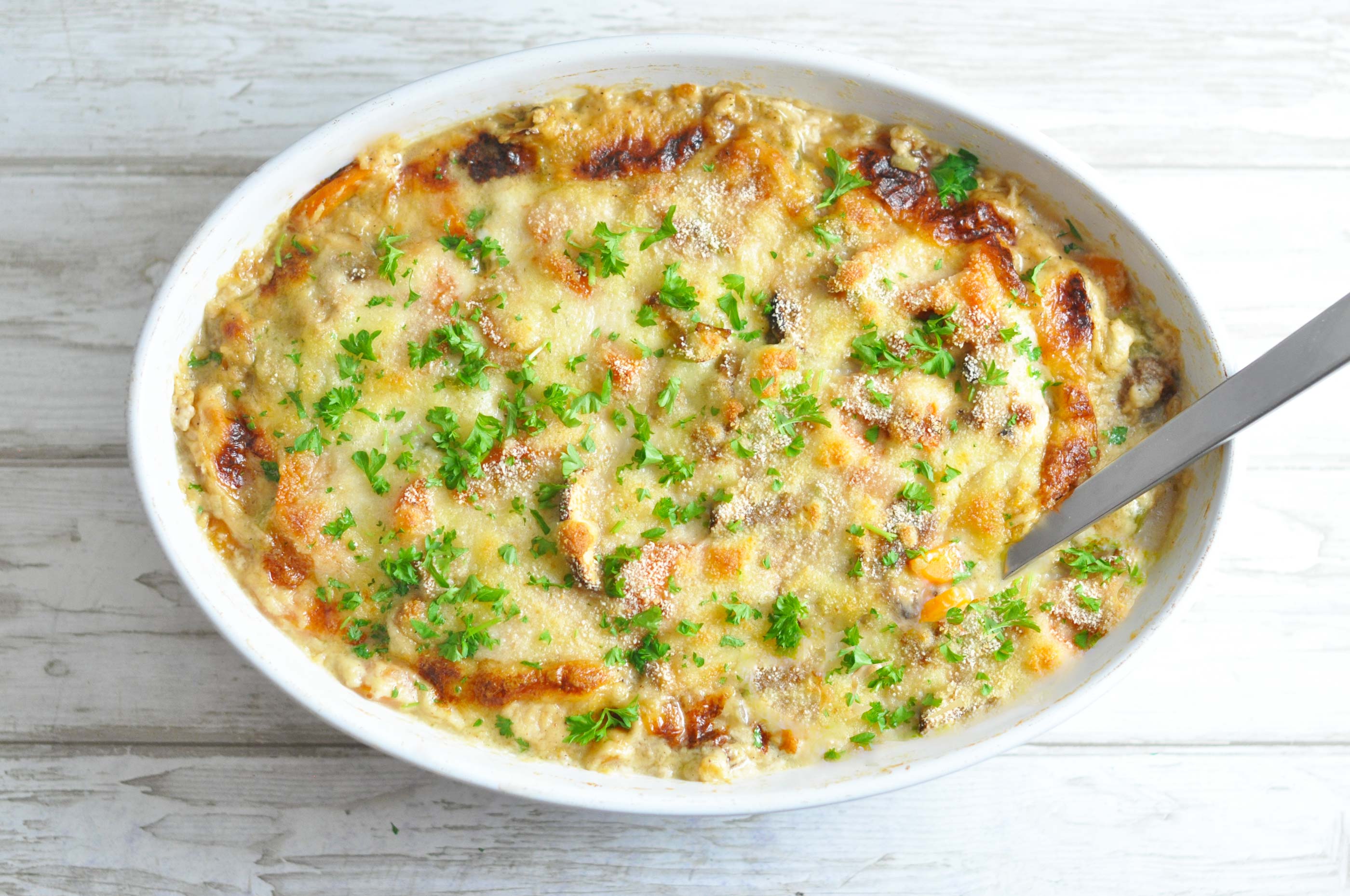 Ingredients
Freezer friendly
( 2 adults and 2 kids )
1

onion

1 clove

garlic

300 grams

carrots

*

2 stick

celery

*

250 grams

mushrooms

800 grams

chicken fillet

500 ml

low fat mornay sauce

75 grams

grated cheese

- preferably low-fat

25 grams

breadcrumbs

wholewheat pasta

- fussili

salt

pepper

olive oil
ADD TO SHOPPING LIST
ADD TO MEAL PLAN
*
= Good to know - click the ingredient

= See the recipe - click the ingredient
This is the recipe for a delicious ovenbaked chicken dish. With mornay sauce and plenty of veg. The recipe is designed for two days, and this is the recipe for day one, where the dish is served with wholewheat pasta. On day two we're serving the leftovers with wholegrain rice. Enjoy!
Directions
1. Preheat your oven to 200 degrees convection.
2. Finely chop onion and garlic. Peel the carrots, wash the celery and slice both. The thickness is up to you. Clean and wash the mushrooms and slice those as well. Put the veg aside for now.
3. Season the fillets with salt and pepper and flash fry them at high heat on a pan with olive oil. You don't want them cooked through, just get a nice sear on them. Place the chicken fillets in the bottom of a casserole tin, and remember to wash your hands and utensils after - except for the pan.
4. Start by cooking the onion and garlic in a bit of olive oil on the same pan you used for the chicken. Give it a few minutes, then add the remaining veg little by little. Season with salt and pepper and cook for another few minutes. Pour the veggies over the chicken and finish off with the mornay sauce.
5. Top with a bit of grated cheese and finish with a sprinkle of breadcrumbs.
6. Bake for approx. 30 minutes, or until beautifully golden on top. Meanwhile, cook the wholewheat pasta and serve with a sprinkle of herbs, if you have any in.
7. Enjoy!
Tip
Save the leftovers for dinner tomorrow, and optionally save some pasta screws for the little ones' packed lunches.
Share your tips and comments