High five!
The recipe has been added to your shopping list.
Chicken curry with carrot rice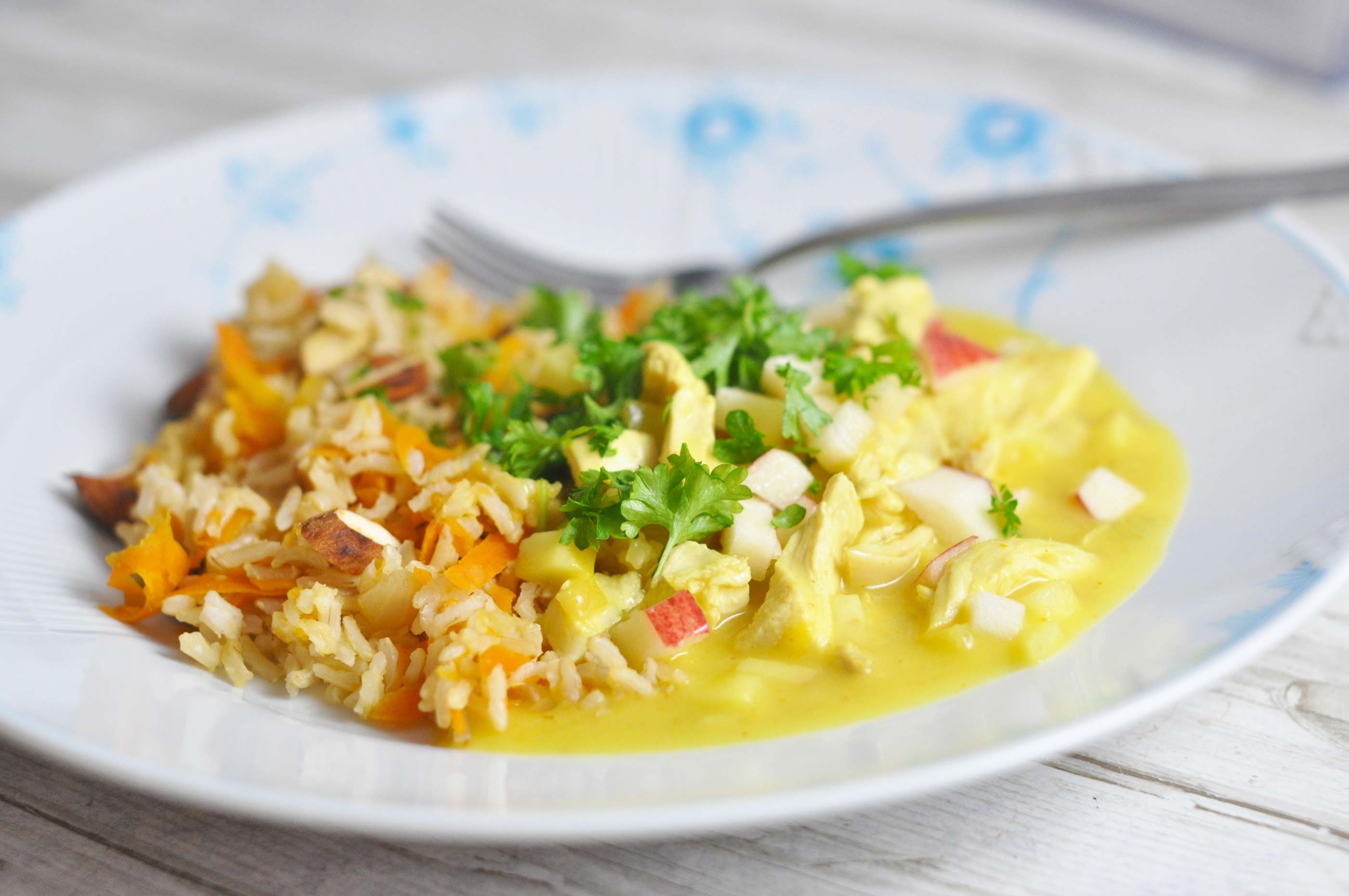 Ingredients
Freezer friendly
( 2 adults and 2 kids )
150 ml

wholegrain rice

100 grams

almonds

*

1

onion

400 grams

carrots

*

1 liter

water

1 cube

chicken stock

leftover roast chicken

- or chicken fillet

25 grams

butter

2 tsp

curry

50 grams

plain flour

100 ml

single cream

1

apple

0.5

cucumber

salt

pepper

olive oil
ADD TO SHOPPING LIST
ADD TO MEAL PLAN
*
= Good to know - click the ingredient

= See the recipe - click the ingredient
Chicken curry is a true family favourite and a British staple. Here we've served it with snack veggies and carrot rice, so it's a bit healthier than the standard version. We've used the leftovers from our potroast chicken, but you can just as well just cook a few chicken fillets!
Directions
1. Boil the rice following the directions on the packet, drain and set aside. Roughly chop the almonds and roast on a dry pan until they're smelling beautifully. Finely chop the onion. Peel the carrots and grate half of them on the rough side of a grater - save the rest for snack veggies. Bring the water to the boil, dissolve the stock cubes into it and leave it to softly simmer.
2. Rip the leftover chicken into good strips. If you're not working with leftovers, just cut a couple of chicken fillets into thin strips and boil in lightly salted water for 10-15 minutes, or until cooked through and white all the way through. Remember to wash your hands and utensils after.
3. Melt the butter in a clean pot and add the curry. Let cook for about a minute before adding the flour. Whisk well at medium heat, without browning the flour. Add the stock little by little while you whisk. Make sure you've whisked away any lumps before adding more stock. When the sauce has the consistency you think is perfect, add the cream. You might not need all of the stock. Add salt and pepper to taste. If the sauce gets too thin, you can always thicken it with a bit of corn flour stirred out in a cup of water.
4. Add the chicken to the sauce along with rinsed, finely diced apple and let the lot get warm through. You can also chuck a bit of pineapple or mango into the sauce if you have a bit left over in the fridge, it's absolutely delicious.
5. Cook the onion with a bit of olive oil in a pan or pot. Add the carrots and let cook for a few minutes, until they've cooked down slightly. Season with salt and pepper and mix in with the rice and almonds.
6. Serve with sticks of cucumber and carrot - or other veggies - and the tasty carrot rice. Enjoy!
Share your tips and comments