High five!
The recipe has been added to your shopping list.
Grandmas potroast chicken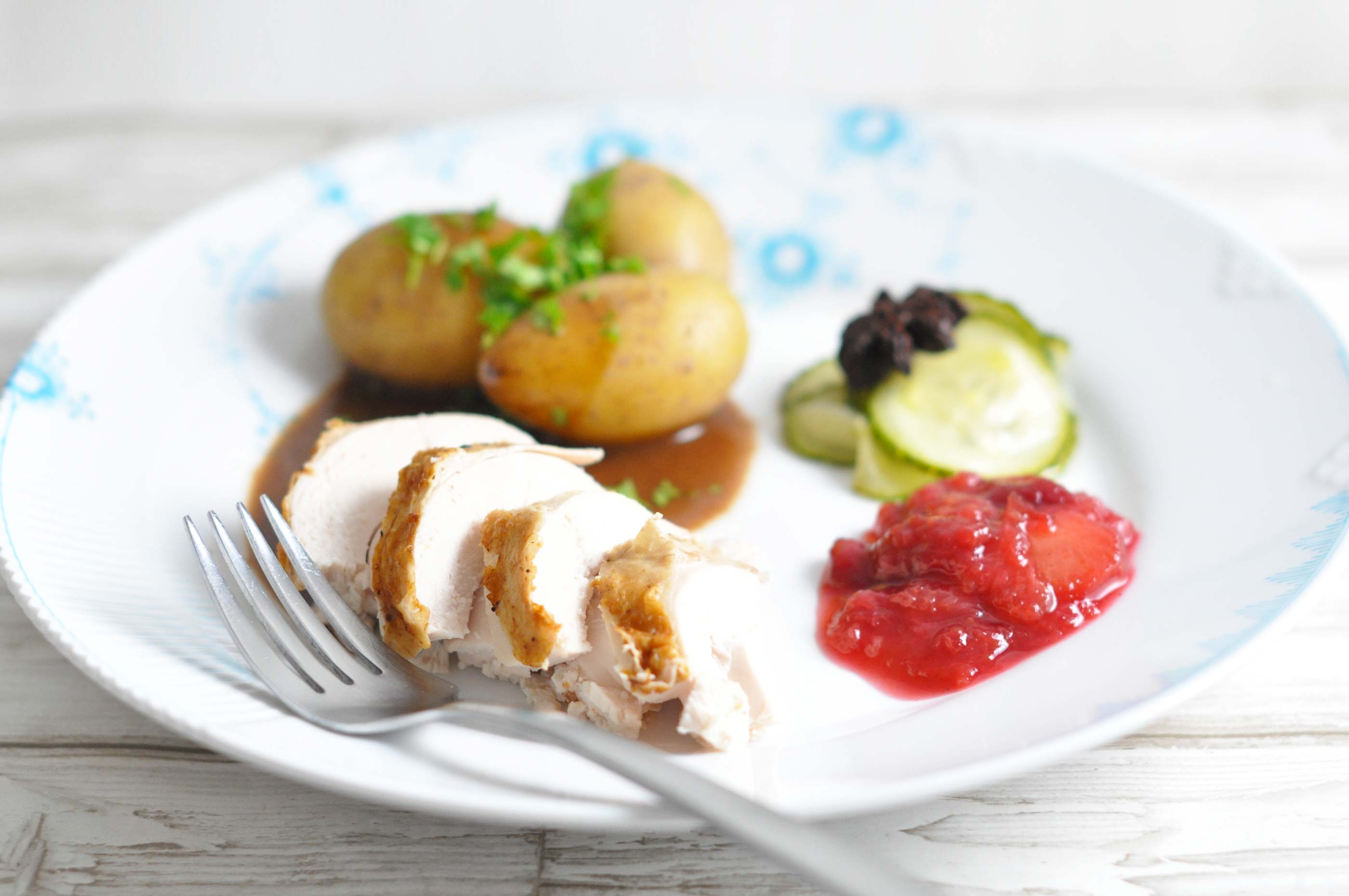 Ingredients
( 2 adults and 2 kids )
1 clove

garlic

1

whole chicken

6

plum

1 tbsp

water

1 tsp

cinnamon

2 tsp

vanilla sugar

2 tbsp

acacia honey

*

600 grams

potatoes

1 cube

chicken stock

2 tbsp

cornflour

gravy browning

gherkin

salt

pepper

butter

olive oil
ADD TO SHOPPING LIST
ADD TO MEAL PLAN
*
= Good to know - click the ingredient

= See the recipe - click the ingredient
Chicken is a hit in most families - and even though it's a bit of a relic these days, the pot roast version is still absolutely delicious. And it saves you having to clean the oven after! Here we've served the chicken with plum compote, gravy, potatoes and gherkin. Enjoy!
Directions
1. Pop a few tablespoons sea salt and a good dash ground pepper into a cup. Press or chop the garlic and mix it with the salt and pepper. Rinse the chicken both inside and out, and pat it dry with some kitchen roll. Season the chicken both inside and out with the salt and garlic mixture.
2. Melt a mix of butter and olive oil in your best and biggest pot and sear the chicken at medium heat on all sides for 10-15 minutes, so it's nice and golden all over. Fill the pot with water so it just about covers the chicken. Pop the lid on and leave to simmer for 45-50 minutes, or until the meat is white - not pink - all the way through. Skim off impurities with a spoon during cooking.
3. Wash the plums and remove the stones. Cut the plum into wedges and pop them in a pot along with water, cinnamon, vanilla sugar and honey. Bring the lot to the boil and pop the lid on. Let the compote simmer for about 20 minutes, or until it's cooked out. Add a bit more honey and cinnamon to taste, if needed. Set the potatoes to boil in a pot of lightly salted water. Boil until they're tender when poked with a fork.
4. When the chicken is done cooking, take it out and place it on a cutting board. Pour 500 ml of the stock in a pot and heat with a stock cube. If you're more than 2 adults and 2 kids, use a bit more stock. Thicken the sauce with some cornflour stirred out with water in a cup and add gravy colouring. Add salt, pepper and optionally a bit of honey to taste.
5. Serve the chicken cut into pieces with potatoes, gravy, gherkin and plum compote.
6. Enjoy!
Tip
When picking out your chicken, pick one that's at least 1400 grams.
Share your tips and comments