High five!
The recipe has been added to your shopping list.
Bolognese with hidden pointed cabbage - for two days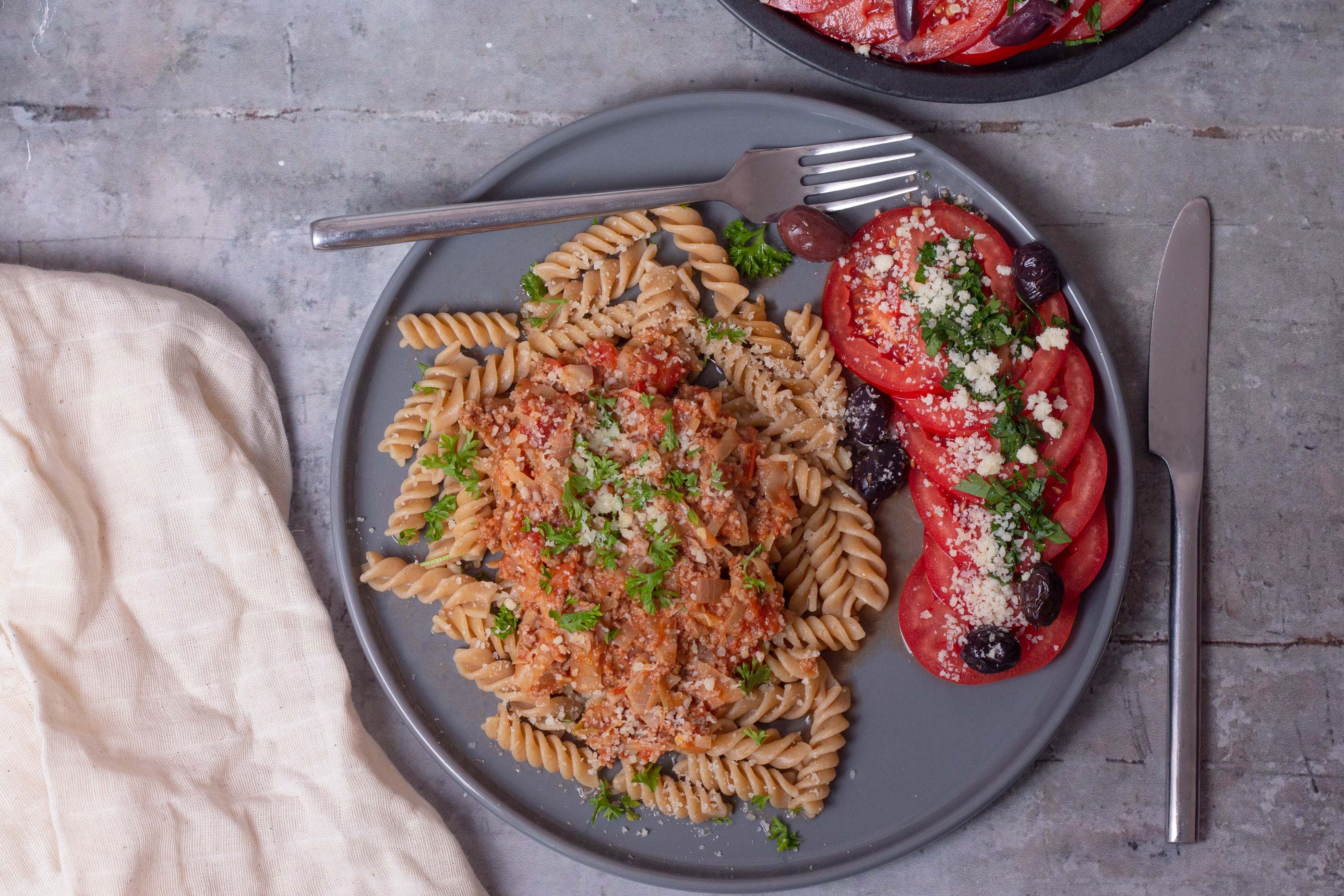 Ingredients
Freezer friendly
( 2 adults and 2 kids )
2

onion

1 clove

garlic

300 grams

carrots

*

0.75

pointed cabbage

1 tbsp

paprika

800 grams

beef mince

2 can

chopped tomatoes

70 grams

tomato purée

2 tbsp

red pesto

1 tbsp

dried oregano

1 bunch

fresh basil

200 ml

water

wholewheat pasta

3

tomato

75 grams

olives

75 grams

grated parmesan

salt

pepper

olive oil
ADD TO SHOPPING LIST
ADD TO MEAL PLAN
*
= Good to know - click the ingredient

= See the recipe - click the ingredient
This recipe is a fantastic take on most families' favourite: Spaghetti bolognese. In this version, we've snuck pointed cabbage into the bolognese, and if you cut it super fine, the kids will never know! And we've served a tomato salad on the side. Remember to save half for tomorrow, as the dish is designed for two days. Enjoy!
Directions
1. Finely chop onion and garlic. Peel the carrots and grate on the rough side of a grater. Rinse the pointed cabbage well, remove the stem and roughly chop the cabbage. Then give it a proper whirl in a food processor or mini chopper, until completely fine. If you don't have an appliance to put on the job, you can happily chop it finely with a sharp knife. Mind your fingers!
2. Sautée onion and garlic in some olive oil for a couple of minutes. Add the grated carrots, pointed cabbage and paprika and cook for another few minutes. Then add the mince and let it sear. Add chopped tomatoes, tomato purée, pesto, dried oregano, half of the basil leaves and water, and let simmer for 15 minutes or more, if you have time. Season to taste with salt and pepper.
3. Cook the pasta in plenty of salted water - remember to make a double portion, so you have for tomorrow. Meanwhile, whip up the salad.
4. Rinse and slice the tomatoes. Finely chop the rest of the basil and sprinkle on top of the tomatoes, along with olives and 1/3rd of the parmesan cheese.
5. Serve the pasta with bolognese and grated parmesan on top, and tomato salad on the side.
6. Enjoy!
Tip
Tasks for kids in the family: Let your kids help make the salad, but leave it to an adult to slice the tomatoes and chop the basil.
Share your tips and comments