High five!
The recipe has been added to your shopping list.
Baked salmon with tomato chutney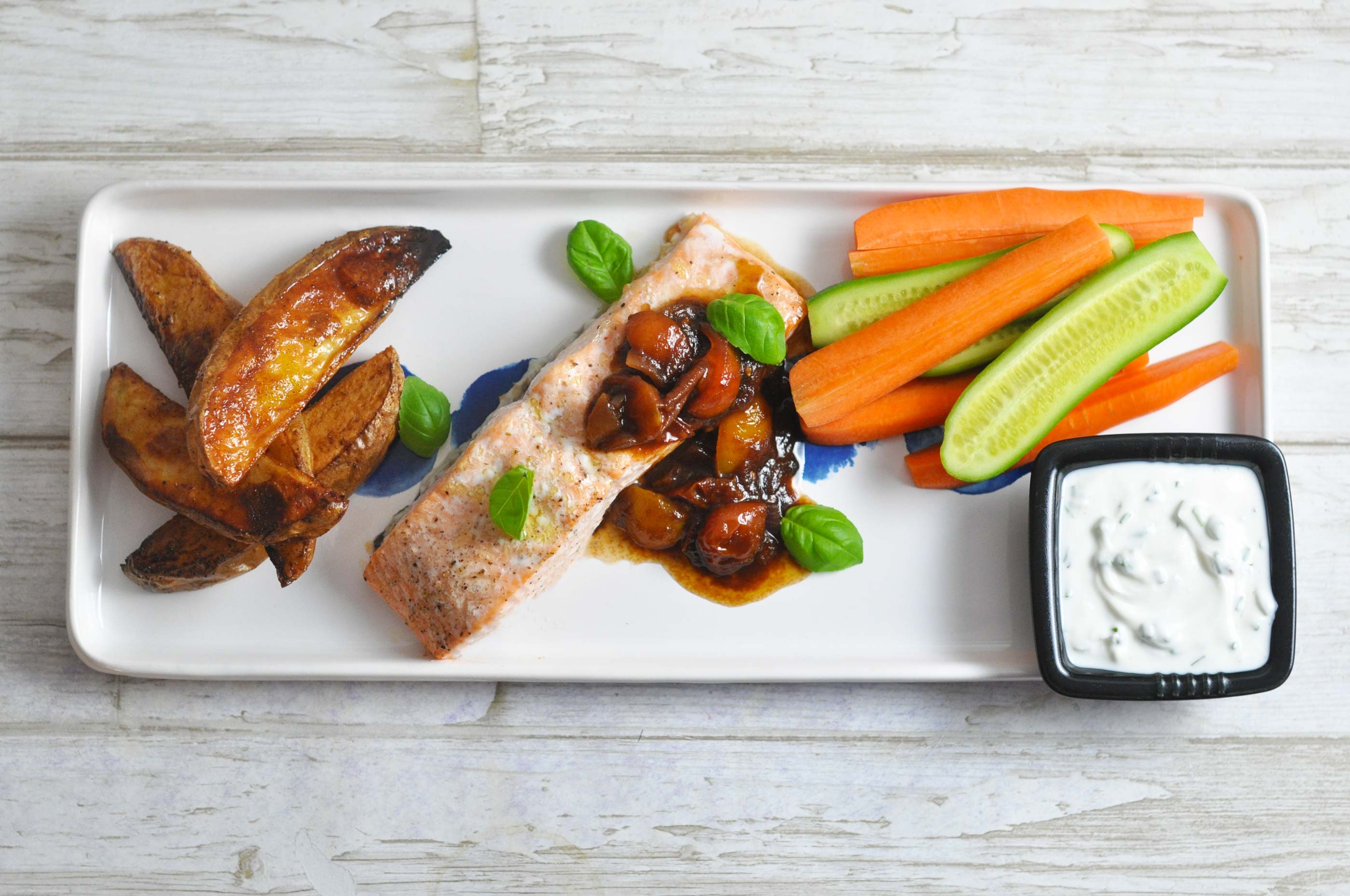 Ingredients
600 grams

baking potatoes

0.5 tbsp

all purpose seasoning

1

onion

1 clove

garlic

500 grams

tomato

1 tsp

cumin

100 ml

vinegar

- f.x balsamico

100 grams

sugar

- or brown sugar

4

salmon fillet

300 grams

carrots

*

0.5

cucumber

200 ml

skyr

*

2 tbsp

sweet mustard

salt

pepper

baking parchment

olive oil
ADD TO SHOPPING LIST
ADD TO MEAL PLAN
*
= Good to know - click the ingredient

= See the recipe - click the ingredient
Tomato chutney is absolutely delicious and fairly easy to make. We're serving ours with crispy potato wedges, but if you're in a hurry, you can just cook up some rice or wholewheat pasta. Or you can simply serve the salmon, tomato chutney, snack veggies and dip, if you prefer. Just remember to adjust your shopping list!
Directions
1. Preheat your oven to 225 degrees convection and scrub the potatoes clean with a brush. Cut the potatoes into wedges and pop them on a baking tray covered with baking parchment and turn them in a good dash of olive oil. Season with all purpose seasoning. Bake the potatoes for approx. 30 minutes, or until nice and golden brown. Remember to flip them halfway through.
2. Finely chop onion and garlic. Rinse and roughly dice the tomatoes. Sautée onion and garlic in a pan with a bit of olive oil. You want the onions to go clear and soft, without browning. Add tomatoes, cumin, vinegar and sugar and let the chutney simmer for 20 minutes, or longer if you have time. Pop the pot outside and let it cool, and it's ready to eat!
3. Pop the salmon fillets in an ovensafe tray covered with baking parchment. Season the fish with salt and pepper. Turn the oven down to 200 and bake the salmon for 10-20 minutes depending on the thickness of the fillets. When milky white bubbles form on top, and it begins to flake when lightly pressed with a fork, it's done. Be careful not to overcook it!
4. If the potatoes still aren't done when the salmon is out of the oven, crank the oven up to 250 and give the potatoes a last go. Peel the carrots, wash the cucumber and cut both into sticks.
5. Serve the salmon topped with the delicious chutney, the baked potatoes and snack veggies as a side, and a quick dressing for dipping mixed up of skyr, sweet mustard and salt and pepper to taste. If you have f.x. chives or dill to hand, you can chop some up and mix into the dressing. Enjoy!
Tip
Save a handful of potato wedges for the kids' packed lunches. Store the leftover chutney in a mason jar or similar. Rinse the jars with boiling water first, and use the chutney as a side for any number of dishes, such as our juicy burgers.
Share your tips and comments