High five!
The recipe has been added to your shopping list.
Baked potatoes with super quick pulled chicken and carrot salad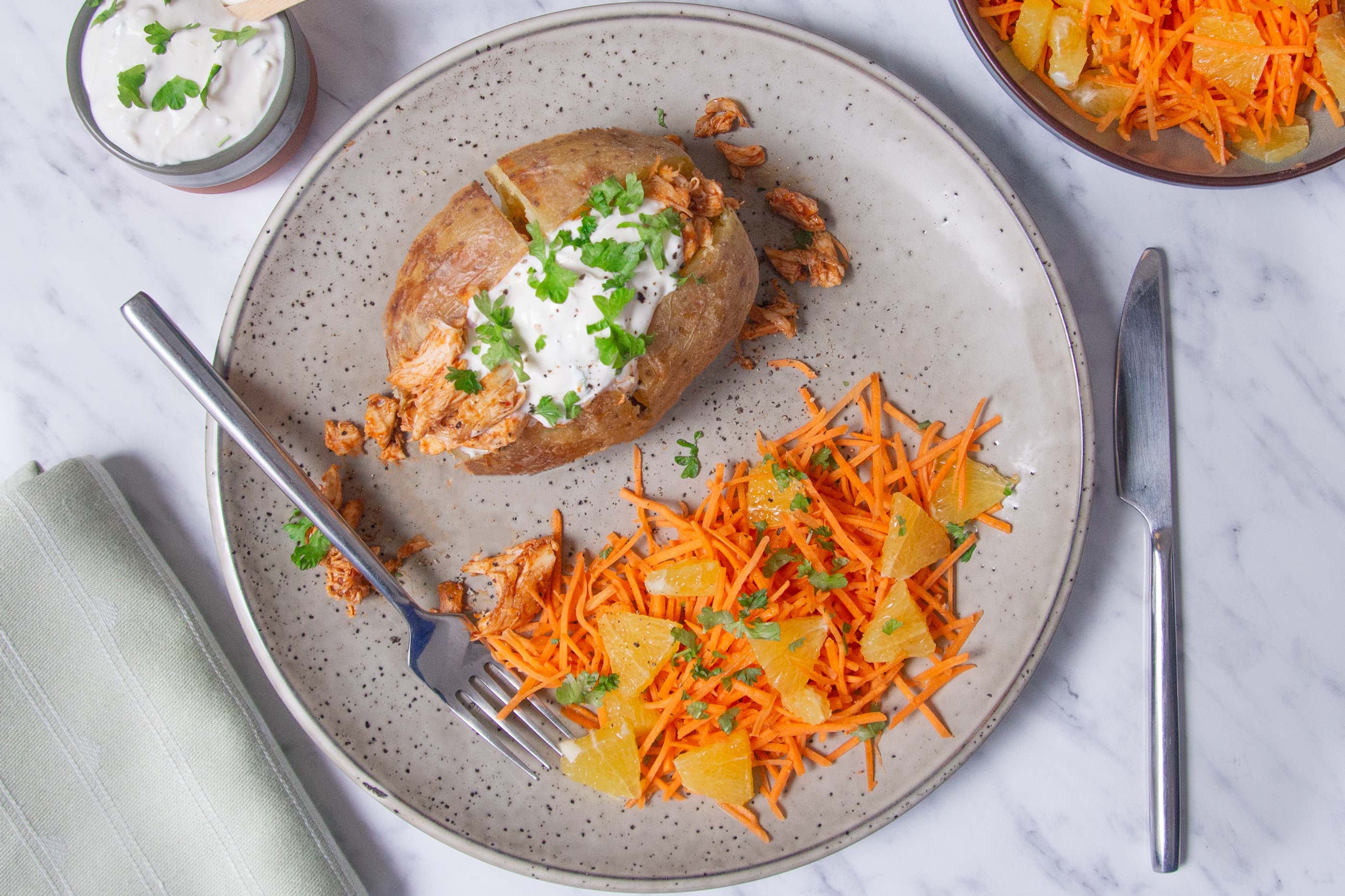 Ingredients
( 2 adults and 2 kids )
6

baking potato

400 grams

cooked chicken

100 ml

barbecue marinade

300 grams

carrots

*

2

orange

herb dressing

salt

pepper

olive oil
ADD TO SHOPPING LIST
ADD TO MEAL PLAN
*
= Good to know - click the ingredient

= See the recipe - click the ingredient
Loaded baked potatoes are absolutely delicious – as you probably know! Here's a version with super quick pulled chicken and a herb dressing, which we're serving with a juicy carrot and orange salad. We've used cooked chicken fillets from yesterday's pasta dish. If you don't have leftover chicken, just cook a couple of fillets for the occasion. Enjoy!
Directions
1. Wash and thoroughly scrub the potatoes, and prick each one five times with a fork. Pop the spuds on a plate and give them 10-15 minutes in the microwave on full blast. Turn and give them 10-15 minutes on the other side as well – again on full blast.
2. Remember that both microwave ovens and potatoes come in lots of different shapes and sizes – so keep a good eye on the spuds while they're in there, and use a fork to check if they're cooked all the way through.
3. Be aware that the cooking time will increase, the more potatoes you cook at a time. If you don't have a microwave oven, bake the potatoes for about 40-50 minutes in the oven at about 220 degrees fan assisted.
4. Pull the cooked chicken meat with a fork (or two). Give it a quick toss in a pan with olive oil and the barbecue marinade. Season to taste with salt, pepper, and more marinade if needed.
5. Peel carrots and oranges. Grate the carrots on the coarse side of a grater, cut the orange into smaller pieces and mix the two.
6. Cut a cross into the baked potatoes, load them up with chicken and herb dressing and serve with the carrot salad on the side. Enjoy!
Tip
Tasks for kids in the kitchen: Let your kids help grate carrots and cut the oranges. They can also help taste the chicken.
Share your tips and comments