High five!
The recipe has been added to your shopping list.
Bacon-wrapped chicken with root veg chips - for two days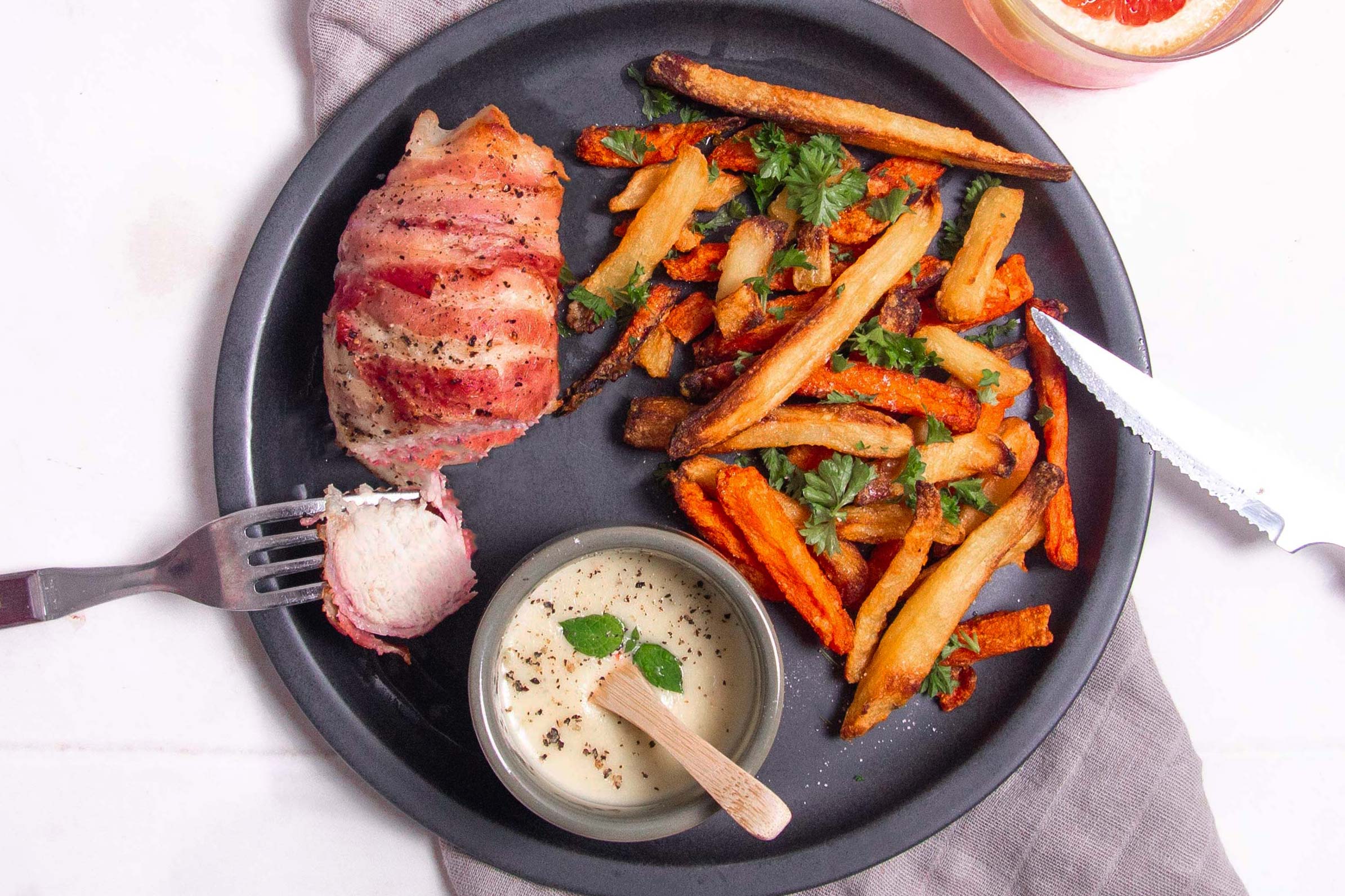 Ingredients
( 2 adults and 2 kids )
650 grams

frozen root vegetables

1000 grams

chicken fillet

100 grams

bacon slices

50 ml

water

0.5 cube

vegetable stock

100 ml

single cream 8%

pepper

salt

olive oil

baking parchment
ADD TO SHOPPING LIST
ADD TO MEAL PLAN
*
= Good to know - click the ingredient

= See the recipe - click the ingredient
Bacon-wrapped chicken is SO tasty - but then again, most bacon-wrapped things are... In this case, the chicken and bacon give off a load of juices for a gorgeous cream sauce, and we're serving this treat with baked root veg chips. The recipe is designed for two days, so remember to save half of the chicken for the most amazing Vietnamese bahn mi tomorrow. Enjoy!
Directions
1. Preheat your oven to 200 degrees convection. Place the root veg on a sheet pan lined with baking parchment and coat with some oil.
2. Season the chicken fillets with salt and pepper. Sear for a couple of minutes on either side in some oil on a pan. Remove the fillets, place in an oven dish and wrap half of the fillets with bacon, with the seam facing down - so the weight of the chicken holds the bacon in place. A slice or two per fillet should do - but as always with bacon, follow your heart. The rest of the fillets need cooking, too - but they're for tomorrow.
3. Pop the dish in the oven and bake all of the fillets for 15-20 minutes. But remember that both ovens and chickens are unique, so it may take more or less - but be mindful not to overcook it, as it'll go dry. The meat should be light but not pink, and the juices clear. That means your meat is cooked. Let the meat rest on a cutting board and save the fillets without bacon for tomorrow.
4. Pour the juices from the chicken dish into a pot. Add water, vegetable stock and single cream, and season with salt and pepper.
5. Serve the yummy bacon-wrapped chicken with root veg chips and sauce. Enjoy!
Tip
Tasks for kids in the kitchen: Let your kids help wrap the chicken in bacon. They can also help stir and taste the sauce.
Share your tips and comments