High five!
The recipe has been added to your shopping list.
Vietnamese bahn mi with marinated chicken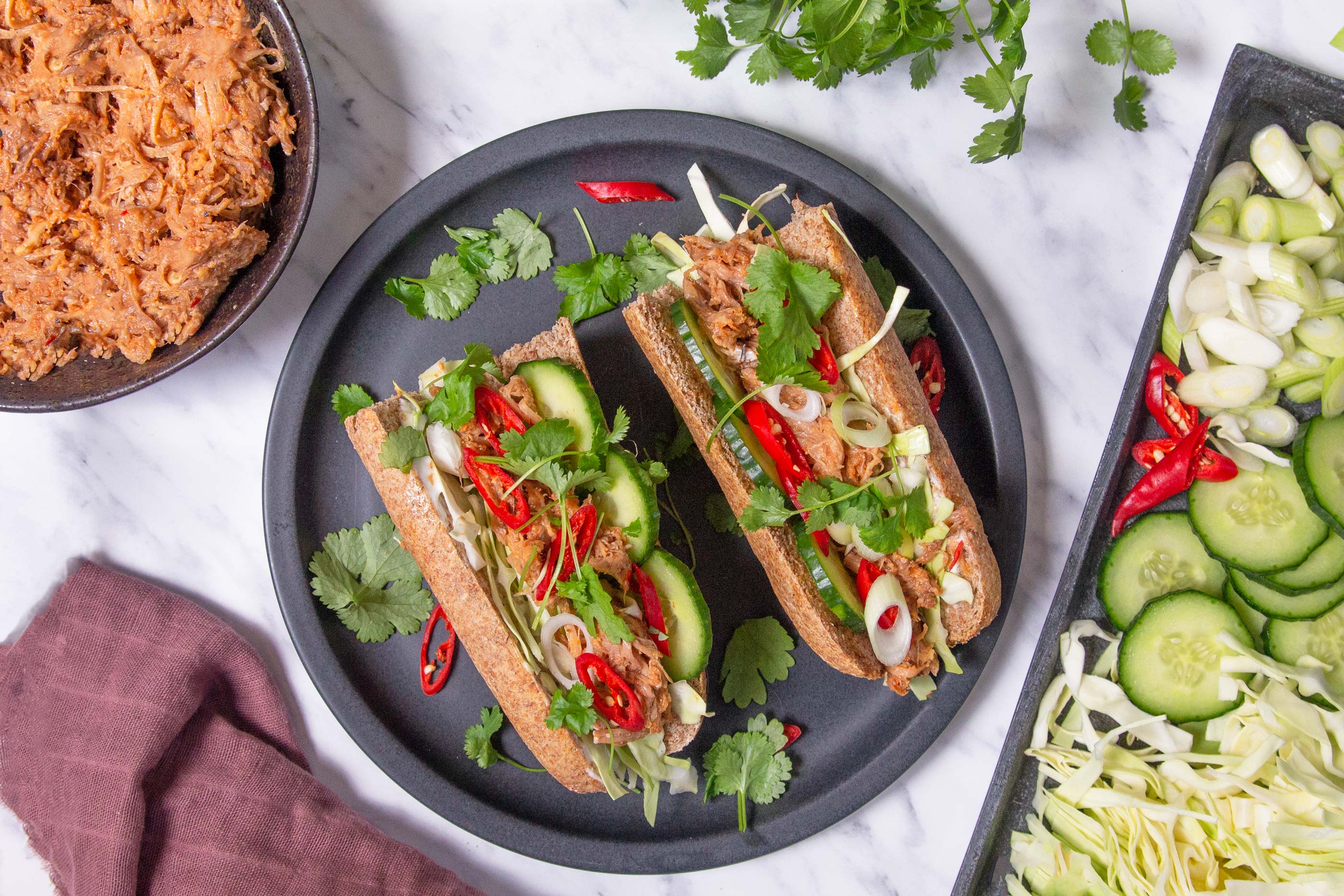 Ingredients
( 2 adults and 2 kids )
leftover cooked chicken

1 clove

garlic

4 tbsp

sweet chilli sauce

4 tbsp

soy sauce

1 tbsp

sugar

4 tbsp

sesame oil

1

lime

4

wholewheat baguette

1

red bell pepper

3

spring onions

0.5

cucumber

lettuce of your choice

1 bunch

fresh coriander

mayonnaise

olive oil

salt

pepper
ADD TO SHOPPING LIST
ADD TO MEAL PLAN
*
= Good to know - click the ingredient

= See the recipe - click the ingredient
Bahn mi is a Vietnamese sandwich with strips of dark meat. Here we've used cooked chicken fillets from yesterday, which we've marinated in a super tasty Asian dressing. If you don't have any chicken left over, cook some mini chicken fillets. We're serving the yummy sandwiches with veggies, mayo and fresh coriander (for those who've learned to like that sort..) Enjoy!
Directions
1. Cut the cold chicken fillets from yesterday into paper thin strips with your biggest sabre of a ninja knife. But remember to mind your fingers - or there'll be no more Monopoly on school breaks!
2. Mince the garlic and mix with sweet chilli sauce, soy sauce, sugar, sesame oil and the juice of a lime in a pot. Take out a third of the marinade and set aside for serving. Now mix the chicken fillet strips with the rest of the marinade in the pot. Let the chicken and marinade simmer while stirring for 3-5 minutes, until the marinade has reduced enough to start sticking to the chicken. Be mindful not to reduce it too much, though - or the chicken will lose some of its juicy goodness. Season to taste with salt and pepper.
3. Warm the baguettes in the oven or on a toaster.
4. Rinse and peel bell pepper, spring onion and cucumber. Rinse the lettuce and plate the veggies and marinated chicken meat, the rest of the marinade, mayo and coriander in small bowls. Let the family assemble their very own favourite sandwich.
5. Enjoy!
Tip
Tasks for kids in the kitchen: Let your kids stir and taste the marinade. Also let them plate the veggies in little bowls and on trays, just the way they think is nicest.
Share your tips and comments