High five!
The recipe has been added to your shopping list.
Autumn casserole with roast chicken, veggies and rice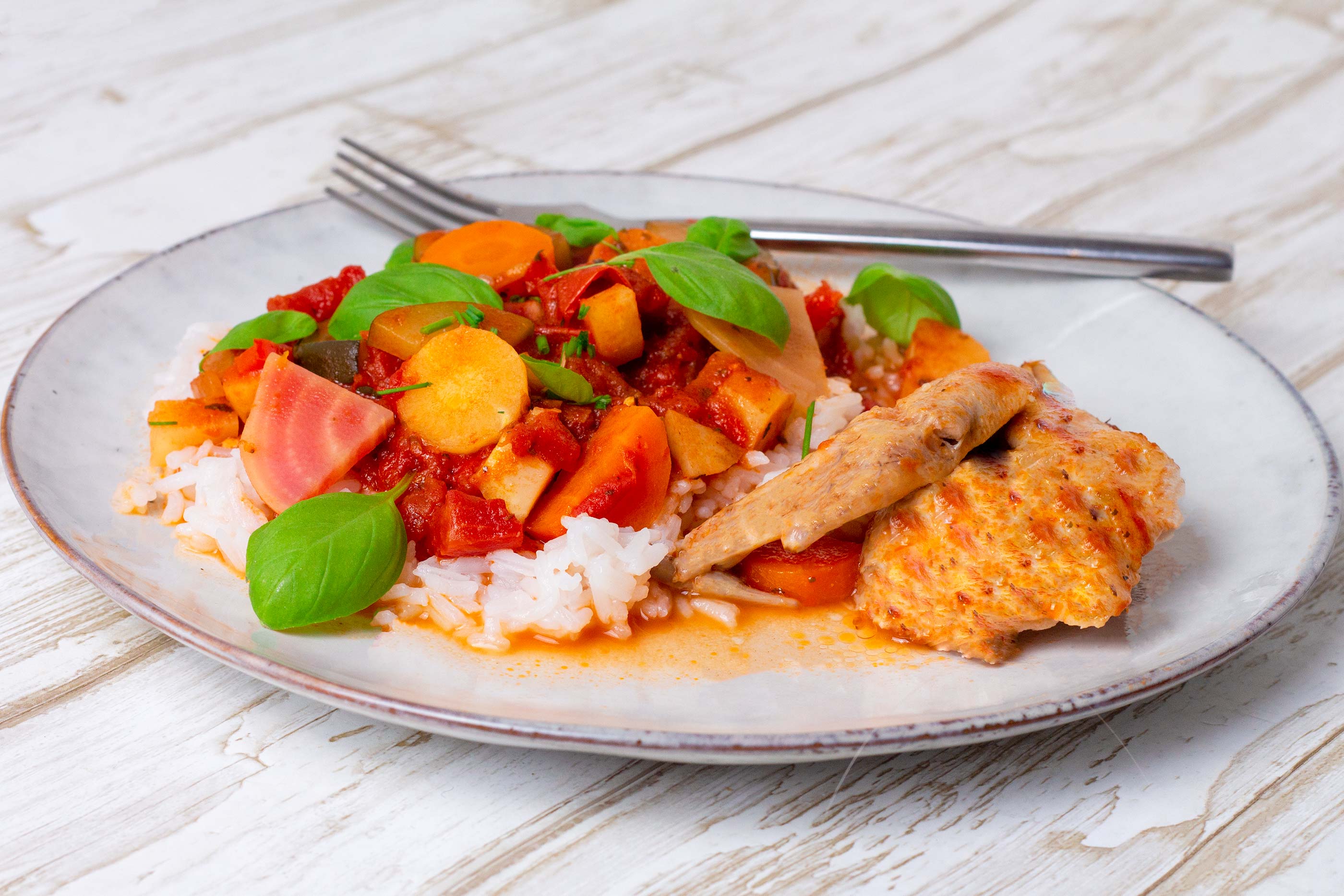 Ingredients
( 2 adults and 2 kids )
400 grams

carrots

*

1

courgette

2

onion

2 clove

garlic

1

red bell pepper

2 can

chopped tomatoes

100 ml

water

3 tbsp

red pesto

1 tbsp

dried basil

1

whole chicken

wholegrain rice

salt

pepper
ADD TO SHOPPING LIST
ADD TO MEAL PLAN
*
= Good to know - click the ingredient

= See the recipe - click the ingredient
We're fairly crazy about this autumnal casserole. It's super tasty, and it mostly looks after itself, so you can pop your feet up or fold the laundry while it cooks! The dish is for two days, so remember to save the leftovers for tomorrow, where dinner will be extra easy. Enjoy!
Directions
1. Preheat your oven to 225 degrees convection.
2. Peel the carrots, wash the courgette and rinse and clean the bell pepper. Dice the lot into bite-sized chunks. Finely chop onion and garlic and mix with the rest of the veggies in a casserole tin or clay pot.
3. Mix chopped tomatoes, water, red pesto, dried basil and a little salt and pepper with the veggies.
4. Clean the chicken and pat it dry with a bit of kitchen roll. Mix coarse salt with a bit of pepper in a cup and rub onto the chicken both outside and inside.
5. Pop the chicken into the veggies. Cook the chicken for 10 minutes at 225, then turn the oven down to 200 and cook for another 50-60 minutes. You want the juices to run clear, and the meat white with no trace of pink, and the bird is done! If you want some extra colour on the skin, turn the heat back up to 225 for the last 10-15 minutes or give it a go on the grill setting. But keep an eye on it!
6. Meanwhile cook the rice according to the packet.
7. Remove the tray from the oven. Remove the chicken from the tray and cut into the desired pieces. Remember to save some for tomorrow! Taste the sauce - if it needs a bit more flavour, season with salt and pepper, or sift it into a pot and season to taste.
8. Serve the gorgeous chicken with veggies, sauce and rice. Enjoy!
Tip
Tasks for kids in the kitchen: Let the kids halve the bell peppers and remove the seeds, rinse and dice it. They can also rinse and dice the courgette, it's nice and soft to cut.
Share your tips and comments