High five!
The recipe has been added to your shopping list.
Asian whole roast chicken with chickpea salad – for two days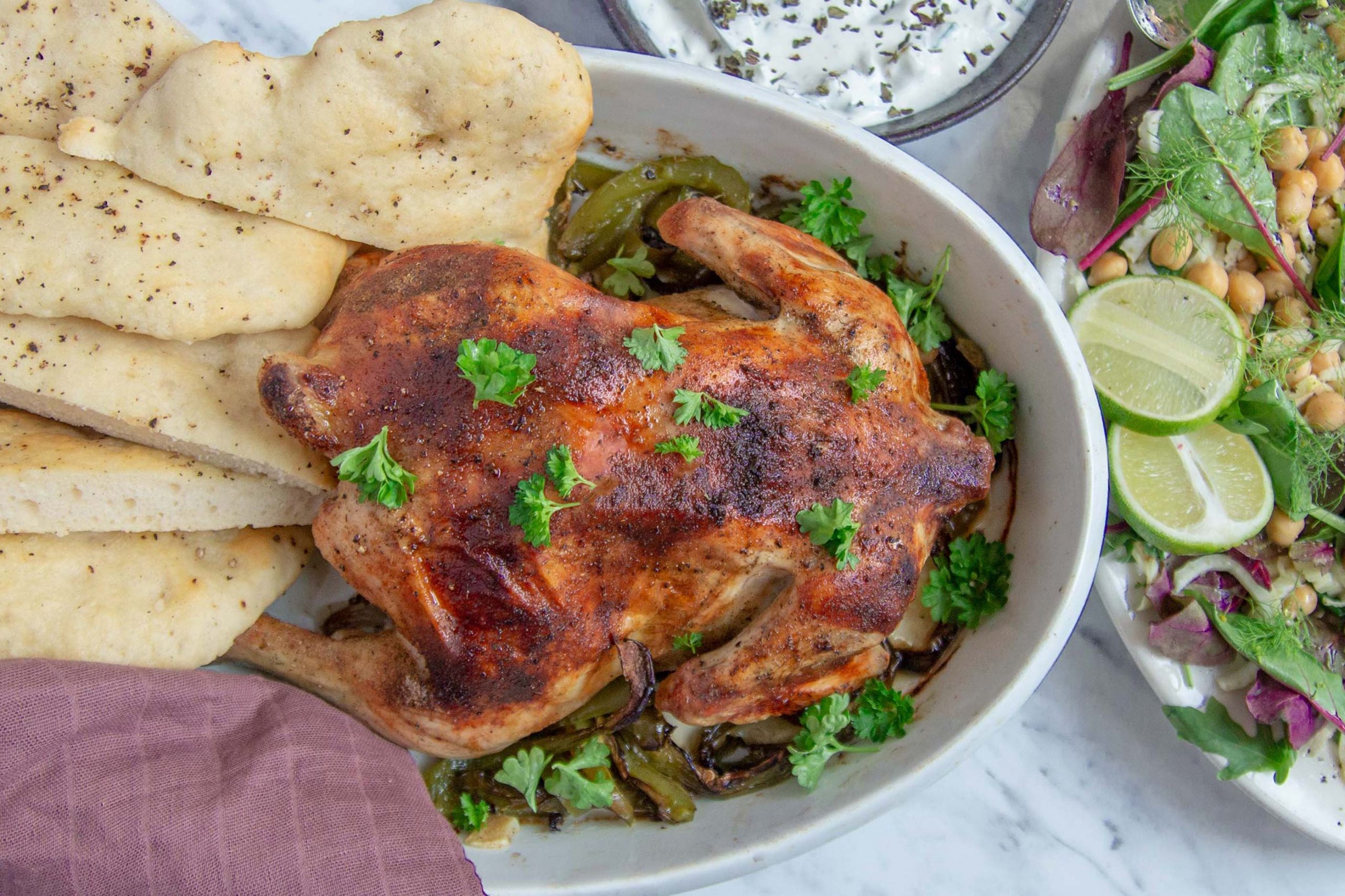 Ingredients
( 2 adults and 2 kids )
1

green bell pepper

2

onion

1

whole chicken

1 tbsp

red curry paste

250 ml

creme fraiche 18%

2 clove

garlic

0.5 bunch

fresh mint

lettuce of your choice

1

fennel

1 tin

chickpeas

dressing of your choice

naan bread

olive oil

salt

pepper
ADD TO SHOPPING LIST
ADD TO MEAL PLAN
*
= Good to know - click the ingredient

= See the recipe - click the ingredient
We've whipped up a super tasty Asian inspired whole roast chicken with naans, chickpea salad with fennel, and an easy mint dressing. The recipe is intended for two days, so remember to save the leftover chicken for our yummy chicken noodle soup tomorrow. Enjoy!
Directions
1. Preheat your oven to 225 degrees fan assisted. Rinse and slice bell pepper and onion, and spread into an oven dish.
2. Clean the chicken and pat it dry with some kitchen roll. Rub the chicken with a bit of red curry paste and season with salt and pepper. Be aware that curry paste varies in strength and spice, so have a taste of it and use how much you think will suit the family's palates.
3. Add a dash of water to the bottom of the oven dish, place the chicken in and pop it in the oven. Roast the chicken for 10 minutes at 225, then lower to 200 and cook for another 50-60 minutes.
4. When the juices run clear and the meat is white, not pink, the bird is done! If you want a bit more colour in the skin, crank the heat back up to 225 for the last 10-15 minutes, or give the bird a go under the grill setting. Keep a close eye, though!
5. Meanwhile, mix creme fraiche with pressed garlic and finely chopped mint to make a yummy dressing. Season with salt and pepper.
6. Rinse the lettuce and cut fennel into thin strips. Mix lettuce and fennel with drained chickpeas and top with your dressing. Warm naans in the oven or with the toaster.
7. Let the chicken rest for 5-10 minutes after leaving the oven – it'll be juicier. Carve the chicken the way you like, and serve with naans, salad, dressing and the roast bell pepper and onion. Remember to save half of the chicken meat as well as the bones for tomorrow. Enjoy!
Tip
Tasks for younger kids in the kitchen: Let your kids help slice the bell pepper. They can also mix the dressing and cut the fennel, if you have a child safe knife.
Share your tips and comments