High five!
The recipe has been added to your shopping list.
Yummy quiche with beef and courgette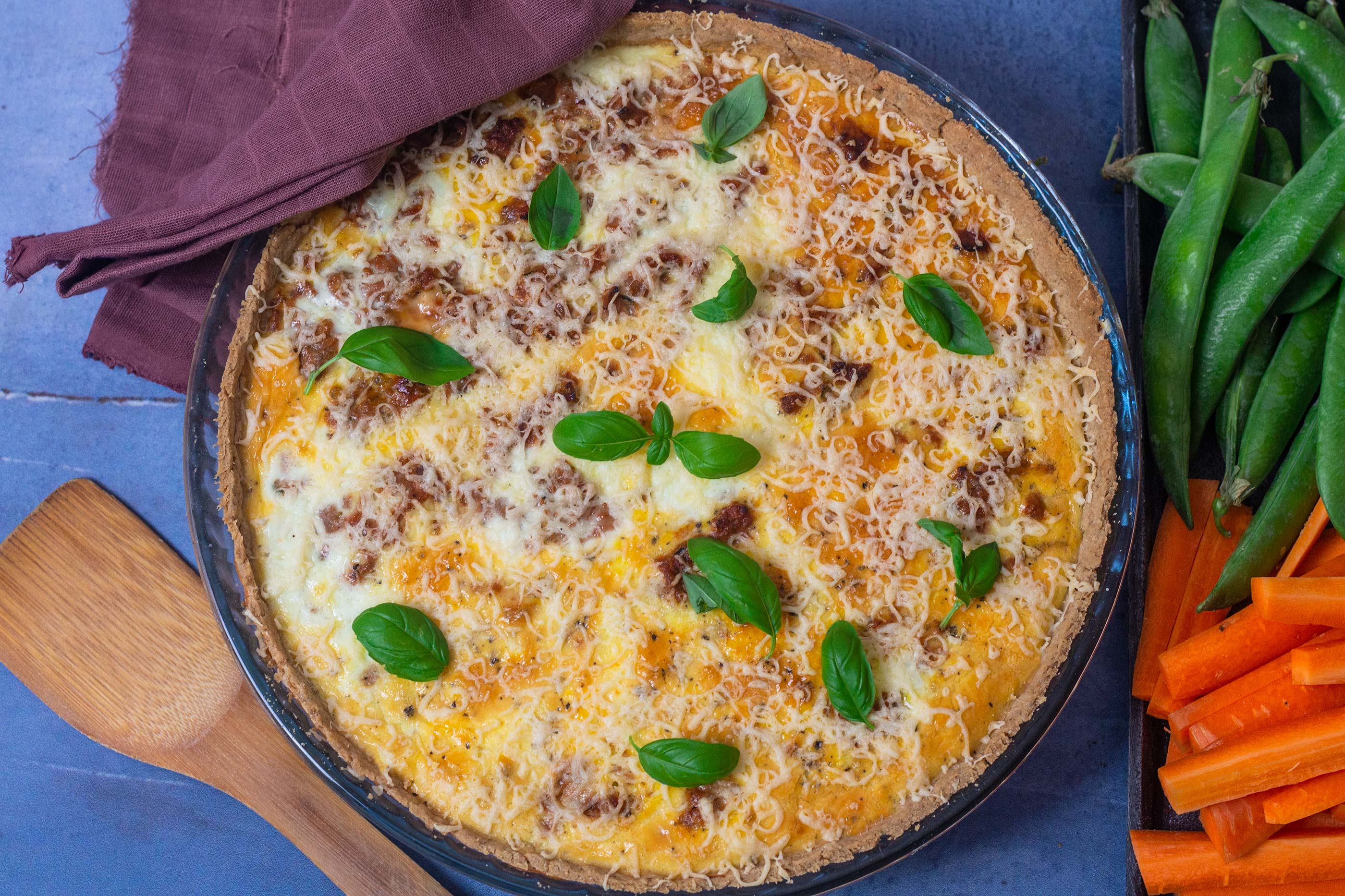 Ingredients
Freezer friendly
( 2 adults and 2 kids )
shortcrust pastry

4

egg

100 ml

milk

1 tsp

salt

1

onion

1 clove

garlic

350 grams

beef mince

1

courgette

70 grams

tomato purée

0.5 tbsp

dried oregano

50 grams

grated cheese

pepper

olive oil

300 grams

carrots

*

300 grams

fresh peas

- or frozen
ADD TO SHOPPING LIST
ADD TO MEAL PLAN
*
= Good to know - click the ingredient

= See the recipe - click the ingredient
We've whipped up this slightly unconventional quiche with beef mince, grated courgette, and cheese on top. It's both super easy to make and so delicious - almost like a juicy pizza. Enjoy!
Directions
1. Preheat your oven to 200 degrees convection. Spread the pastry onto a buttered quiche tin - all the way up the sides, too. Poke the bottom with a fork - that stops it from bubbling up. Bake the crust for 10 minutes, then remove it.
2. Meanwhile, mix egg, milk and salt in a bowl.
3. Finely chop onion and garlic and sautée for a couple of minutes in a bit of olive oil in a deep pan or pot. Add beef mince. Rinse and grate the courgette on the rough side of a grater and add to the pot along with tomato purée and oregano. Let the lot simmer for a couple of minutes, and season to taste with salt and pepper.
4. Place the mince filling into the crust, spread the egg mass evenly over top, and finish with grated cheese on top.
5. Bake the quiche at 200 degrees convection, for approx. 20-25 minutes - or until the egg has solidified and the quiche has developed a gorgeous, golden surface.
6. Meanwhile, peel the carrots and cut into sticks. Prep the fresh or frozen peas.
7. Serve the quiche with peas and carrot sticks.
8. Enjoy!
Tip
Tasks for kids in the kitchen: Let your kids help beat eggs and milk. They can also rinse and grate the courgette. You can absolutely buy the shortcrust pastry from the supermarket, if you're having one of the busier days. But it's super quick to make your own homemade pastry with oats and wholewheat. Just click the chefs' hat in the ingredient list - and you'll get the recipe. You can also pick up grated cheese from the supermarket. But it's a whole load cheaper to buy a block of cheese, which can be used for grating, cheese sticks for packed lunches, and sliced for a warm afternoon toastie. And you get to avoid weird E-numbers on your dinnertable.
Share your tips and comments