High five!
The recipe has been added to your shopping list.
Wienerschnitzels with easy dauphinoise potatoes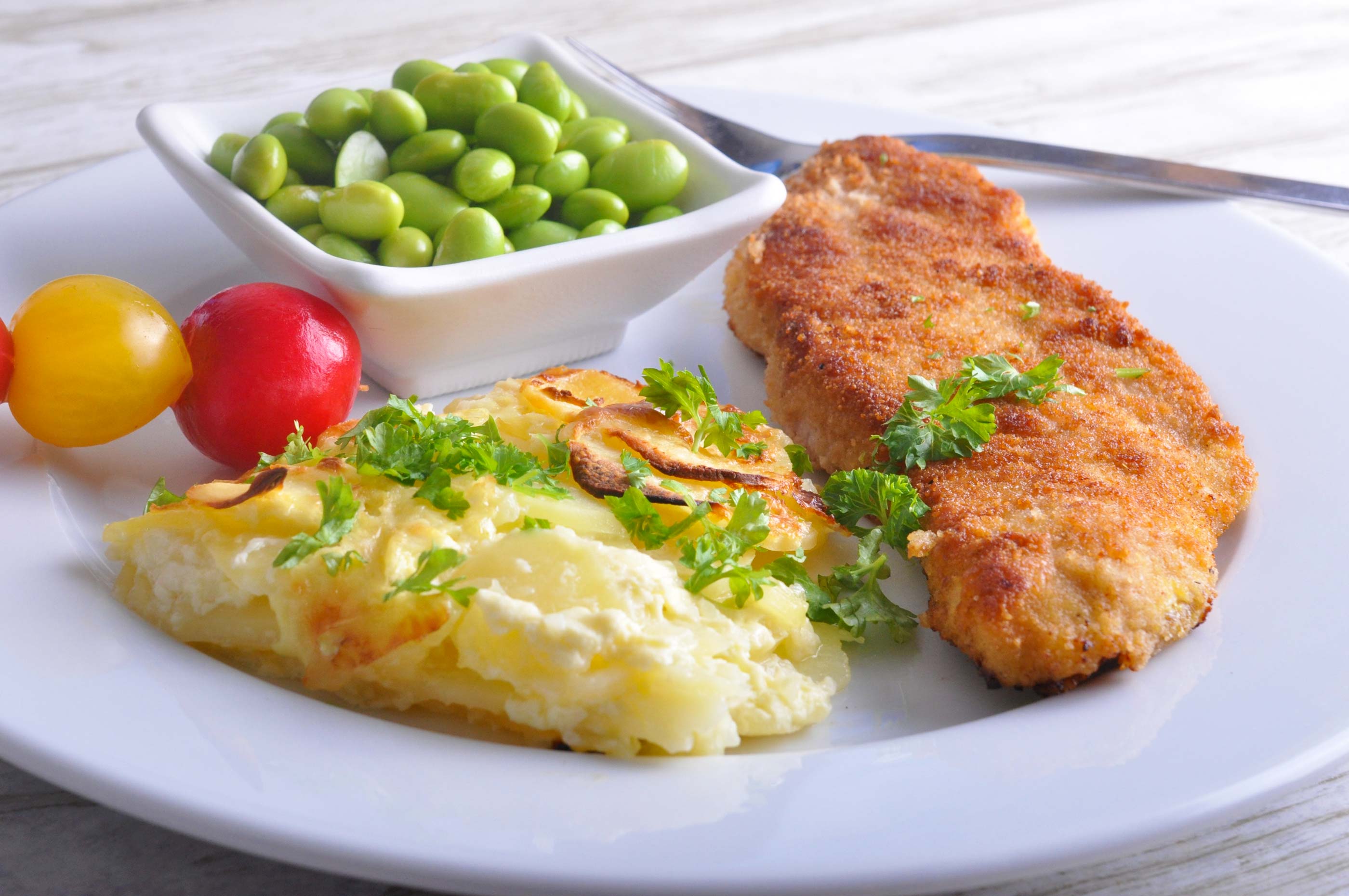 Ingredients
( 2 adults and 2 kids )
Dauphinoise

700 grams

potatoes

1

onion

200 ml

single cream

200 ml

milk

1

egg

50 grams

grated cheese

- preferably low fat

1 tsp

salt

200 grams

frozen peas

- or edamame beans

pepper

olive oil

Wienerschnitzels

4

ham or wienerschnitzels

1

egg

100 grams

breadcrumbs

butter
ADD TO SHOPPING LIST
ADD TO MEAL PLAN
*
= Good to know - click the ingredient

= See the recipe - click the ingredient
You might be thinking, has Austria ever given us anything other than Arnold Schwarzenegger? The answer is: YES! The wienerschnitzel is a true work of art and tastes just as wonderful in the UK. Here we've served ours with easy dauphinoise potatoes.
Directions
1. Preheat the oven to 225 degrees convection.
2. Peel the potatoes and thinly slice them. Finely chop the onion. Beat cream, milk, egg, grated cheese, salt and pepper well. Now mix potato slices, onion and the cream mixture with a spoon (or use your hands) in a big bowl and pour everything into a casserole tin oiled with olive oil.
3. Pop the potatoes in the oven while you prep the schnitzels. The potatoes need 30-40 minutes, or until they're beautifully golden on top.
4. Beat the schnitzels flat with your hand - get the little ones to help you, for once they get to hit their food! It's a fun time.
5. Beat the egg with a fork in a deep plate. Pour the breadcrumbs onto a deep plate and mix with some salt and pepper. Now dip the schnitzels in the egg, and then coat in the breadcrumbs. Cook the schnitzles on a pan with a mix of butter and olive oil.
6. Cook the peas following the directions on the bag.
7. Serve the schnitzels with dauphinoise, peas and optionally some cherry tomatoes, radishes, or whatever other veggies you have in for snack veggies.
8. Enjoy!
Tip
Wienerschnitzels are technically veal, but that can be tricky to find in the supermarket. In that case, just grab a pack of ham schnitzels. You can easily swap the peas for edamame beans, if you have a bit left over.
Share your tips and comments