High five!
The recipe has been added to your shopping list.
Wienerschnitzel with potatoes, bearnaise and baked veg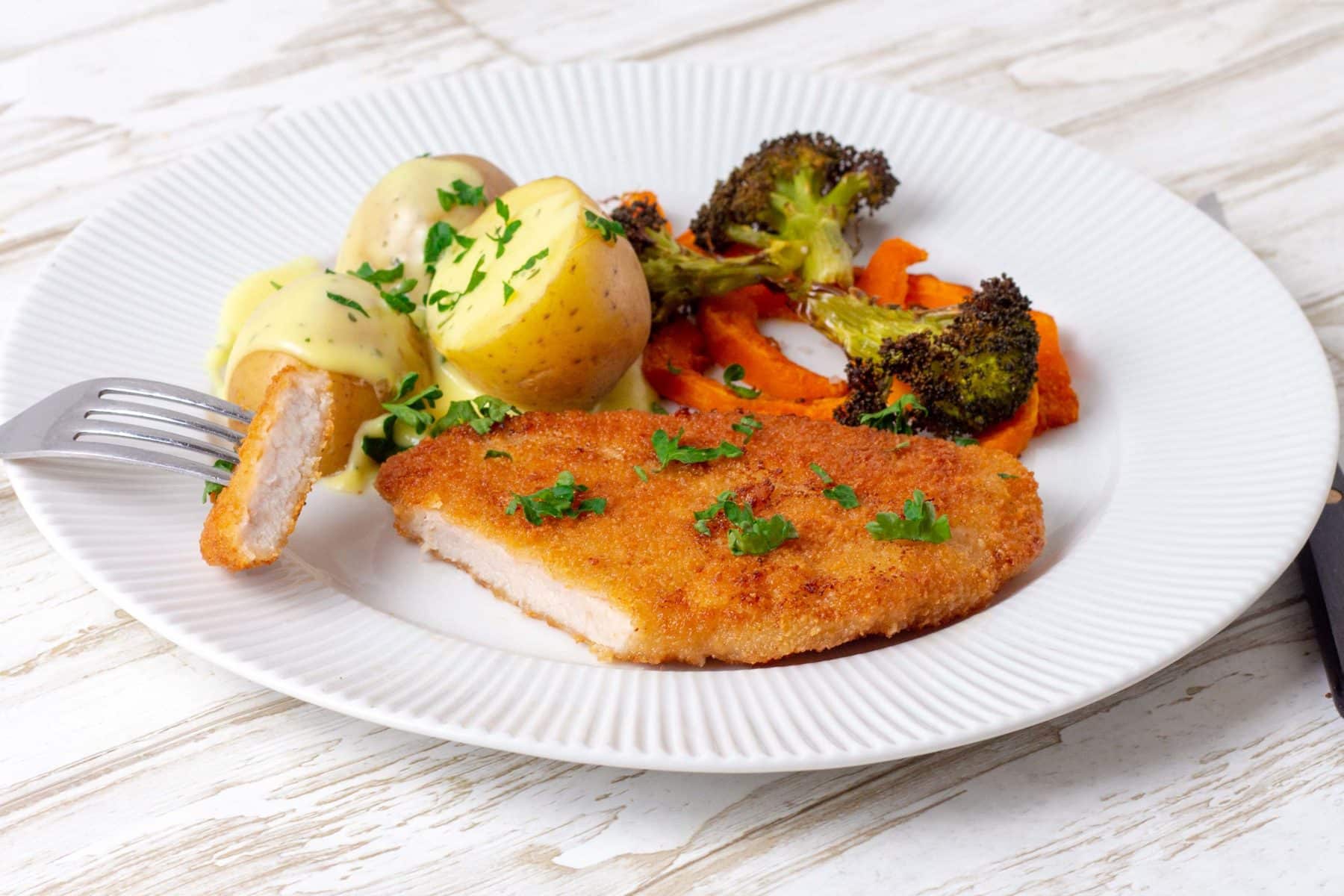 Ingredients
( 2 adults and 2 kids )
0.5

hokkaido pumpkin

1

broccoli

600 grams

potatoes

4

ham or wienerschnitzels

1

egg

100 grams

breadcrumbs

butter

olive oil

bearnaise sauce

baking parchment

salt

pepper
ADD TO SHOPPING LIST
ADD TO MEAL PLAN
*
= Good to know - click the ingredient

= See the recipe - click the ingredient
Wienerschnitzels are a true speciality from the south of Germany, and it's delicious! Here we're serving the schnitzels with spuds, a classic and quick bearnaise as well as ovenbaked hokkaido pumpkin and broccoli. Enjoy!
Directions
1. Preheat your oven to 220 degrees convection.
2. Peel the hokkaido pumpkin and cut it into bite-sized chunks. Rinse the broccoli and split it into florets. Place the lot on a baking tray with baking parchment and turn with a dash of olive oil. Bake the veggies in the oven for 20-25 minutes. You don't want the broccoli to get too dark, as it can quickly get bitter.
3. Meanwhile, cook the potatoes in salted water until they're just about tender when poked with a fork. Drain the water.
4. Pound the schnitzels flat with your hand. Beat the egg with a fork in a deep plate. Pour the breadcrumbs into a deep plate and mix in some salt and pepper. Now coat the schnitzels in the egg, and then the breadcrumbs. Cook the schnitzels on a pan in a mix of butter and olive oil.
5. Meanwhile, get the bearnaise ready - whether it's one you bought from the supermarket, or our easy recipe, which you can find by clicking the little chefs' hat in the ingredient list.
6. Serve the schnitzels with potatoes, bearnaise and baked veg.
7. Enjoy!
Tip
Really, wienerschnitzels are made from veal, but veal isn't always available at all supermarkets. In that case, just pick up a packet of ham schnitzels instead.

Tasks for kids in the kitchen: Let your kids split the broccoli into florets. They can also help pound the schnitzels flat with their hands - for once they're allowed to hit their food. It's quite fun!
Share your tips and comments