High five!
The recipe has been added to your shopping list.
Wienerschnitzel with potatoes and butter sauce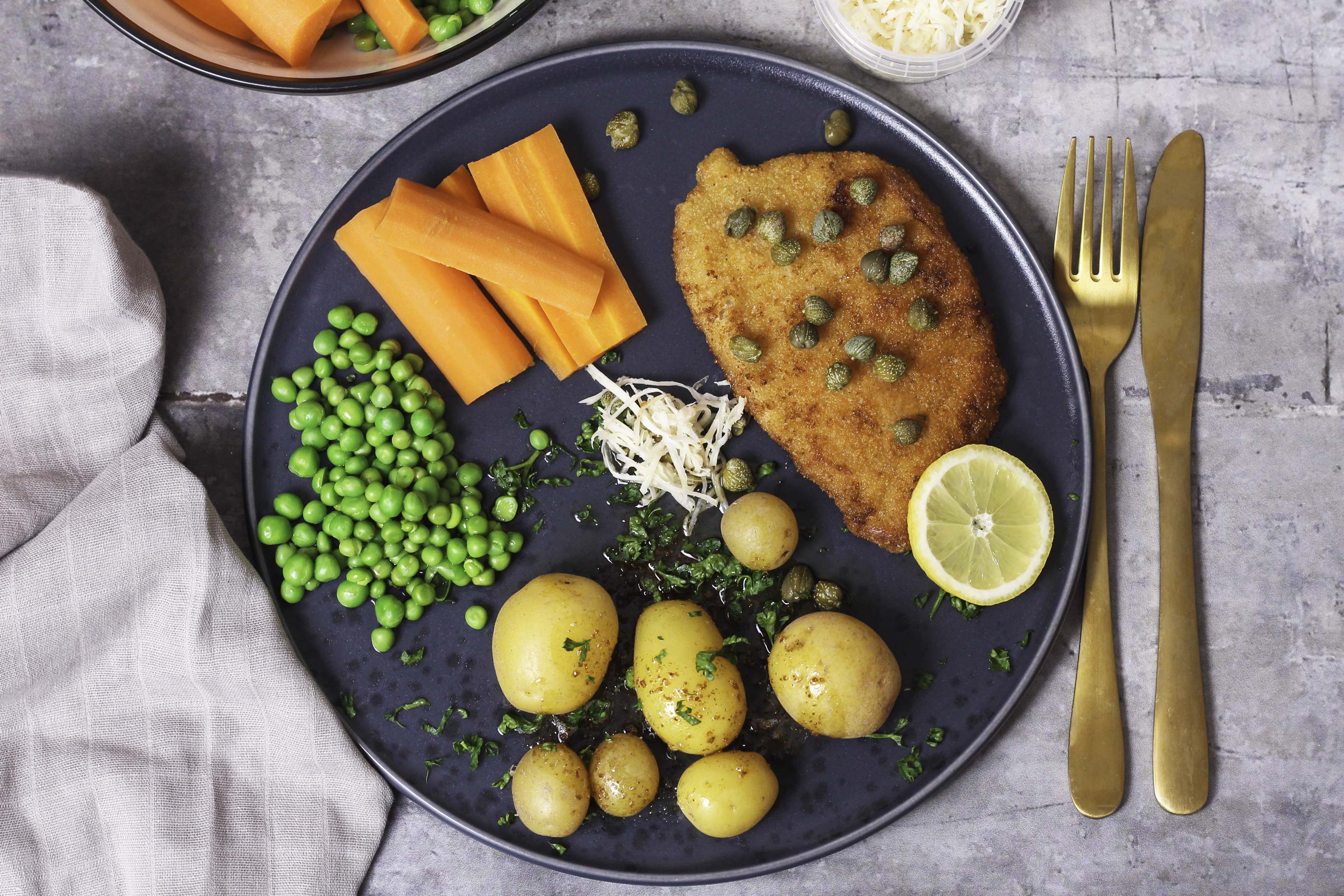 Ingredients
( 2 adults and 2 kids )
600 grams

potatoes

400 grams

carrots

*

300 grams

frozen peas

4

ham or wienerschnitzels

1

egg

100 grams

breadcrumbs

salt

pepper

capers

grated horseradish

butter

olive oil

lemon
ADD TO SHOPPING LIST
ADD TO MEAL PLAN
*
= Good to know - click the ingredient

= See the recipe - click the ingredient
This recipe is VERY close to the one you would get in Austria; Wienerschnitzel with potatoes, cooked peas, butter sauce, capers and grated horseradish. Mmm, it's gonna be yummy! Enjoy!
Directions
1. Cook the potatoes in salted water, until they're just exactly tender when poked with a fork. Drain the water.
2. Peel the carrots, and cook with the peas for about five minutes, so the carrots still have some crunch.
3. Flatten the schnitzels with your fist. Beat the egg with a fork in a deep plate. Pour the breadcrumbs onto a deep plate and mix with a bit of salt and pepper. Now, first coat the schnitzels in the egg, then in the breadcrumbs. Cook the schnitzels on a pan in a mix of butter and olive oil. Remove the schnitzels from the pan, and pop another knob of butter onto the pan, and wait up until it's sputtering. Sprinkle some salt and pepper into the butter sauce.
4. Serve the schnitzels with potatoes, butter sauce, vegetables, capers, horseradish and a slice of lemon.
5. Guten Appetit!
Tip
Tasks for kids in the kitchen: Let your kids peel the carrots and pour the peas into the pot. They can also help pound the schnitzels flat - for once they're allowed to punch their food. It's quite fun! Really a wienerschnitzel is made with veal, but you can't always find that at the supermarket. In this case, just grab a packet of ham schnitzels.
Share your tips and comments