High five!
The recipe has been added to your shopping list.
Whole roast chicken with potato croquettes and salad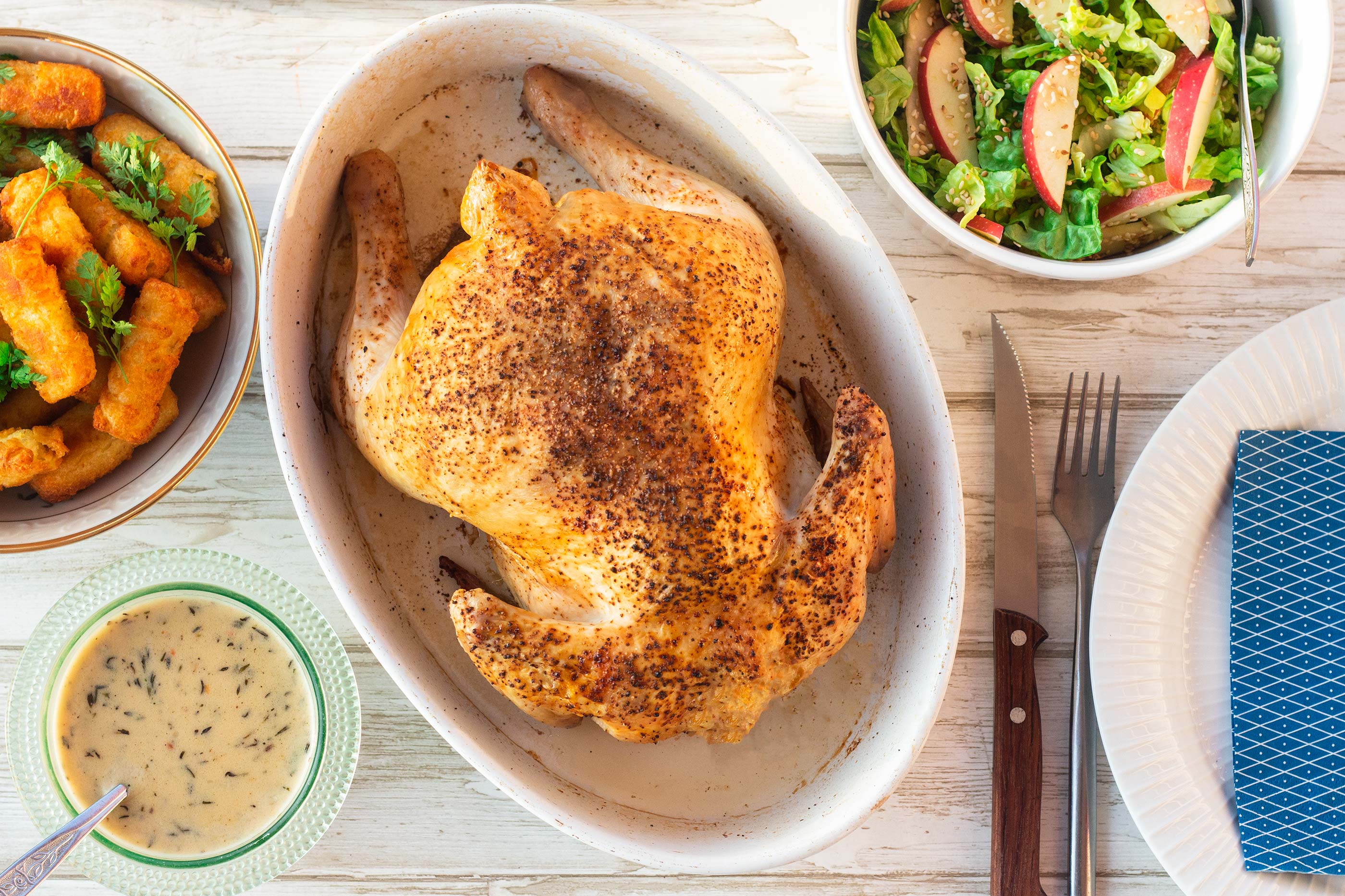 Ingredients
( 2 adults and 2 kids )
1

whole chicken

600 grams

frozen potato croquettes

30 grams

sesame seeds

lettuce of your choice

2

apples

dressing of your choice

200 ml

single cream 8%

0.5 cube

vegetable stock

1 tsp

dried thyme

gravy browning

salt

pepper

olive oil
ADD TO SHOPPING LIST
ADD TO MEAL PLAN
*
= Good to know - click the ingredient

= See the recipe - click the ingredient
Roast chicken tastes amazing, and is surprisingly easy to make, as it just needs to relax in the oven or on the barbecue. We're serving it with yummy (and easy!) potato croquettes, salad, and a yummy sauce. Remember to save the carcass and half of the chicken meat for tomorrow, where there's tasty soup with veggies on the menu. Enjoy!
Directions
1. Preheat your oven to 200 degrees convection - or fire up the barbecue!
2. Clean the chicken internally and externally, if it's not already, and pat it dry with kitchen roll. Rub the chicken, inside and out, with olive oil, salt, pepper, and other spices if you like. Remember to use a separate cutting board, and to wash your hands after handling the chicken! Place the chicken in a baking tray and place in the oven, or on the grill over indirect heat.
3. Cook the chicken for about 1 hour - remember that both ovens and chickens vary. Always cook the chicken all the way through, until the juices run clear and not pink.
4. Cook the croquettes according to the packet.
5. Roast the sesame seeds on a dry pan until browned. Let cool on a plate. Rinse lettuce and apples and dice both. Mix everything in a bowl, along with dressing of your choice.
6. Pour the roasting juices from the chicken tray into a pot. Add single cream, stock cube and thyme. Optionally, add some gravy browning, and season to taste with salt and pepper.
7. Carve the chicken how you like it, and serve it with the yummy croquettes, salad, and sauce.
8. Enjoy!
Tip
Tasks for kids in the kitchen: Let your kids help rinse the lettuce and dice the apples. They can also help season and taste the sauce.
Share your tips and comments