High five!
The recipe has been added to your shopping list.
Viking pot - for two days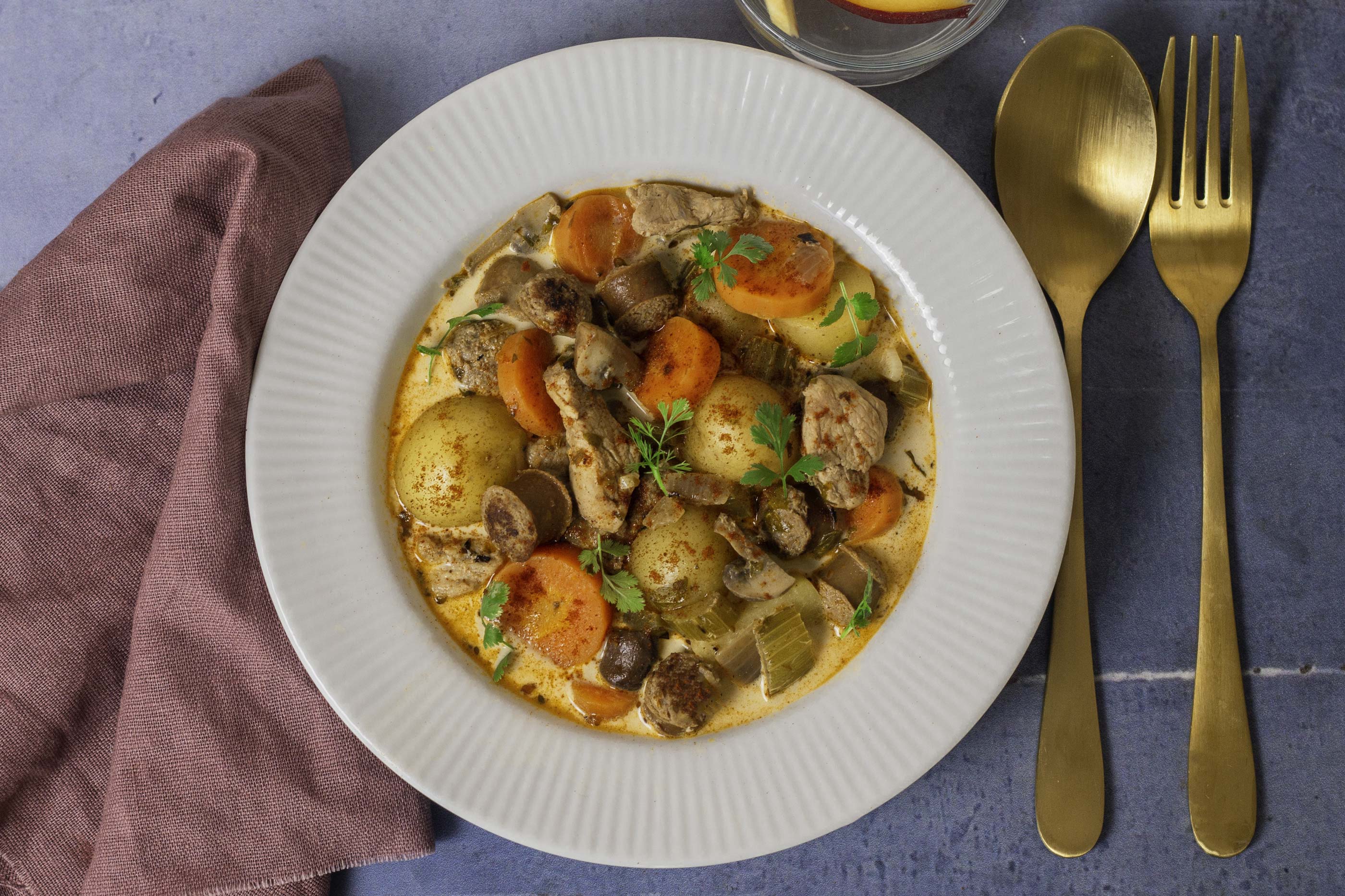 Ingredients
Freezer friendly
( 2 adults and 2 kids )
2

onion

0.5

pointed cabbage

8 stick

celery

*

600 grams

carrots

*

250 grams

mushrooms

1000 grams

baby potatoes

300 grams

grill sausages

700 grams

chicken fillet

1 tbsp

paprika

70 grams

tomato purée

1 litre

water

1 cube

chicken stock

1 tbsp

sweet chilli sauce

0.5 tbsp

dried oregano

250 ml

single cream 8%

salt

pepper

olive oil
ADD TO SHOPPING LIST
ADD TO MEAL PLAN
*
= Good to know - click the ingredient

= See the recipe - click the ingredient
Here's the tastiest recipe for a pot full of good stuff for vikings both big and small! The dish is full of chicken, sausages, potatoes, celery, carrots and mushrooms - and lots of yummy sauce to slurp down. The recipe is designed for two days, so remember to save half for tomorrow. Enjoy!
Directions
1. Start by prepping all of your veggies - then you don't have to think any more about them. Unless you really can't stop thinking about them, then that's of course okay too...
2. But, anyway: Finely chop the onion. Rinse the pointed cabbage and cut into thin strips. Peel the carrots and slice diagonally. Clean, wash and quarter the mushrooms. Clean the potatoes and halve them. Set all the veggies aside.
3. Cut the sausages into smaller pieces. Dice the chicken or cut into bite-sized strips, depending on your preference. Set the meat aside, and remember to wash your hands and utensils when you're done.
4. Now cook onion, sausages, chicken and paprika in some olive oil in a large pot - and once again remember good kitchen hygiene, when handling raw meat. Cook the chicken while stirring, until lightly seared on all sides.
5. Add tomato purée, water, stock cube, sweet chilli sauce, oregano and all the veggies. It'll take up quite a lot of space in the pot, but will cook down after simmering for a few minutes. Bring the dish to the boil, carefully stir as you go, and let the dish simmer for 10-15 minutes until the potatoes are cooked.
6. Add single cream and heat up. Season to taste with salt and pepper and serve the pot for the family's battle-ready vikings.
7. Enjoy!
Tip
Tasks for kids in the family: Let your kids help prep the veggies. They can also cut up the sausage and help with tasting.
Share your tips and comments