High five!
The recipe has been added to your shopping list.
Veggie pot with butternut squash, tortilla chips and sweetcorn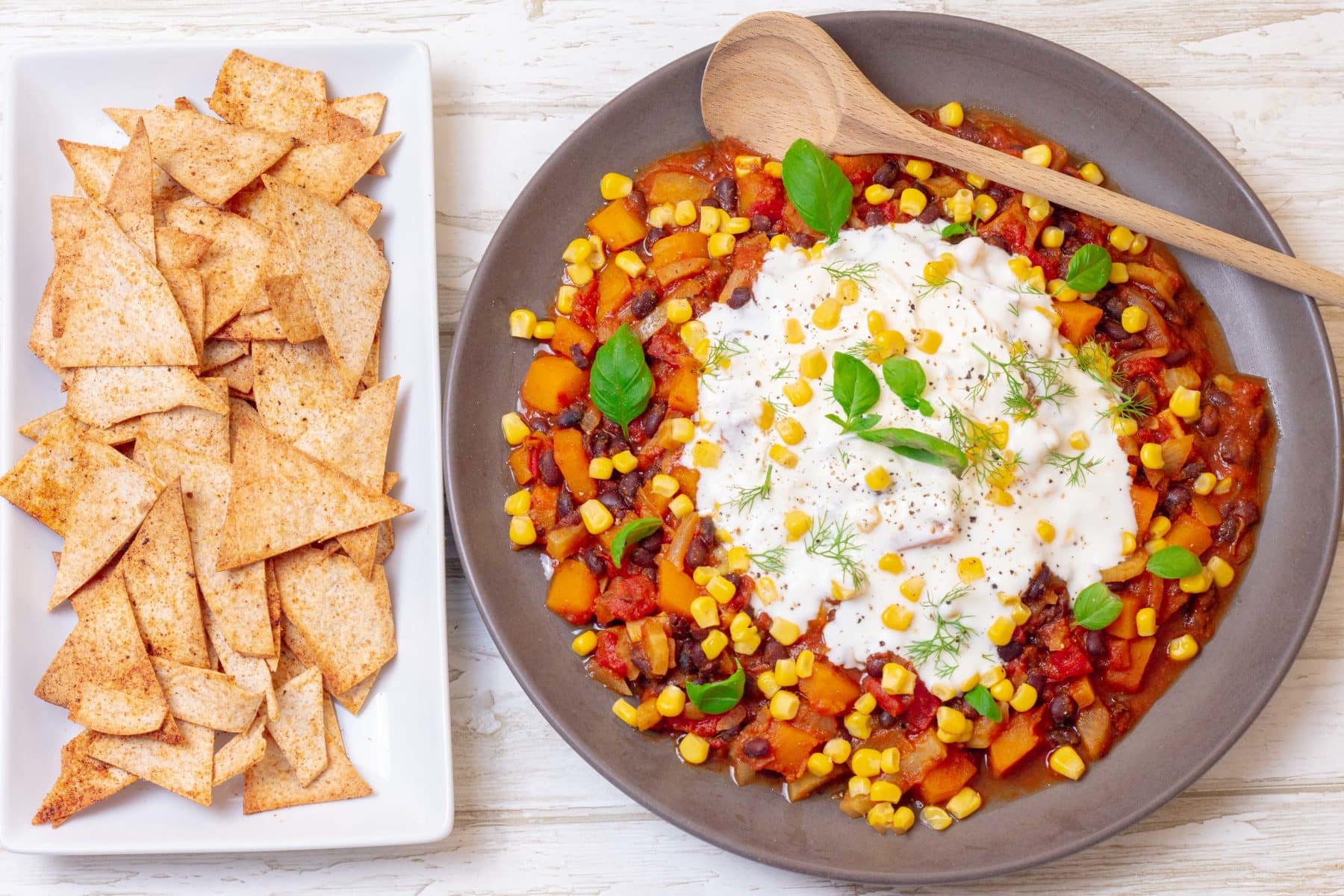 Ingredients
( 2 adults and 2 kids )
wholegrain rice

4

wholewheat tortillas

2 tbsp

all purpose seasoning

1

onion

1 clove

garlic

1

butternut squash

- or regular courgette

1

fennel

1 can

chopped tomatoes

1 can

kidney beans

1 tbsp

ground coriander

0.5 tbsp

cumin

1 tbsp

curry

150 grams

loose sweetcorn

200 ml

creme fraiche or skyr

*

salt

pepper

0.5

cabbage
ADD TO SHOPPING LIST
ADD TO MEAL PLAN
*
= Good to know - click the ingredient

= See the recipe - click the ingredient
This is a truly delicious vegetarian dish with butternut squash, fennel and kidney beans, served with homemade tortilla chips. Enjoy!
Directions
1. Preheat your oven to 185 degrees.
2. Cut the tortillas into small triangles - or whatever shape you like your chips to be. Place on a baking tray with baking parchment and drizzle with olive oil. Sprinkle with all purpose seasoning, salt, dried spices or whatever you like them to taste like - it's up to you! Bake for 5-10 minutes until golden, and let cool.
3. Dice onion and garlic. Peel the butternut squash - or cut off the peel with a knife, it can be a bit tough. But promise to mind your fingers! You need them for playing Monopoly and playing guitar. If you play the guitar, that is...Anyway, if using regular courgette, just rinse it. Dice the squash or courgette, and rinse fennel and cut it into strips.
4. Now cook onion and garlic in a bit of olive oil. Once the onions are clear, add squash and fennel. Let the lot cook for 5-10 minutes. Add chopped tomatoes, kidney beans, coriander, cumin, and curry. Let everything simmer for 5-10 minutes and season to taste with salt, pepper and acacia honey.
5. Serve the dish with sweetcorn and the crunchy tortilla chips - and top with creme fraiche.
6. Enjoy!
Tip
Tasks for kids in the kitchen: Let your kids help cut up the tortillas and sprinkle with spices. Let them help tasting and seasoning too, as it will often make them feel braver about trying new dishes.
Share your tips and comments