High five!
The recipe has been added to your shopping list.
Vegetarian quiche with cottage cheese and feta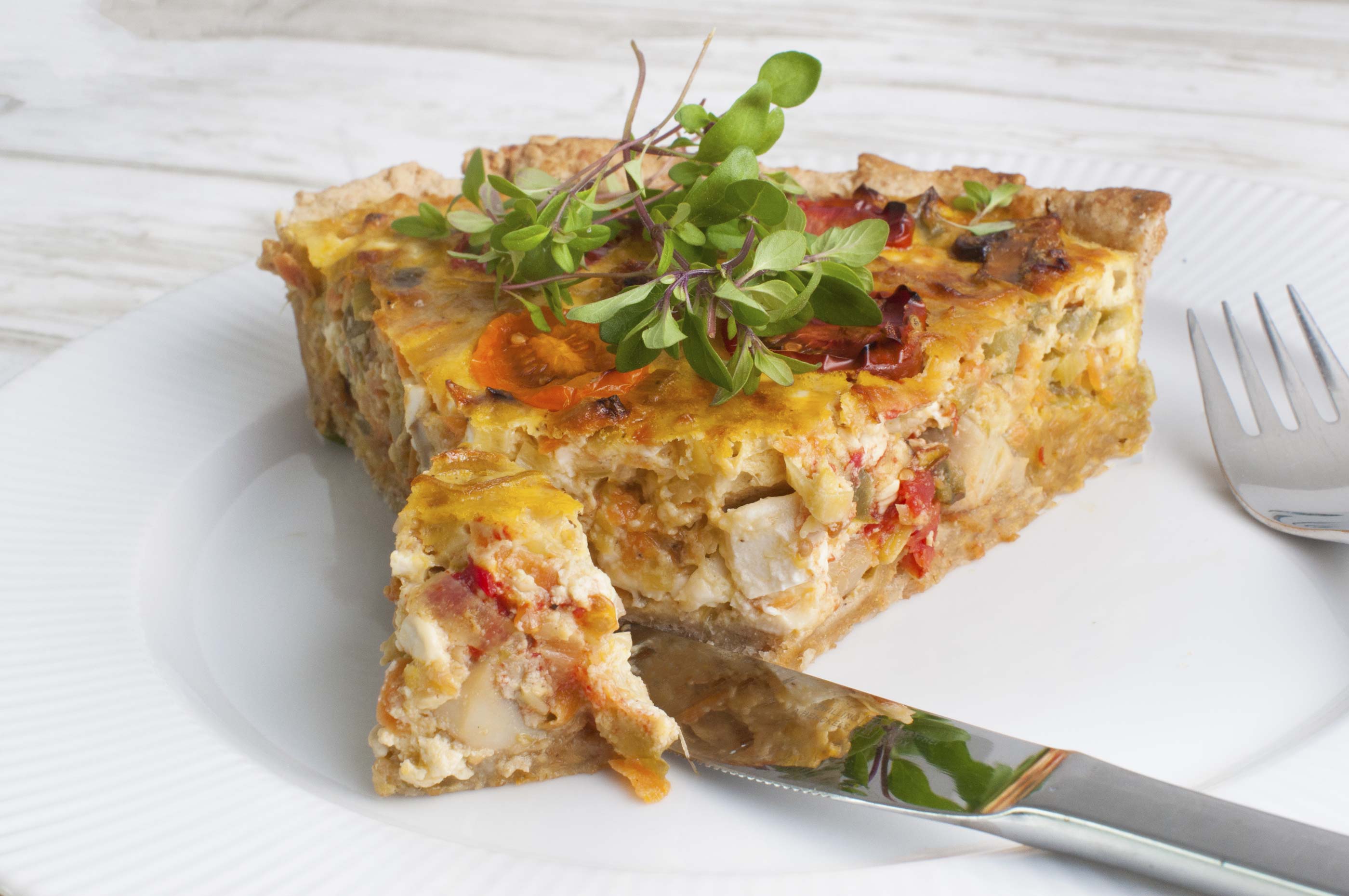 Ingredients
Freezer friendly
( 2 adults and 2 kids )
shortcrust pastry

4

egg

100 ml

milk

200 grams

cottage cheese

75 grams

feta cubes

50 grams

grated cheese

1 tsp

salt

1

onion

200 grams

carrots

*

3

leek

1

green bell pepper

250 grams

mushrooms

10

cherry tomatoes

pepper

olive oil

baking parchment
ADD TO SHOPPING LIST
ADD TO MEAL PLAN
*
= Good to know - click the ingredient

= See the recipe - click the ingredient
Our kids love quiche! And for some reason, they don't complain when we serve up a completely vegetarian quiche with no trace of meat. Maybe because they don't even notice what's missing! This quiche is made with cottage cheese and feta, and of course lots of kid-friendly veggies.
Directions
1. Preheat your oven to 200 degrees convection.
2. Roll out the dough between two sheets of baking parchment, or on a floured tabletop, until it's big enough to cover the quiche tin.
3. Pop the pastry in a buttered quiche tin - you want it hanging over the edge slightly. Poke the bottom randomly with a fork to stop it from bubbling up. Bake the crust in the oven for 10 minutes.
4. Meanwhile sort the vegetables and egg filling. Mix eggs, milk, cottage cheese, crumbled feta, grated cheese and salt in a bowl.
5. Wash, clean and peel the veggies. Be aware of stubborn bits of dirt, that can be hiding between the leaves of the leeks. Finely chop the onion. Grate the carrots or cut them into bite-sized chunks depending on your preference. Cut the leeks into thin rings, bell pepper into strips, quarter the mushrooms and halve the cherry tomatoes.
6. Cook the veggies with a bit of olive oil in a big pan or pot, while stirring continuously, for a couple of minutes until they've cooked down a bit. Drain any liquid from the veggies and add them into the egg mix. Spread the lot across your pastry in your quiche tin, and top with rinsed halved cherry tomatoes.
7. Bake the quiche for approx. 30 minutes - or until the egg filling is stiff and the quiche has a gorgeous, golden surface.
8. Enjoy!
Tip
If you have leftover quiche you can easily freeze it, or use it in the kids' packed lunches.
Share your tips and comments