High five!
The recipe has been added to your shopping list.
Vegetarian one pot pasta with pesto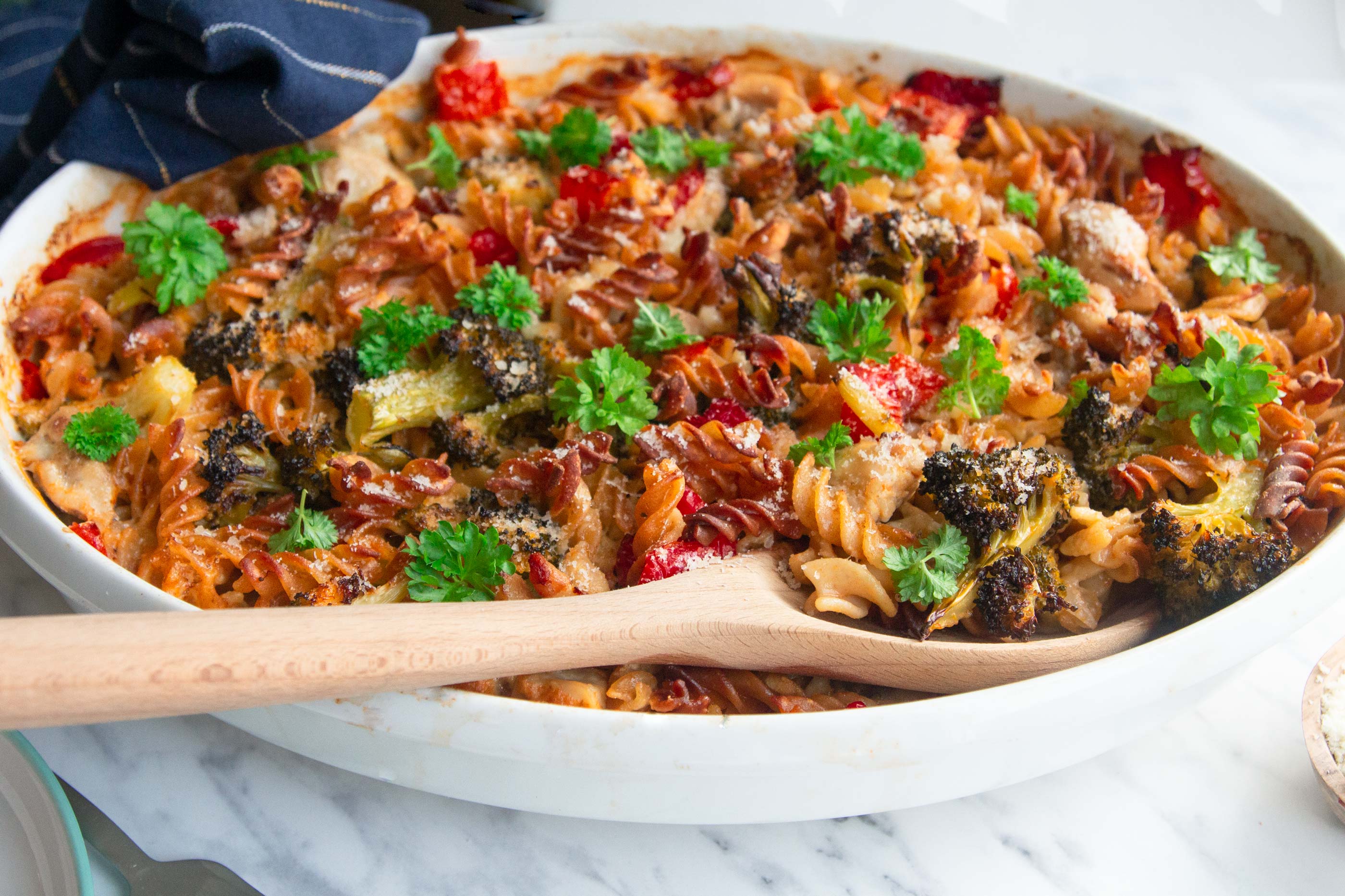 Ingredients
( 2 adults and 2 kids )
15

cherry tomatoes

1 head

broccoli

1

red bell pepper

1

onion

1 clove

garlic

400 ml

water

200 ml

single cream 8%

4 tbsp

red pesto

250 grams

wholewheat pasta

0.5 tbsp

dried oregano

salt

pepper
ADD TO SHOPPING LIST
ADD TO MEAL PLAN
*
= Good to know - click the ingredient

= See the recipe - click the ingredient
We're nuts for one pot pastas! Everything just goes in one single pot, saving you time - and dishes! This time we've made a vegetarian version with broccoli and bell pepper in a yummy pesto sauce. You can either make it in a pot on the stove, or in a dish in the oven. Enjoy!
Directions
1. You can either bake this dish in the oven - which takes about 30 minutes more, but it looks after itself in the heat, or you can make it in a pot. If making it in the oven, preheat your oven to 200 degrees fan-assisted (convection).
2. Rinse and halve the tomatoes. Snap little florets off the broccoli. Rinse and clean the bell pepper, and dice pepper and onion finely. Finely mince the garlic.
3. Pop all of the ingredients into a large pot, or in an oven dish if you're baking it. Mix everything well and switch on the hob. Bring the lot to the boil in the pot, and remember to gently stir to the bottom as it cooks, so nothing sticks.
4. Pop a lid on the pot, lower the heat slightly and let the lot simmer for 10-15 minutes, until the pasta is cooked - remember to season with salt and pepper.
5. If using the oven, season the dish with some salt and pepper, pop it in the oven, and bake the dish for 35-40 minutes. Stir it here and there to keep it from burning.
6. Serve the dish in deep plates, and top with some grated cheese if there's some in the fridge.
7. Enjoy!
Tip
Tasks for kids in the kitchen: Let your kids help snap off the broccoli florets. They can also rinse and dice the bell peppers, and help add the ingredients to the pot.
Share your tips and comments