High five!
The recipe has been added to your shopping list.
Vegetarian meatball curry with chutney and apple - for two days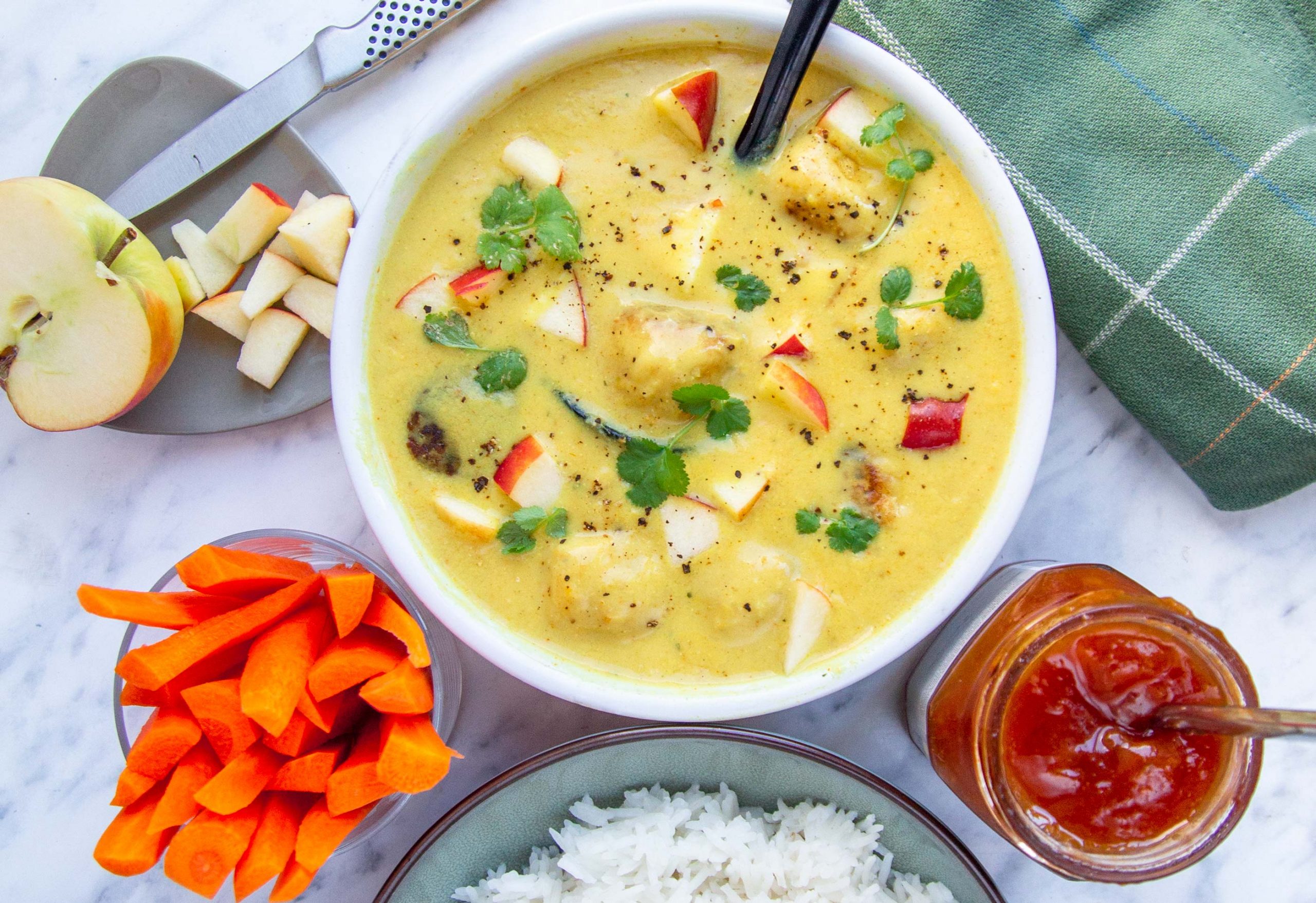 Ingredients
Freezer friendly
( 2 adults and 2 kids )
400 ml

boiling water

200 grams

couscous

'

wholegrain rice

2

onion

2 tin

baked beans

2

egg

1 tsp

salt

3 tbsp

plain flour

1.5 liter

water

2 cube

vegetable stock

400 ml

coconut milk

4 tbsp

corn flour

1

apple

500 grams

carrots

*

2 tbsp

curry

pepper

mango chutney

olive oil
ADD TO SHOPPING LIST
ADD TO MEAL PLAN
*
= Good to know - click the ingredient

= See the recipe - click the ingredient
We LOVE a meatball curry – and this version is actually delicious, despite being totally meat free. The 'meat'balls are made from baked beans and couscous, panfried before boiling. We're serving them with rice, apple and mango chutney. The recipe is for two days, so remember to save half for tomorrow. Enjoy!
Directions
1. Cover the couscous with boiling water in a pot. Add some salt, pop a lid on and let sit for about 5 minutes.
2. Cook the rice according to the packet.
3. Peel and quarter the onions. Drain and rinse the baked beans for tomato sauce. Give both a spin in a mini chopper along with egg until finely chopped. Mix well with couscous, salt, freshly cracked pepper and plain flour in a bowl.
4. Bring the cold water to a boil along with crumbled stock cubes in a separate pot.
5. Shape little balls from the couscous farce, using a spoon and the palm of your hand, then give them a quick frying in some olive oil on a pan to give a bit of colour. Gently move to the water and let simmer until cooked through. Skim off any impurities as it cooks if needed.
6. Remove the balls and place in a bowl. Add corn flour mixed with some cold water along with coconut milk, and thicken the sauce to your liking. Keep in mind that the sauce will thicken further once it begins to boil. If you think the sauce is still too watery, add more corn flour mixed with water and add little by little. You can also use plain flour, also mixed with water.
7. Peel carrots and cut into sticks for snack veggies. Dice the apple.
8. Slowly add the curry after mixing it with a bit of water, and taste as you go. You mightn't need it all! Season with salt and pepper, place the balls back in the pot and heat up.
9. Serve with rice, some diced apple and mango chutney on top. Enjoy!
Tip
Tasks for younger kids in the kitchen: Let your kids help peel carrots and cut into sticks. They can also dice the apple, and of course help taste the curry.
Share your tips and comments