High five!
The recipe has been added to your shopping list.
Vegetable lasagne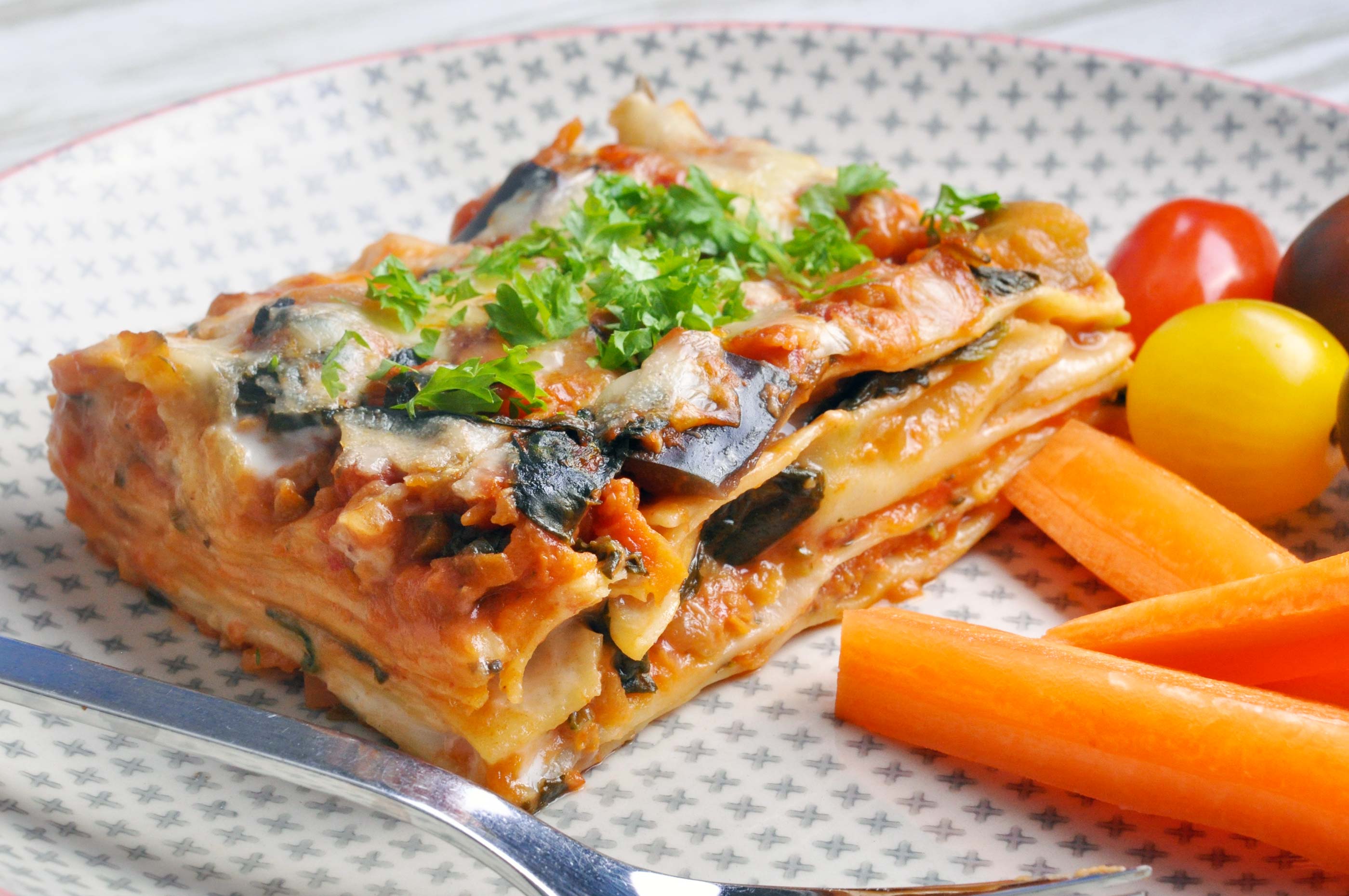 Ingredients
Freezer friendly
( 2 adults and 2 kids )
Lasagne

1

aubergine

1

onion

200 grams

fresh spinach

*

1

courgette

300 grams

carrots

*

2 can

chopped tomatoes

70 grams

tomato purée

1 cube

vegetable stock

500 ml

low fat mornay sauce

- or bechamel

wholewheat lasagne sheets

50 grams

grated cheese

sea salt

pepper

olive oil

Snack veggies

10

cherry tomatoes

300 grams

carrots

*
ADD TO SHOPPING LIST
ADD TO MEAL PLAN
*
= Good to know - click the ingredient

= See the recipe - click the ingredient
Lasagne is a favourite with most kids - and this completely meatless veggie lasagne - believe it or not - totally measures up to the classic version. Our kids love it, at least! This lasagne is intended for two days. Enjoy!
Directions
1. Preheat your oven to 200 degrees convection. Cut the top and bottom off the aubergine, dice the rest and place into a sieve. Cover the aubergine with a handful of salt and leave them to the side. This draws out the liquid in the aubergine, and makes it soft.
2. Finely chop the onion. Thoroughly rinse the spinach and set it aside. Rinse the courgette, peel the carrots and grate both on the rough side of a grater, or in a food processor.
3. Cook the onion for a few minutes with some olive oil in a deep pan or pot. Add courgette and carrots and cook for an additional few minutes. Rinse the salt off the diced aubergine and add into the pot with the rest of the veg. Add the spinach and cook while stirring continuously until the spinach is wilted.
4. Add chopped tomatoes, tomato purée and crumbled stock cube and let the lot simmer for about 10 minutes. Add salt and pepper to taste.
5. Spread the vegetable mix and mornay sauce in a roasting tin in at least three layers with lasagne sheets in between. Start and finish with a layer of sauce. Top with grated cheese and bake the lasagne for approx. 30 minutes, or until the cheese is golden.
6. Serve with a handful of cherry tomatoes and carrot sticks for snack veggies. Enjoy!
Tip
If your kids are really little, boil the carrots to soften them or swap them out for softer veggies like corn, peas, cucumber or similar. That reduces the risk of the wee pet getting anything caught in their throat.
Share your tips and comments